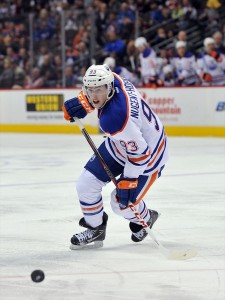 The Edmonton Oilers went down 3-0 to the New Jersey Devils last night before suddenly coming to life in the third period. The spark plug appeared to be Ryan Nugent-Hopkins, in his first game of the season, who scored the Oilers first goal and was fantastic in the faceoff dot. Taylor Hall, David Perron and new captain Andrew Ference also scored their first goals of the season, while Jordan Eberle's shoot-out tally sealed the victory.
Despite the exciting finish, and sigh of relief for Dallas Eakins' first win as a head coach, there were still a few points of concern. Not all was negative though. Here's what we learned:
1. The Oilers need better goaltending
Is Devan Dubnyk a capable number one goalie? The answer is yes and no, because behind this defense it's hard to say. Bottom line, whether it's in fact Dubnyk, or back-up LaBarbera or someone else entirely, the goaltending needs to be better. It's always easy to blame bad defense, and it's very much a factor, but 15 goals against in three games is simply not good enough.
2. Ryan Nugent-Hopkins is really good
The Oilers signed RNH to a rich long term contract for a reason. They believe in him 100%. They believe he can be a top-flight center in this league, and based on what we saw last night, they're right. Problem is, he hasn't been consistent in his short career, injury trouble being a big part of that. When this guy is going, he can be one of the best. But will he be able to find his game on a consistent basis over the span of a long season? We'll see. He's very important to this team, so hopefully.
3. The defensive play needs work
The Oilers only allowed 25 shots on goal, which isn't bad. But the overall defensive play is still very much a work in progress. A difficult part about having an inexperienced team is getting the guys to pay attention to detail. Mental toughness, and making the right decisions with the puck is so important in this game. Dallas Eakins knows what he wants to see. The players now have to execute it.
4. David Perron was a great pickup
He had a super preseason, and slowed a little to start the season, but David Perron is a great addition to this team. He's fast, and skilled, and not afraid to mix it up. Perron loves to shoot the puck and has some playmaking ability as well. He has some experience and can provide that veteran presence and leadership that the group needs.
5. Nail Yakupov is in a sophomore slump
He didn't win the calder trophy, but Nail Yakupov still had a great rookie season. So far in his second year, not so much. Pointless through three games, Yakupov is a minus -2 and has seen a little dip in icetime. He seemed to acclimate himself to the game very well last season, but looks a little lost this time around. It's not uncommon for second year players to experience a letdown, and the presence of Perron helps take some heat off of Yakupov. Perhaps a big goal and passionate celebration will help get him going.
*
The Oilers will welcome the Montreal Canadiens to town on Thursday night before hitting the road for six games. The road trip will feature some very tough match-ups, including a back-to-back against the Capitals and Penguins. After it's all said and done, we might have learned a little bit more about this Oilers team. Stay tuned.
Marcy, a former hockey player, is a hockey correspondent on CTV News and TSN radio. She began her career as a Sports Journalist in 2009 and has been part of The Hockey Writers since 2010, where she is currently a senior writer and editor.