Jim Neveau, Managing Editor
While most of the talk in the Western Conference this season has been focused on the dominant play by the teams from the Central Division, the crew from the Pacific have been really turning up the heat as of late. The Blues may be poised to seize the President's Trophy, but teams like San Jose and Dallas have been kicking it into high gear as the season has worn on, and Phoenix and Los Angeles are still right in the thick of things as well.
With these battles for playoff positioning likely continuing until the very last horn of the season, every game is important, but the contest on Thursday night between the Sharks and the homestanding Coyotes was about as critical as they can get. The game showcased a team in first place in the division battling the team on the outside looking in a battle to determine who would gain an upper hand.
On the one side of the ledger, you had the Sharks, who are looking at home-and-home series against the Stars and Kings to wrap up the season, and needing to get a big win heading into those final four games. On the other, you had the Coyotes, who are coming off a stretch where they haven't exactly played their best hockey, but did get Adrian Aucoin, Radim Vrbata, and Shane Doan back in their lineup in time for their only remaining game against a divisional rival standing in their way for a postseason berth.
At Jobing.com Arena on Thursday, it was the Coyotes who ended up dramatically improving their playoff chances, shutting out the Sharks 2-0 behind a stellar effort from goalie Mike Smith. He made 38 saves in a shutout effort, and Vrbata scored both Phoenix goals in his first game back from a shoulder injury. Antti Niemi had a solid game himself, staving off 31 shots, but it wasn't enough to keep the Sharks in first in the Pacific, and the loss dropped them all the way to 9th in the Western Conference standings.
So what did we learn from this clash of Pacific rivals? Are the Sharks down and out in terms of being able to get into the postseason? Are the Coyotes finally a team capable of making a playoff run instead of being one and done? Here are five things that this contest taught us about two of the most intriguing stories the league has had to offer:
Both Teams Are Capable of Sticking to the Script
If you were to assemble a group of hockey experts in a room and break down what they would expect the Coyotes or Sharks' game plan to be going into a game, you would largely get the same response on both. The Coyotes will try to muck up the neutral zone as much as possible, play a physical game, and take advantage of opportunities when the opposition gets a little too greedy. The Sharks, on the other hand, will push the tempo and try to create as many scoring chances as possible with their offensive talent and keep the pressure on the opposition to stop them from turning the game into a track meet.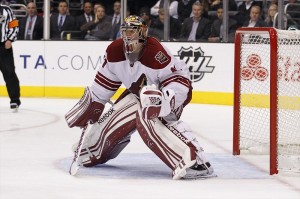 Thursday night in Glendale was largely a manifestation of those two mindsets. The Coyotes threw their weight around the entire game, racking up 39 hits, and they did some great work in stifling the Sharks' attack in the second period. Meanwhile, San Jose kept the offensive pressure on, and nearly scored a slew of goals in the first period and then again for most of the third. If it hadn't been for the hawkeyed Coyotes clearing the puck from in front of the net, as well as Smith standing on his head, things easily could have taken a turn for the worse for Phoenix.
Instead, what we were treated to in this contest was both teams sticking to what has made them successful, and the game could have gone either way. Just as easily as the Sharks could have poured in goals, the Coyotes could have as well. The Desert Dogs ended up with 33 shots in a game against a defense that has been improved this season (more on that in a minute), but their best scoring opportunities were the ones they capitalized on, and that was the crucial component of why they won the game.
If this were game #38 instead of game #78, Sharks fans would be able to just go "oh well. We got beaten by a good goaltender, but we still had a ton of great chances and looked very good on the ice". The biggest takeaway from Thursday's tilt was that both teams were in a position to win, but the unfortunate reality of late season hockey is that moral victories don't mean anything. Only getting two standings points and improving your positioning matter, and only one team did that in this game.
The Coyotes Will Go As Far As Smith Will Take Them
Looking back at recent postseason history, it doesn't take a rocket scientist to figure out that a red-hot goaltender can make all the difference in terms of whether or not a team advances. Whether it was Jaroslav Halak leading the Canadiens to an improbable upset victory over the Washington Capitals in 2010, or Tim Thomas nearly single-handedly stonewalling the Vancouver Canucks in last year's Stanley Cup Finals, the guy between the pipes is most capable of being the one guy who swings the tide in your favor.
Thursday night proved once again that the Coyotes may have just that type of player in Smith. Granted, this is a team that has had Ilya Bryzgalov in the fold for their last two playoff runs, and in both cases he faltered when the spotlight started shining on him in first round exits against the Detroit Red Wings. Fortunately for Phoenix, Detroit wouldn't be their opponent in the first round if they get into the playoffs, but even if they were, they may be in more capable hands now.
During the first period of the game, Smith could have easily gotten upset and lost his edge with the way his teammates were playing. After a three-day layoff, the Coyotes looked like they were having trouble staying in position on the defensive side of the puck, and the result was a slew of great scoring chances as the period wore on. In at least three different instances, Smith was hung out to dry and was barely able to make save after save in order to keep the Coyotes in the game. He was helped by his teammates clearing the crease on occasion, but that more closely resembled a youngster being caught with the trash bag after having a massive party while his parents were out of town.
Regardless of that, the fact remains that Smith has been carrying this team virtually the entire season, and if he can keep this kind of form going into April, the Coyotes may have a shot to go deep against a Western Conference loaded with offensive weaponry.
Joe Pavelski Looks Comfortable Among San Jose's Forest of Stars
For many years, the Sharks have been the team that has had a slew of offensive weaponry, but just couldn't quite put things together. This season is no different, as players like Logan Couture, Patrick Marleau, and Joe Thornton are all still very viable weapons. The one difference that could lead to good things if San Jose gets into the playoffs, however, is that Joe Pavelski may be the most comfortable that he has ever been in being surrounded by stellar offensive talent.
Yes, he is one goal away from hitting the 30 plateau, but isn't just statistics that tell his story. Watching him on the ice Thursday night, you could tell a couple of things about him. The first is that he is an incredibly strong young man, and much like Marian Hossa of the Chicago Blackhawks, he is able to keep possession of the puck no matter how strenuously a defender tries to take it from him, and that keeps possession alive that can lead to goals. It's an intangible ability, but Pavelski has it in spades.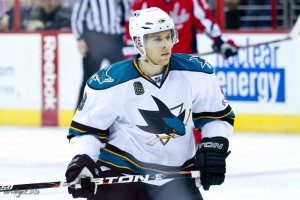 There is also the matter of his ability to create open looks for himself. He has lightning quick hands (which he can also use to help win face-offs, another key attribute), and he displayed those on several occasions. He deked and donked his way to five shots, and even though none of them went in, most of them were high quality chances that would have gone in on another night against a slightly less hot goaltender.
He is doing all of this despite being paired up with two guys who demand their fair share of the puck as well. Being able to play confidently with two other stars on his line may not seem like a big deal, but the fact of the matter is that Joe hasn't let a notion of not feeling like he belongs with those guys creep into his game, and he looked great on Thursday.  
Vrbata May Be the Most Underrated Sniper in the League
Despite being a team more known for their defense than any sort of scoring punch, the Coyotes have their fair share of offensive weapons. Sure, guys like Keith Yandle and Ray Whitney have their moments and grab a lot of headlines in the Valley, but the one guy who really stands out is Vrbata.
He isn't the most offensively gifted player in the league, but if Thursday's game was any indication, he has the innate skill to be in the right place at the right time, and that's an invaluable commodity for a team that doesn't light the world on fire with scoring chances. On Phoenix's first goal, there was a ton of traffic in front of the Sharks' cage during the Coyotes' lone power play, and when Whitney spotted Vrbata camped on the opposite side of the crease, he made a nice little flip across that Radim tapped in for an easy tally.
The other goal Vrbata scored was equally as impressive. Sticking to their script of taking advantage of the other team's mistakes, the Coyotes got a great scoring chance when a careless pass drifted toward Oliver Ekman-Larsson. He put a great saucer pass out in front of Whitney, and the race was on. Vrbata saw OEL hit the puck and immediately bolted, and when Whitney put a great pass onto his stick, he didn't miss, and he potted his second tally of the game to give the Coyotes their margin of victory.
He only ended up having three shots in the game, but when he got his good scoring chances, he converted them. With 32 goals on a team that preaches defense, Vrbata may not get the notoriety in hockey circles that most 30-goal scorers do, but he really should. There is little question that he is a great offensive player, and he may be one of the most criminally overlooked in the entire NHL.
The Sharks' Defense Is Sneaky Good
Everyone raves about the goaltending and defense that Pacific teams like the Kings and Coyotes display on a night-in-night-out basis, but one team that doesn't get quite the credit that they deserve would be the Sharks. Yes, they have a high number of quality offensive stars, but this year, they have really started to focus more on their blue line and defensive responsibility, and it has paid off.
After last night's 2-0 defeat, the Sharks still are sitting in 8th in the league in goals against, only allowing 2.51 per game. They were also very solid in that area last year, finishing with a 2.54 GAA. The big difference for them is that they are scoring a third of a goal less per game than they did last season, but the point remains that their defense is a strong suit.
Sure, having guys like Pavelski and Dan Boyle helps matters, but even a guy like Brent Burns, largely known for his offense, has been solid on that side of the puck. Thursday night he was on the ice for Vrbata's second goal, but he did block two shots and had a hit and takeaway as well. He stayed in a good defensive position for most of the game, and didn't allow guys to get too close to Niemi and the net.
Ironically, it's the Sharks' vaunted offense that could be the main factor in what ultimately costs them the playoffs, but even if it does, they still have a good defensive mindset to build around, and that's not easy to find in the NHL.