As the trade deadline approaches, much of the excitement will be drawn from speculation of where the major players will be heading. Names like Jeff Carter, Bobby Ryan, Ales Hemsky and Tuomo Ruutu are considered to be some of the top guns expected to be moved and are all names that will certainly be discussed at great length until the trade doors close on February 27.
However, as we have seen time and time again in the past, it is often the moves that fly under the radar that turn out to pay the biggest dividends. Here are five players who's trade value won't be discussed at great length, but could very well end up being very valuable to a team's Stanley Cup aspirations:
Paul Gaustad, Buffalo Sabres: Gaustad is the kind of player any team would love to add for a playoff run. With a relatively cheap cap hit of 2.3 million, Gaustad would be a perfect fit for a team looking to round out their third or fourth line with a solid checking center. The 30-year-old can play a very physical checking game against the opposition's scoring lines and is definitely the guy you want on the ice to take important faceoffs.
Antoine Vermette, Columbus Blue Jackets: Despite carrying a pretty hefty cap hit of 3.75 million, Vermette would be an excellent piece for a team looking to add an offensive spark for the playoffs. The 29-year-old would provide experience, speed and solid two-way play for any team looking to add depth within their top three lines. A versatile player, Vermette can line up as a center or on the wing and can be used in all situations.
Bryan Allen, Carolina Hurricanes: At 6'6 and 225 pounds, Allen could become reminiscent of the way in which Hal Gill became a huge factor on the blueline for Pittsburgh during their cup run in 2009. The big blueliner has just seven games of NHL playoff experience and is rather pricey at 2.9 million, but is drawing interest from teams like Detroit and especially Philadelphia, who could really use his strong defensive presence to help shore up their struggling defensive unit.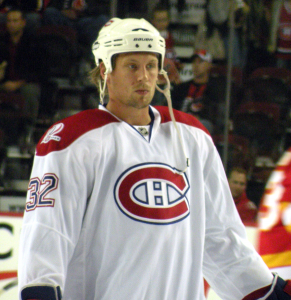 Travis Moen, Montreal Canadiens: It seems like seeing Moen's name on the trade list is becoming an annual occurrence at the deadline. A Stanley Cup champ with Anaheim in 2007, Moen is coveted for his ability as a hard-nosed grinder who knows what it takes to win. The 29-year-old is in the midst of perhaps his finest season, and with a cap hit of just 1.5 million, is a good bet to land with a top contender like New York, San Jose or Vancouver.
Nicklas Grossman, Dallas Stars: Grossman is another solid defensive-defenceman who is being mentioned in rumours with the likes of Chicago and Pittsburgh and other teams who are desperately looking to stabilize their blueline. At 27 he is one of the younger available rearguards who provides size and steadiness on top of being cheap at 1.625 million.