With training camp winding down, Calgary Flames head coach Geoff Ward has done a lot of juggling with his forward lines, employing multiple options at the center position in the process. We've also seen Andrew Mangiapane, Josh Leivo and Dominick Simon all spend time on a line with Sean Monahan and Johnny Gaudreau, while Dillon Dube has recently been spotted skating with Elias Lindholm and Matthew Tkachuk.
However, the time for tinkering may be over, as Ward says he'll likely use Monday night's final intra-squad game to set the lineup for the Flames' season opener against the Winnipeg Jets on Jan. 14.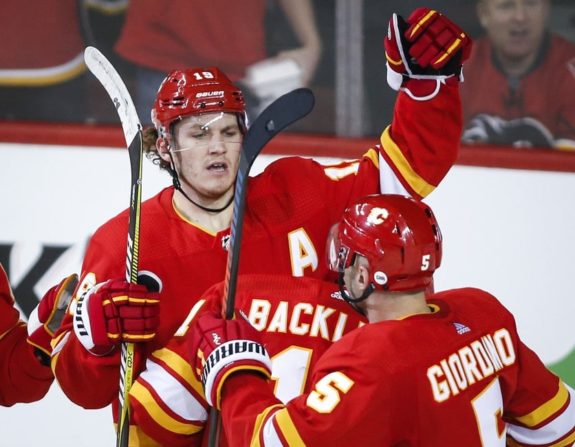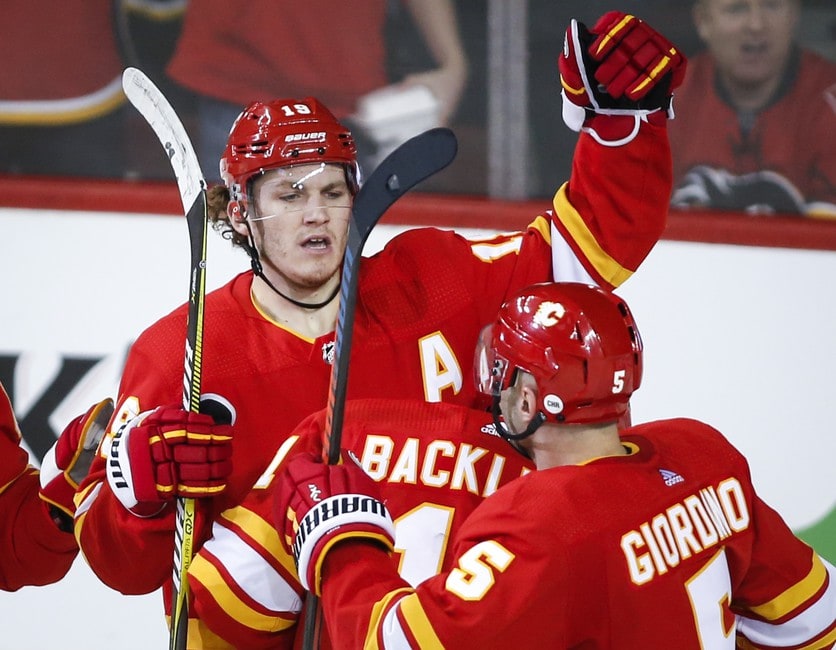 Probably the biggest shake-up to the Flames' roster has been the decision to move Lindholm to center, despite the Swede enjoying career-high points playing as a winger with Monahan and Gaudreau over the last two years. The switch allows Tkachuk to team up with Lindholm, arguably the team's most complete player, giving the Flames another potent forward line.
With Lindholm at Center, the Flames Should Spread Out Team Scoring
A team's top line is usually defined as the group that produces the most points on a nightly basis and for the past several seasons, that has undoubtedly been the Monahan line. Gaudreau has been his wingman since the start, and they've found great success together, but if the season starts with the current training camp lineup intact, we will see Tkachuk (the Flames' leading scorer) and Lindholm (the Flames' leading goal-getter) become the favorites to inherit the mantle of the team's most effective line.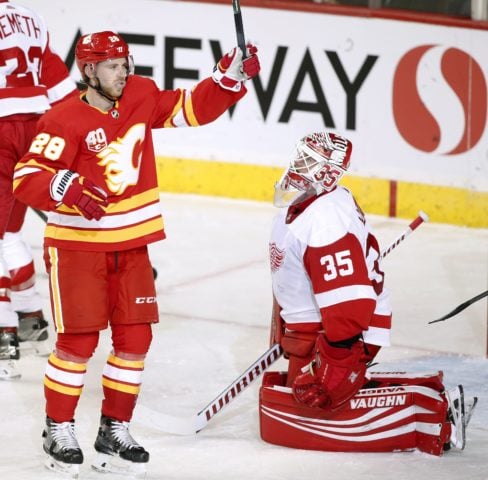 But hold the phone, aren't we forgetting someone? After a failed experiment playing on the wing, Mikael Backlund had an excellent second half of the 2019-20 campaign, scoring 12 goals in his final 31 games, after only potting 4 in his first 39. Playing with Tkachuk and breakout forward Andrew Mangiapane, Backlund's line was the Flames' best unit before the NHL season was paused in mid-March due to the COVID-19 pandemic.
If the current roster holds up, Backlund will once again play with Mangiapane, and if they can rekindle that 2019-20 magic, the Flames could see three forward lines that produce reliable offense.
Flames' Newcomers Will Play a Big Role in the Top Lines
Dominik Simon is no stranger to playing on a top line, as he enjoyed skating alongside Sidney Crosby for stretches of the 2017-18 and 2018-19 seasons while with the Pittsburgh Penguins. He had a knack for digging the puck out of the corners and dishing it to Crosby and the Flames are hoping he can do the same playing with Monahan and Gaudreau.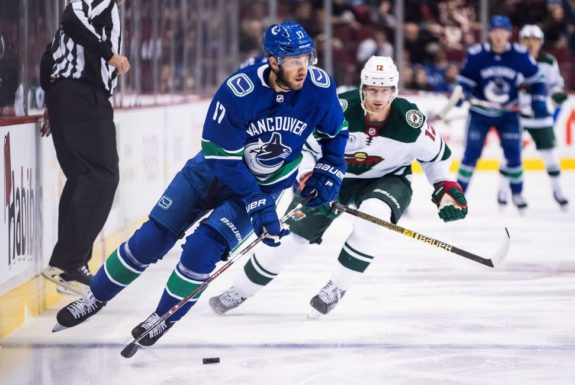 Newcomer Lievo was on pace for a career year with the Vancouver Canucks before a fractured kneecap prematurely ended his season in December 2019. While he mostly saw bottom-six minutes, Leivo proved he could also move up and down the lineup, collecting points while playing with the likes of Elias Petterson, Brock Boeser and Bo Horvat. The Flames are hoping the gritty, two-way forward can show the same versatility playing on a line with Backlund and Mangiapane.
After a solid 2019-20 season playing mostly in the bottom six, it looks like Dube will be getting the chance to start the season with Lindholm and Tkachuk. The speedy forward told CalgaryFlames.com that after his recent playoff success, he is ready to take his game to the next level:
I feel I added that to my game, playing that high-speed game, and adapting to that style where you're an offensive-zone guy trying to get points. I feel I'm ready. Being with those guys (Sam Bennett and Milan Lucic) in the playoffs and producing the way we did, that definitely gives you confidence."
Gaudreau and Monahan's Struggles at 5-on-5 Could Lead to Ward Rolling the Top 3 Lines
It's no secret that both Gaudreau and Monahan were not very good playing at 5-on-5 last season. Their steep decline in scoring and negative goal differential has some people asking if the duo should be split up after more than a half-decade playing together. Based on the line combinations utilized at training camp, it looks like the Flames will indeed keep the pair together, and pray that last season was simply an aberration and not an ominous sign of things to come.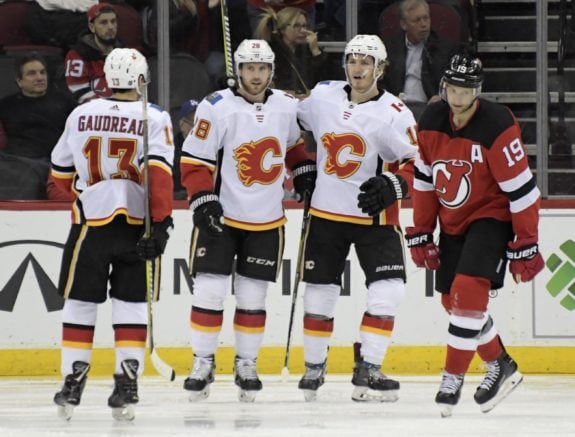 While we can still expect both Gaudreau and Monahan to see plenty of power-play minutes skating alongside Lindholm, Tkachuk and Rasmus Andersson, there has been talk of reducing their 5-on-5 minutes, rolling the top three lines and spreading out that playing time.
With Ward recently placing Derek Ryan on waivers, it is now very clear that he'll be going with Sam Bennett at center, who is fresh off a great 2019-20 Stanley Cup playoff that saw him lead the Flames in scoring. If Bennett can play more like a highly-touted first-round draft pick and less like a replacement-level player, Ward might even consider rolling four lines on a regular basis.
Here's the Big Question: How Long Will This Experiment Last?
There has been talk of potentially using Lindholm as a center from the moment he arrived in Calgary at the start of the 2018-19 season. But, the impressive offensive production he has enjoyed at winger playing with Monahan and Gaudreau has always been a great deterrent to executing that strategy on a long-term basis. Do the Flames revert to their traditional top-line configuration if they stumble out of the gate? How many games will the coaching staff give this bold new lineup to get up to speed and gel with one another?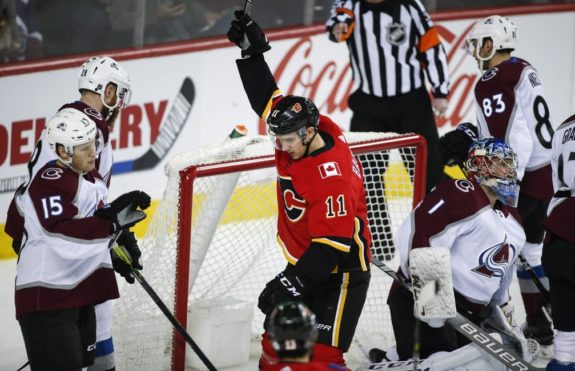 If Lindholm is eventually moved back to the wing, it's a safe bet that Tkachuk will likely slot back with Backlund to re-form the 3M line, which was easily the Flames most effective unit for the second half of the 2019-20 season. Tkachuk has played a vast majority of his five NHL seasons playing with Backlund, so I'll be very curious to see if he can create some offensive chemistry playing with Lindholm on a regular basis. Because of shortened NHL training camps and a lack of exhibition games, it's possible the Flames will give this "new look" a longer leash than they normally would.
The 2020-21 Season Could Be Do or Die For the Flames Current Roster
The bottom line is, this experiment has to work. The core forwards of this team have had several seasons to try and get this franchise over the hump and become legitimate Stanley Cup contenders. If this reshuffled lineup doesn't do the trick, I don't think going back to the old configuration is a viable option. The 2020-21 season could be a make or break year for this group and we could see major roster changes in the offseason if we don't see significant playoff success.
---
---