The LA Kings are poising themselves for potentially making the playoffs in 2020-21. With Drew Doughty looking for a bounceback year, Gabriel Vilardi being a potential Calder Trophy Contender, and Anze Kopitar being a top center in the league, LA has the pieces to potentially do damage in a weak West division.
With dreams of making the playoffs once again being prevalent in the City of Angels, adding an experienced veteran made sense. The Kings did exactly that by signing Andreas Athanasiou to a one-year contract worth $1.2 million.
Athanasiou has some great aspects to his game, namely his speed and offensive ability. However, for this deal to be worth it, he must improve defensively. First, let's look at his skills, and at his worrying defensive play.
Speed
Known for his dazzling speed, Athanasiou will instantly make the team faster moving. The Kings still have a veteran crew of forwards in the top six; none of Kopitar, Jeff Carter or Dustin Brown fit into the new mold of NHL players who possess great speed. Athanasiou will bring valuable speed into the Kings' lineup.
This clip demonstrates how he can shift from not moving at all to lightning quick in a split second. It only took him six seconds after a face-off at center ice to blaze his way past Erik Karlsson to score the overtime winner. While Karlsson is still an elite defenceman, this is from when he played in Ottawa – before being ravaged by injuries. At this time, he was one of the best and fastest defenders in the league, yet Athanasiou made getting past him look easy.
This is a much more recent demonstration of his speed, which came on Nov. 16, 2019. He receives a pass while skating with speed and then burns through the San Jose Sharks' defense. At the time, the Sharks' top pairing of former Norris Trophy winner Brent Burns and Radim Simek was on the ice, making this even more impressive.
Skill
Athanasiou's main skill set outside of his speed is his ability in the offensive zone. He has quite a knack for finding the back of the net. In his past four seasons, his goal totals have ranged from 11 (2019-20) to 30 (2018-19). The only season he has scored fewer than 10 goals was his rookie season when he scored nine times in 37 games played. He scored 11 goals in 2019-20, which is a good total considering he spent the majority of the season with Detroit, which finished last among NHL teams in goals scored.
If he gets back to his 0.39 goals per game ratio of 2018-19, he'd be on pace to score 22 in a 56-game season, which would greatly help the Kings who struggled offensively in 2018-19.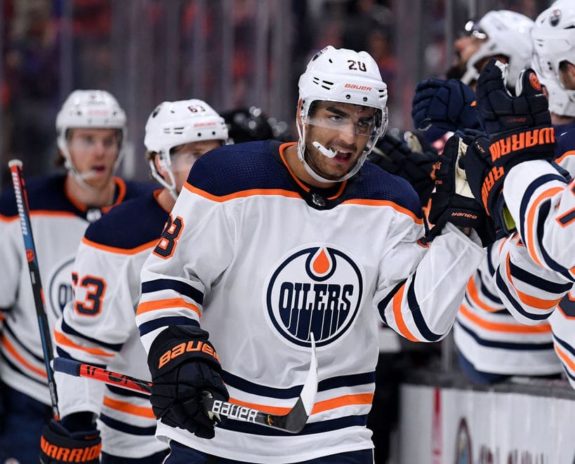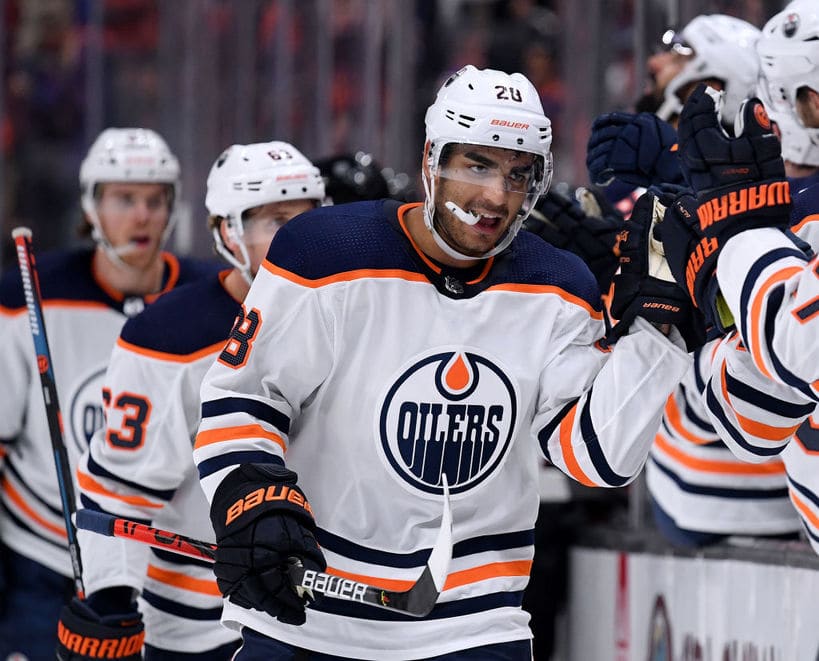 Athanasiou can also pass the puck well. In 2017-18 he racked up 17 apples and in 2018-19 he followed it up with a career-high 24 assists. He had 15 assists in 2019-20, but he missed 15 games due to injury, meaning he would've been on pace for more assists than in 2017-18. His career-high in points is 54. Although this isn't elite if he can recapture that type of play with LA he'd definitely be one of the team's biggest offensive threats.
Defensive Liability
The main issue with Athanasiou is that he is a complete defensive liability. He's hit between 21 and 28 blocked shots in his last four seasons, which isn't particularly impressive. His career-high in hits was set in 2019-20 with 36. In 2017-18 he had a career-high 38 takeaways, which plunged to 28 and then 15 in 2018-19 and 2019-20 respectively.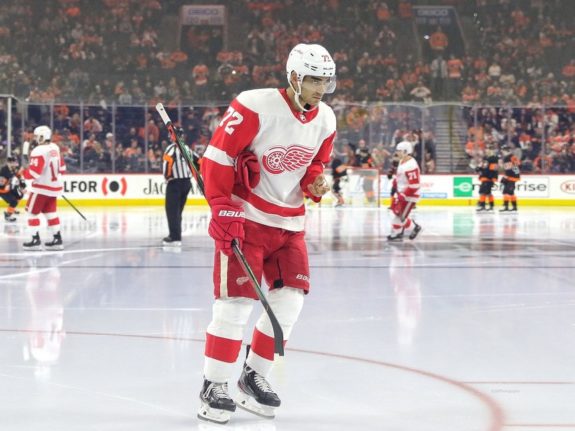 In his 37-game rookie season, he set his career-high in plus/minus of plus-1. In the three seasons following that, he posted minus-7, minus-15 and minus-9 ratings. His minus-15 was worrying, but the others could be explained away by him playing for a struggling Red Wings' team. However, his 2019-20 season was an abomination. He posted an awful minus-46 rating, which ranked 883rd in the league – aka last.
He also posted a negative plus/minus in his short stint with the Edmonton Oilers in 2019-20, and his minus-2 in the playoffs was only better than three of his teammates.
The only two players with below a minus-20 in 2019-20 who played well were Burns (who ranked 11th in defense points) and his teammate Timo Meier, who led the team in points (49). Meier's underlying numbers show that his team generated more shots and scoring opportunities than opponents when he played; indicating his bad plus/minus was mainly due to bad luck. However, Athanasiou lacks this excuse.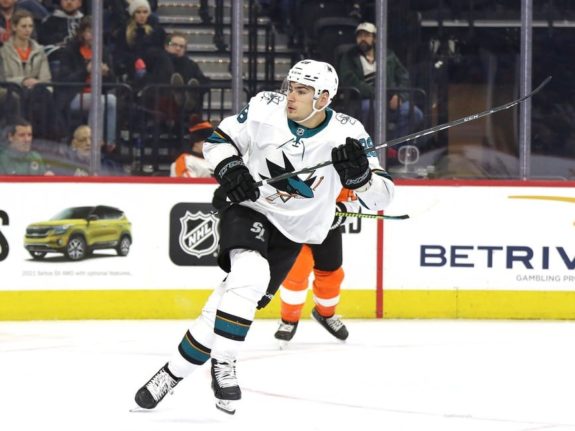 Athanasiou's defensive analytics also are not very good. In 2019-20 he was on the ice for 23 even-strength goals for and 63 against. This means his team only scored 26.74% of the goals with him on the ice. His teams also fared worse than opposing teams in total shots for (SF%) and scoring chances for percentages (SCF%), along with doing worse in all three subcategories of these (low-danger, medium-danger and high-danger).
Athanasiou clearly needs to sharpen up his defensive play. Even if his offensive play gets back to his levels in 2018-19, it still probably wouldn't be worth it if his defense is as rotten as it was in 2019-20.
How the Signing Impacts LA
With Athanasiou, the Kings will have to take the bad alongside the good. His defensive play has never been good, but it was dreadful last season. However, he does bring speed and goal-scoring, which the team needs. Todd McLellan should definitely keep him on a short-leash in 2020-21 because if his defensive play is as poor as last season, the speed and scoring probably wouldn't be worth it.
Stats per Natural Stat Trick, QuantHockey and Hockey Reference
---
---
I am a lifelong hockey fan who will be covering the Los Angeles Kings and Vancouver Canucks here at The Hockey Writers. Before joining The Hockey Writers I spent two years blogging about hockey.
Feel free to follow my Twitter @TheRoyalQuinn or on Insta @thw_quinn for updates on when my newest articles are published.