The Calder Memorial Trophy is awarded to the best rookie every season. Next season, Gabriel Vilardi could become the Los Angeles Kings' first Calder Trophy winner in over 30 years. The norm isn't for Kings to win the Calder Trophy, however, Vilardi could carry on a trend that's developed in the past three seasons that's largely seen players from the Western Conference being named as Calder Trophy finalists.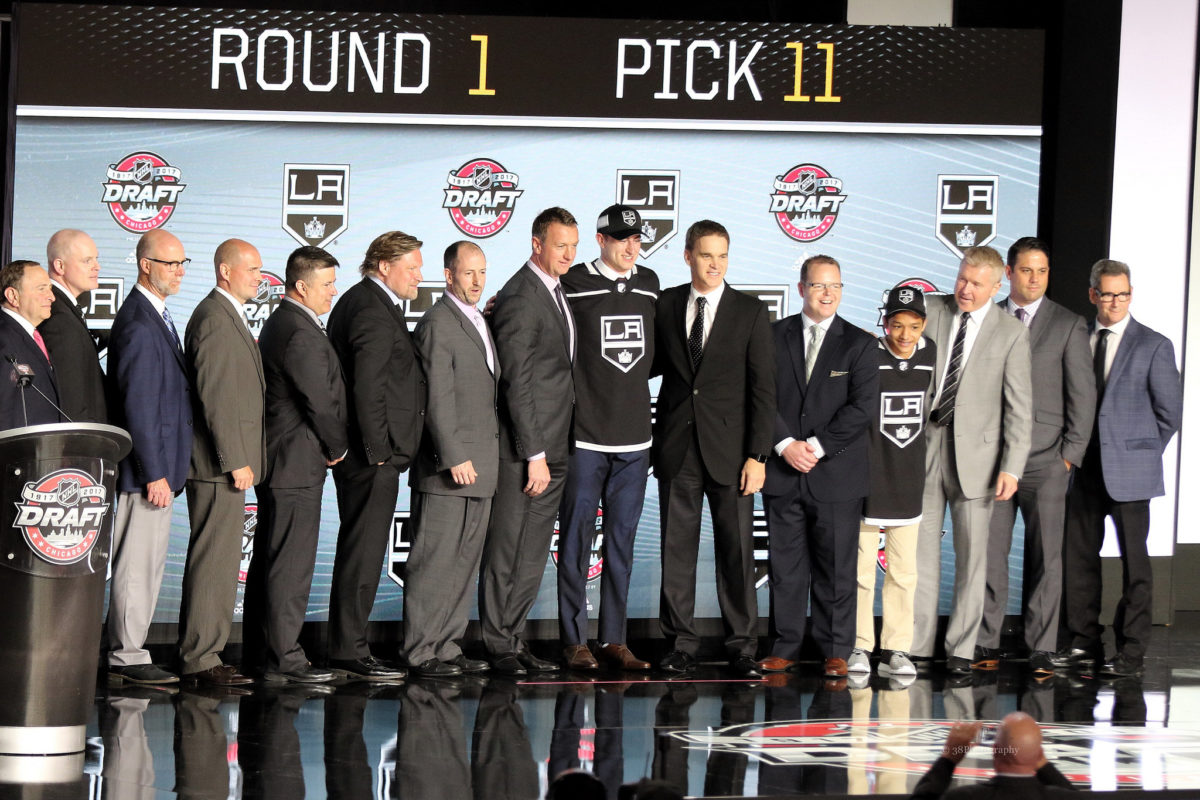 The 2020 Calder Trophy finalists are all from the West, and in both 2018 and 2019, two out of the three finalists were from the Western Conference. Many of the recent finalists have been to be from the Pacific Division. Clayton Keller (Arizona Coyotes) and Brock Boeser (Vancouver Canucks) finished second and third, respectively, in 2018 voting. In 2019, Elias Pettersson (Vancouver) won the Calder Trophy. Quinn Hughes (Vancouver), another Pacific Division player is nominated for the Calder Trophy this season, and could win the award this upcoming Monday.
Prior to This Season
Vilardi was drafted 11th overall in the 2017 NHL Entry Draft by the Kings. Heading into the draft, he was considered a top prospect and has played at a high level since the draft, however there are injury concerns surrounding him.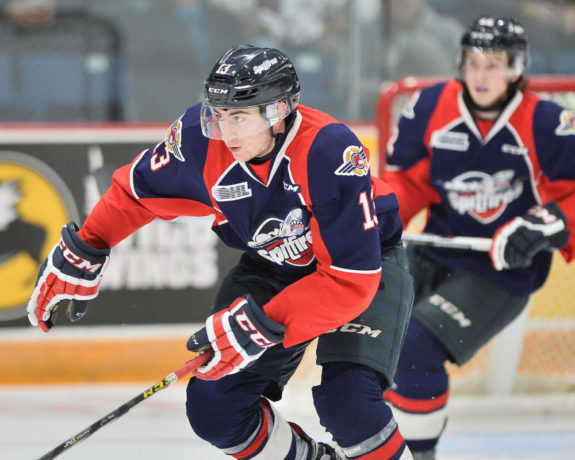 In the 2017-18 OHL season, Vilardi managed to play in only 32 regular-season games for the Kingston Frontenacs due to a back injury. (from 'Gabe Vilardi's back injury weighs on Kings as rookie camp nears,' The Athletic, 08/30/2018) However, he did amass 22 goals and 36 assists and played at a top level throughout those games. Additionally, he posted 22 points in 16 playoff games for Kingston. He once again dealt with injuries in 2018-19, as he only played four games for the AHL's Ontario Reign, his only contribution on the scoresheet being a lone assist.
The Emergence (2019-20 Season)
This year, Vilardi missed the start of the AHL season due to injuries, but once he started playing, he proved that he is still a top prospect. In 32 games played for the Reign, Vilardi scored 9 goals and added 16 assists; totaling 25 points in 32 games played.
Related: Best NHL Goalies of the 1980s
Vilardi's strong play for the Reign earned him a call-up to the NHL, and he did not disappoint. He skated in the Kings' final 10 games of the season. In his first appearance on Feb. 20, Vilardi scored a goal on his first shift and added an assist, leading the Kings to a 5-4 win against the Florida Panthers.
The Kings lost to the Edmonton Oilers and Colorado Colorado in his next two games. Following these losses, LA caught fire and won seven straight games to finish the season. These wins were not against teams that finished in the bottom of the standings like the Kings – in fact, five out of the seven wins came against teams that made the qualifying round of the NHL postseason. Vilardi scored three goals and tallied four assists in his 10 NHL games, while primarily playing on the Kings' second line. It could be a coincidence, but his debut coincided with LA playing their best 10-game stretch of the season.
Vilardi's point per game pace in the NHL was 0.7 points per game. This equates to a 57-point pace in an 82-game season. If he were to hit 57 points next year, it would be in line with other recent Calder Trophy finalists. Chicago Blackhawk Dominik Kubalik was on pace for 55 points this season, had it not been suspended due to COVID-19. Boeser put up 55 points in his rookie season, although he only played in 62 games during that season (2017-18). Similarly to Vilardi, Boeser played in a few games before his official rookie season.
In 2016-17, Boeser played in nine games and put up five points. That's a points per game pace of 0.55, which equates to 45 points in a full season. With this in consideration, it's not a stretch to think Vilardi could have a great rookie season like Boeser did. (from 'Brock Boeser named finalist for rookie of the year,' The Province, 04/22/2018)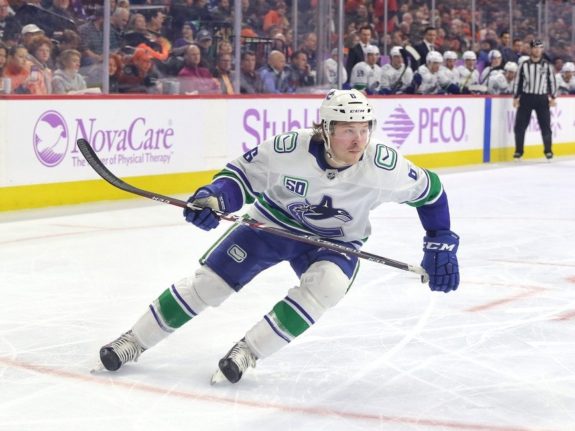 Vilardi's offence shined in his first 10 games, however his strong defensive game was also showcased. He blocked four shots and threw one hit. He also had one takeaway and zero giveaways. These are all solid defensive stats for a debuting forward; however, his most impressive defensive stat was his faceoffs.
Vilardi took 92 faceoffs, and won 49 of them. That's a 53.5 win percentage. If he were to manage to keep a 53.5 faceoff win percentage through a full- season, it would make him one of the league's premiere faceoff takers. For perspective, Jean-Gabriel Pageau and Casey Cizikas both posted a 53.5 faceoff percentage this season, tying them for 32nd in the league among the players who took the 100 most faceoffs.
A Mentor
A major key for Vilardi could be in learning from Kings captain Anze Kopitar. Vilardi is a big, two-way forward standing at 6-foot-3 and weighing 201 pounds. Kopitar is also a skilled two-way forward with lots of size. He's also 6-foot-3, but he has a 22-pound weight advantage over Vilardi. Kopitar has won two Selke Trophies, which are awarded for defensive play, and he has numerous other accolades as well. For Vilardi to play with a highly-skilled veteran two-way forward, who has a similar build and playing style, could really help out his development.
What's Next?
Vilardi's main hurdle in pursuing the Calder Trophy is his injury history. He's missed the better part of the past two seasons due to injuries. Vilardi has the talent to be a contender, but it's a matter of staying healthy, which I have doubts he's capable of doing.
Related: Revisiting the Capitals' Disastrous Jagr Trade
Vilardi has put up good numbers everywhere that he has played. He showed great offensive ability in his NHL stint this season and he showed good defensive play, especially with his faceoffs. Next season's rookie class should be good, with it potentially including players such as Alexis Lafreniere, Bowen Byram, Tim Stutzle and Quinton Byfield, and many others. Vilardi, however, could be a dark-horse candidate in the Calder Trophy race if he plays close to as well as he did during his 10 NHL games in 2019-20.
Stats are per: Puck Base, Hockey Reference, Elite Prospects and HockeyDB
---
---