Evaluating what Josh Leivo brings to the Calgary Flames in the 2020-21 season isn't an easy feat.
While he has certainly shown flashes of what he can bring to an NHL roster, he has yet to play all 82 games in a season, whether that be due to injury or the lack of opportunity.
Drafted out of the OHL in the third round by the Toronto Maple Leafs in 2011, Leivo has had an up and down career. He got his first taste of NHL action in the 2013-14 season, suiting up for seven games, where he collected a single goal and an assist.
The next season, he found himself playing the majority of games in the AHL with the Toronto Marlies, where he amassed 11 goals and 21 assists, good for 32 points. He did get into another nine NHL games as well, where he only chipped in with one goal.
In the Doghouse
While the Maple Leafs drafted and developed him, the hiring of Mike Babcock in 2015 was obviously not to the benefit of Leivo. Much like with Justin Holl and Frankie Corrado, he found himself in Babcock's doghouse more often than not. 
In the three seasons with the Maple Leafs after hiring Babcock, Leivo only suited up for 68 games, which amounted to 25 points. Despite the low point totals, Leivo's shooting percentage (S%) was strong in all four seasons (25, 7.4, 4 and 10.5). His Corsi For (CF%) was also relatively strong, as he graded at 56.2 in 2015-16, 55.4 in 2016-17, 48.6 in 2017-18 and 50.7 in 2018-19.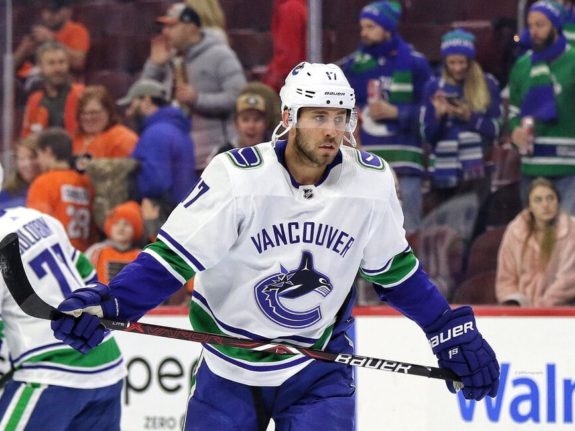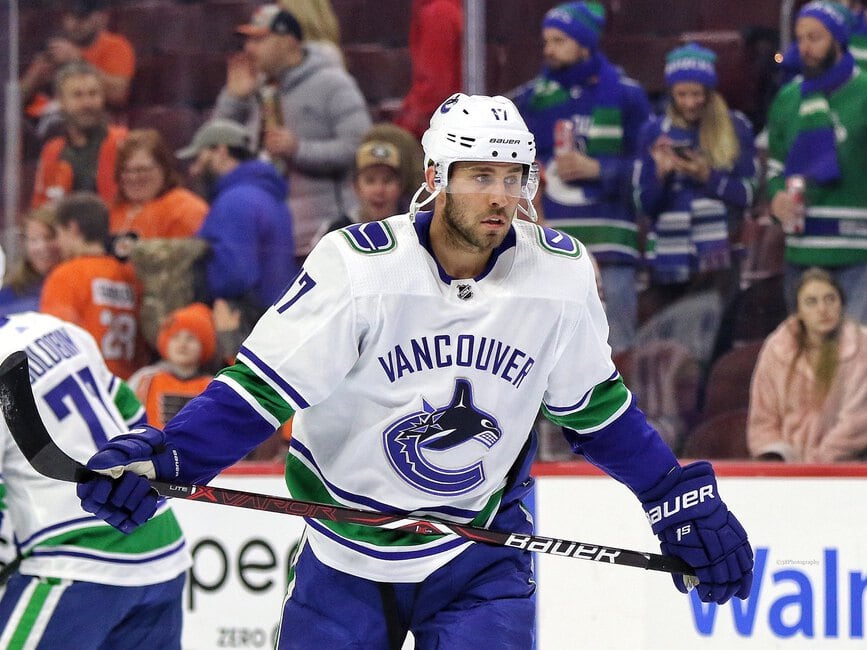 Leivo was once again a depth player for the Leafs in 2017-18 playing in the bottom six, where he put up four goals and two assists while only averaging 10:32 minutes of ice time. By the following season, Leivo was said to have requested a trade if he wasn't consistently in the lineup. Throughout his Toronto stint, Leivo did get some opportunities with their top centremen in Auston Matthews, Name Kadri and John Tavares, but it was few and far between, as Babcock clearly did not like something about Leivo's game.
And after appearing in a career-high 27 games, he found himself back in the press box. Honouring his word, GM Kyle Dubas traded Leivo to Vancouver for Michael Carcone on Dec. 3, 2018.
The Blue and Green
Following the trade to the Canucks, Leivo saw his ice time tick up by about five minutes as he averaged 15:57. He also contributed 18 points in 49 games along with an 8.8 S%.
The real value he showed the Canucks in his first season was the ability to slide up and down the lineup, as he was able to play on multiple lines when called upon. While 18 points in 49 games is far from elite, every team needs scoring depth and he was also able to contribute on the power play with three goals. After the season, the Canucks and Leivo agreed to a $1.5 million contract five days after free agency started.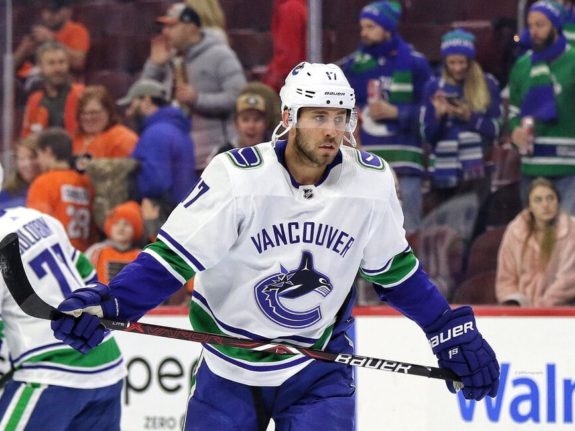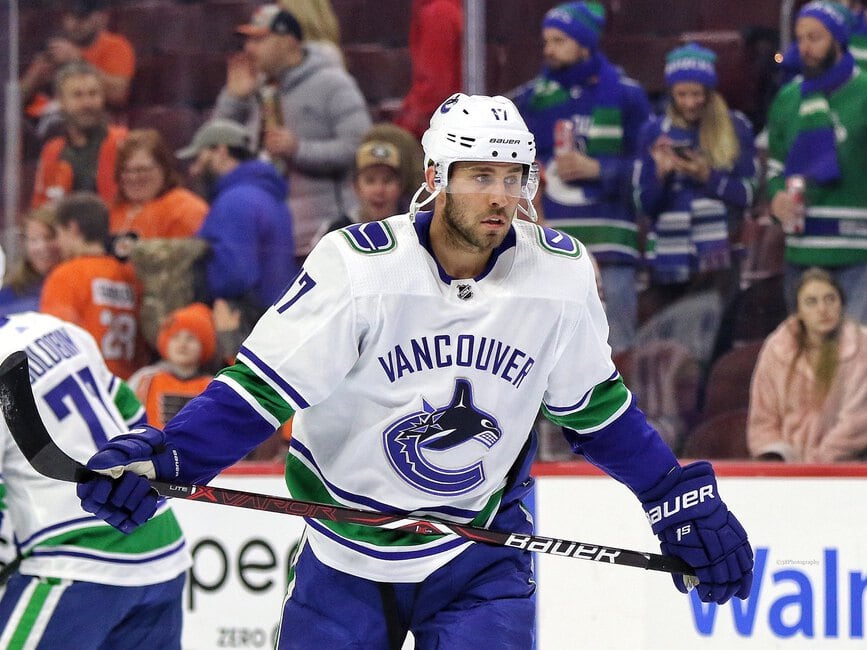 The 2019-20 season will always be looked back upon as a weird one with the mid-season shutdown during the COVID-19 pandemic, but Leivo was on pace for a career-high season before fracturing his kneecap in December. That led to him missing the rest of the shortened season along with the entire playoffs. Before that injury, Leivo had put in seven goals and 12 assists in 36 games. Once again, his possession numbers were solid, with a CF% of 52.3.
While mainly relied on as a bottom-six forward, Leivo once again proved he was able to move up and down the lineup, as he collected points alongside Bo Horvat, J.T. Miller, Brock Boeser and Elias Pettersson.
New Man in Cowtown
After an injury-derailed season, the Calgary Flames snapped up Leivo on a one-year, $875,000 deal this fall.
So where does he fit in when looking at the Flames' forward core?
As mentioned before, Leivo is generally looked at as a bottom-six player, and with the Flames top line of Johnny Gaudreau, Sean Monahan and Elias Lindholm, I doubt he slides in there. The second line could be an interesting fit alongside Matthew Tkachuk and Mikael Backlund. On a line with some skill and that pest factor, Leivo could easily fit on what looks to be an extremely important group offensively for the Flames.
More than likely, Leivo will slot into the third line which could feature several different players, including Dillon Dube, Sam Bennett, Milan Lucic or Andrew Mangiapane. If Mangiapane is on the second line, I don't think it's hard to imagine a third line of Dube, Bennett and Leivo.
Last season, the Flames struggled with scoring depth as they only put up a 2.91 goals-per-game average, which ranked 20 in the league. Bennett had a horrendous season where he only put up 12 points in 52 games, while Dube had 16 points in 45 games. Both are likely to punch above that in the coming season, and the addition of an offensive threat like Leivo will only help that third line. 
Special Teams Help
Last season, Leivo averaged slightly over 15 minutes a game, and one way he could see that tick up is through power play and penalty kill time. 
He collected a few points on the power play last year with the Canucks (five assists) on an average of 1:51 power-play time, and he even got some penalty kill time as he averaged just over two minutes.
The Flames converted at a percentage of 21.2 (fourteenth in the league) during the power play and their penalty killing percentage finished at 82.1 (eighth in the league). So, there's room to improve on both sides, and Leivo could easily be a factor on both special teams units. 
While the top power-play unit looks to be fairly cemented with Tkachuk, Monahan, Gaudreau, Lindholm and Giordano, I think Leivo could easily fit on the second unit. His decent offensive prowess and his shot should easily accommodate any second power-play unit the Flames push over the boards, and if given enough of an opportunity, I think he could be a difference-maker.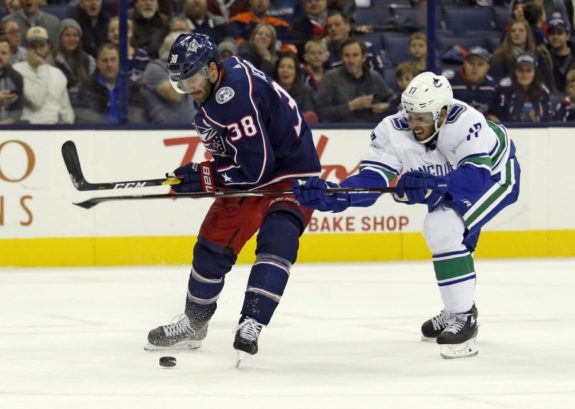 Penalty kill-wise, if Leivo proves to be hardworking and able to play responsibly in his own zone, he could be one of the guys the Flames' coaching staff could throw out late in the kill. While he isn't the greatest defensive asset within the Flames' forward core, I think for him to be more than just a third-line scorer, he will need to kill some penalties. 
With a cap hit under $1 million, which can be buried in the minors, Leivo will need to prove himself as more than a one-dimensional player if he wants to stick with the big club.
---
---