Often times, NHL teams who find themselves near the top of the standings find themselves there in part due to a breakout season by one or multiple players. Having players — especially ones on cheap deals — be able to branch out and have a positive impact on games is huge for teams in the salary cap era.
Last season, the Calgary Flames had one of those breakout seasons from Andrew Mangiapane, who was on a one-year, two-way deal paying him just $715,000. The now 24-year-old had a great season scoring 17 goals and adding 15 helpers in 68 games. Prior to that season, he had just 13 points in 54 career games. That secondary scoring was massive for his team who as a whole struggled to score goals last season. He has since earned a new two-year deal paying him $2.425 million a season and will look to build off of last season's totals.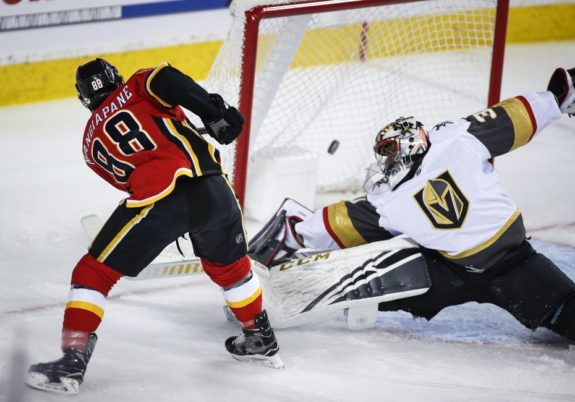 The Flames have a few potential players who could have a breakout 2020-21 season. One that comes to mind is Juuso Valimaki. The young defenceman who they selected with the 16th pick at the 2017 NHL Entry Draft would have secured a full-time role on the Flames roster last season if not for tearing his ACL in late August, which resulted in him missing the entire year.
He is currently playing in the SM-liiga waiting for the NHL season to start up and has an impressive 17 points in 17 games. Despite his talent, I believe there is one player in particular who has an even better chance at a breakout season.
Dillon Dube
Dillon Dube was drafted late in the second round (56 overall) by the Flames at the 2016 NHL Entry Draft. At the time, management knew they were taking a skilled, good skating and hard-working forward. He had recently wrapped up his second season in the Western Hockey League with the Kelowna Rockets, where he posted 26 goals and 66 points in 65 games.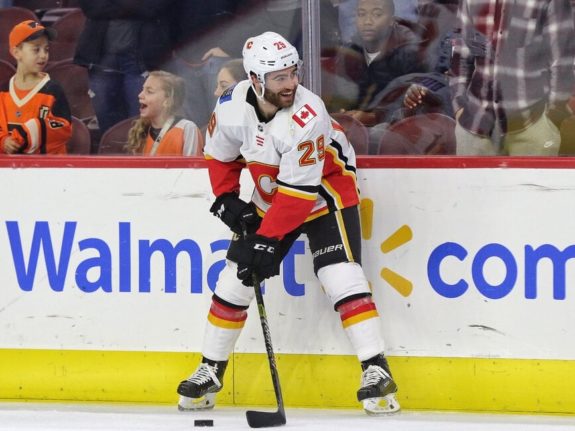 Despite his clear talent, there were some concerns with the Golden, British Columbia-native. One was his size, as some questioned how it would affect him playing against bigger and stronger competition in the NHL in future seasons. The other main concern was his defensive play, as that part of his game seemed to lack structure.
Steady Improvement
Since being selected by the Flames, Dube has continued to prove his game in many facets. After the draft, he played two more seasons for the Rockets, posting 139 points in just 93 games. Then came the 2018-19 season, which marked his first as a professional. He somewhat surprisingly made the Flames roster out of training camp, but ended up splitting that season nearly 50/50 between the NHL and AHL. That season saw him play in 37 games for the Stockton Heat. It was clear he was a legitimate NHL talent at this time, as he had 39 points at just 20 years old.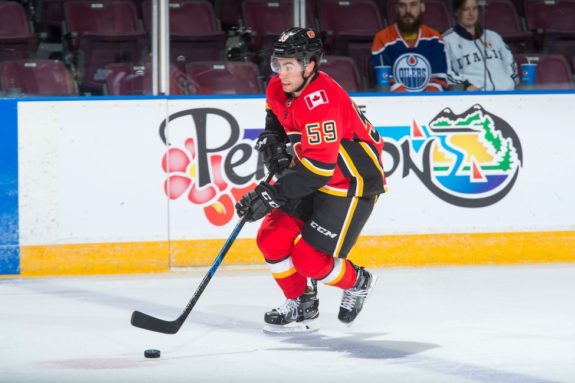 As surprising as it was when Dube cracked the roster, it was almost more so when he failed to do so the following season. His time in the AHL last season didn't last for long, though, as he was recalled in mid-November after putting up 13 points in 13 games. He looked like he belonged in the NHL this time around, as he provided great energy (averaging 6.20 hits per 60) and secondary scoring to the Flames' bottom six with 16 points in 45 games.
While his regular season with the Flames was a good improvement, it was the 2020 Stanley Cup Playoffs where he really stood out. Playing on a line with Milan Lucic and Sam Bennett, Dube was one of the teams' best players during their 10 games, tying for second in goals with four. His line was without a doubt Calgary's most consistent throughout the playoffs.
Further Telling Stats
When taking a deeper dive into Dube's stats from the 2019-20 season, there are a few interesting tidbits that prove why I believe he will take a big step forward next season. First is his points per 60 (P/60), which ended at 1.36. That number won't blow anyone away, but it is interesting to note that it came just shy of Sean Monahan's P/60 of 1.41. Though it was a rough year for Monahan, he was still able to break the 20-goal plateau. If Dube is able to get more ice time per game than just the 12:41 minutes he averaged last season, his offensive totals will increase as well.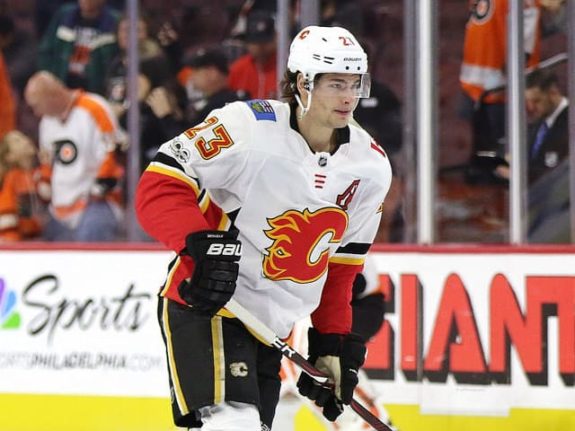 One particular area where head coach Geoff Ward should consider using him more is the power play. The first unit of Tkachuk, Monahan and Gaudreau up front, as well as Elias Lindholm and Mark Giordano on the back end, isn't going to change. However, the second unit can certainly be tinkered with.
One player that he may be able to replace is Lucic, who averaged 1:32 on the power play last season compared to Dube's 0:33. Despite much more ice time on the man advantage, Lucic had a lower power-play points per 60 (PPP/60) at just 4.62 compared to Dube's 4.92. While Lucic's role on the power play is to provide a net front screen, it wasn't overly effective as the Flames had the 12th-ranked power play in the NHL last year. Not bad by any means, but something that could certainly be worked on and switched up moving forward.
What to Expect
A big part of Dube breaking out this season will be dependent on whether or not he is given more ice time. There is certainly a chance that happens, as the Flames may shuffle their lines quickly if their top players struggle to put up numbers as they did last season. If he is able to get more opportunities, perhaps on a line with a bit more skill, he should have no problem putting up north of 40 points.
While this may not seem outstanding, it would be huge for a Flames team who had a tough time putting the puck in the net last season, finishing 20th in the league in goals for per game with just 2.91. Having more secondary scoring is beneficial anytime, let alone one who struggled to put up much offensively last season.
It is important to also note that these expectations are just for the upcoming season. He is still very young and will continue to grow for years to come. It isn't crazy to think he could develop into a regular 60-point player in the NHL, as he clearly has the skill set to do so. The future so far looks very bright for Dube.
---
---