The World Juniors Championship is one of the most exciting annual hockey events. In this abnormal year, it will be a nice break to be able to watch this tournament. Now is when speculation and roster analysis begins in earnest. The Ottawa Senators have arguably one of the best prospect pools in the NHL and here at The Hockey Writers, it's ranked fourth overall league wide. Of their eligible prospects, here are those who have the best opportunity to make the cut.
The Sure Things
Tim Stuetzle – GER
Stuetzle was drafted third overall at the 2020 NHL Entry Draft and will likely impress at the World Junior Championship (WJC) once again. Last year, Team Germany came out blazing, which surprised a lot of people and Stuetzle was a player to watch every night. Expect him to quarterback the power play, lead offensive rushes, and carry the team on his back.
Related: THW World Juniors Coverage
Last tournament he had five points in five games, all assists. He finished in the top 50 scorers of last year's tournament, but that will probably be different this year. Before the season began this year, Stuetzle sustained a hand injury but he is on track to be more than healthy for the tournament.
He is an impressive offensive specimen but this could be an opportunity for him to show off his improved defensive abilities as well. It's still unsure whether he will play at center as he did at last year's tournament when he centred the top line. The only thing that will keep Stuetzle from playing is the Senators not allowing him to go to the tournament.
Jake Sanderson – USA
Selected fifth overall by the Sens in the same draft, Sanderson is looking to make his presence felt at this tournament. It will be his first time playing at this level, and he is expected to be a big part of team USA. His skating ability matches his defensive mindset perfectly, and many have pegged him to be the next great two-way defender.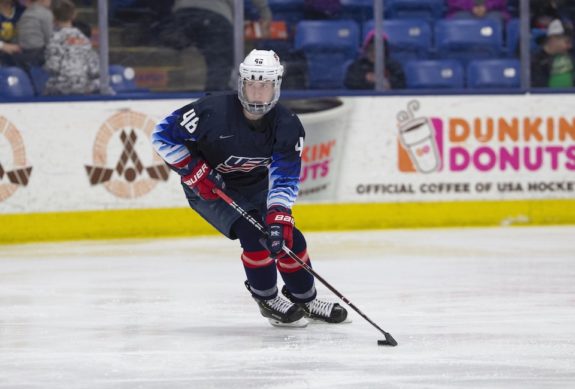 Sanderson's offensive ability has been called into question but, honestly, it seems like an underrated part of his game. He can lead the rush when he wants and find the seams when others don't have the vision or skill to do the same. He could be a part of the USA's top pairing in the tournament given his skill set and lack of returning D-men. For a player of his age, that would be a tremendous accomplishment.
Roby Jarventie – FIN
An odd choice, maybe, but there is no more dominant rookie in the Finnish Liiga right now than Jarventie, and for that, he should be a lock for Team Finland. Still, fans were confused when he was the Senators' first pick in the second round of the 2020 Draft. 
Jarventie is an offensive play driver who focuses on getting into the best scoring areas possible. He uses his strong skating to exploit the opposing defence and he could rejuvenate the Finns after last year's disappointment. He's also a big bodied winger at 6-foot-3 and he uses his size to be in the best place to score. He could be the perfect finisher for centre Anton Lundell who is also tearing up the Liiga.  
The Ones Who Have a Shot 
Ridly Greig – CAN
Greig is the lone Senators prospect who was invited to Team Canada's training camp. His offensive ability was above average last season, but that won't be why he's selected to Canada's roster. When he's on his game, Greig can be a team's worst nightmare with his aggressive and pesky playing style. He can tire out the opposition with relentless waves of pressure both physically and mentally.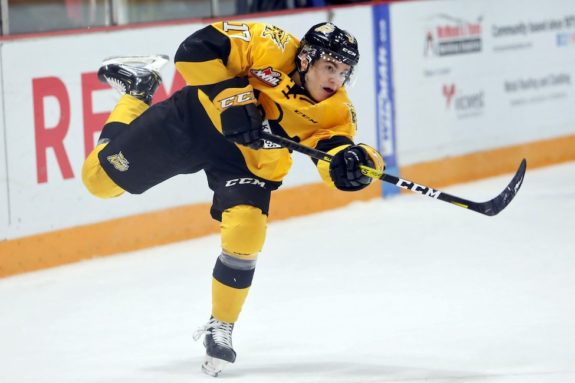 Greig's skill set is similar to Team Canada alumni Nazem Kadri and Brad Marchand. If he makes the team, it will likely be to fill in on the bottom six or be the 13th forward, but when he's called upon to play, the other team will know it.  
Tyler Kleven – USA
This massive American defenseman has played at every level for the US National team. He has tenure at various age levels for the National program, which could give him an edge. Team USA also has high turnover on defence, so Kleven has an opportunity to solidify a spot.
Kleven plays like defensemen of old with his hulking frame that can punish forwards at a moment's notice. Team USA will rely on him in the defensive zone and he could be used on the penalty kill. He has very limited offensive upside, so didn't expect him to hit the scoresheet often. If he makes the team, he'll slot in on the bottom pairing with some penalty kill duties.
The Dark Horse Pick 
Leevi Merilainen – FIN
Finnish goaltender Merilainen was selected in the third round of the 2020 Draft. He's having an excellent season sporting a .925 save percentage (SV%) in 12 games for Karpat's U20 team. Joel Blomqvist who also plays for Karpat is expected to start for the Finns. However, Merilainen could be his backup, or the third goaltender and get at least a game or two. He's a big goaltender at 6-foot-3 and moves very well. Finnish goaltenders have had a lot of success at the WJC and getting one game could give Merilainen the chance to impress.
Prospects a Plenty!
All in all, the Senators have immense talent in their prospect pool who have a habit of performing well at the WJC. For example, last season, Jacob Bernard-Docker and Shane Pinto — Bernard-Docker played important minutes throughout the tournament and Pinto finishing second in scoring for the USA. Mark Stone was an offensive machine in the 2012 tournament with 10 points in six games. In 2017, Thomas Chabot was named tournament MVP. (from 'Canadian Thomas Chabot named MVP at world juniors,' Globe and Mail, 01/06/2017)Stuetzle could very be the best player at the WJC this year if he plays. That's what makes the tournament so exciting — players put in performances that blow expectations away.
---
---