The trade market has already been heating up as there have been three significant trades around the league and more depth deals. The Calgary Flames are a team that is in the market to add a player or two by the 2023 Trade Deadline and we continue to look around the league at teams that could potentially be sellers. The Washington Capitals appear to have judged the status of their team and their playoff chances and decided to sell.
As the Capitals already moved Dmitry Orlov and Garnet Hathaway to kick off their trade deadline, there are more candidates on the team that will likely be moved. The Flames can take advantage of this and nab a couple of rentals in one deal.
Flames Address Both Needs at Deadline
The Capitals have fallen hard and now have four teams to jump to enter back into a playoff spot. They have lost six in a row in regulation and have scored just 10 total goals over that stretch. This was a tough season for them to start with all of the major injuries, but all of the bad luck has finally caught up with them as they decline. Though it shouldn't be over for them just yet, especially not with Alex Ovechkin still on the roster, they appear to be packing it in and planning to reset in the offseason.
Related: Flames Can Address Multiple Needs in Trade With Canucks
---
Latest News & Highlights
---
By packing it in, there are still more pending free agents to deal at the trade deadline and the Flames should take full advantage as the Bruins did and acquire multiple players to fill both of their needs. There is an obvious choice at forward in Conor Sheary, but two possible defenders that would do the trick are Nick Jensen or Erik Gustafsson.
Sheary may not be in the Capitals' plans moving forward despite the strong offensive season he's put together. The team went and signed Sonny Milano and Dylan Strome, signaling the middle-six pieces they are looking to keep around. Once again it feels like Sheary is underpaid and still able to produce, which may indicate he is in store for a pay raise and the Capitals know it. He currently has a cap hit of just $1.5 million and has 12 goals and 30 points in 60 games. The 30-year-old can play both wings and has played in the top six this season.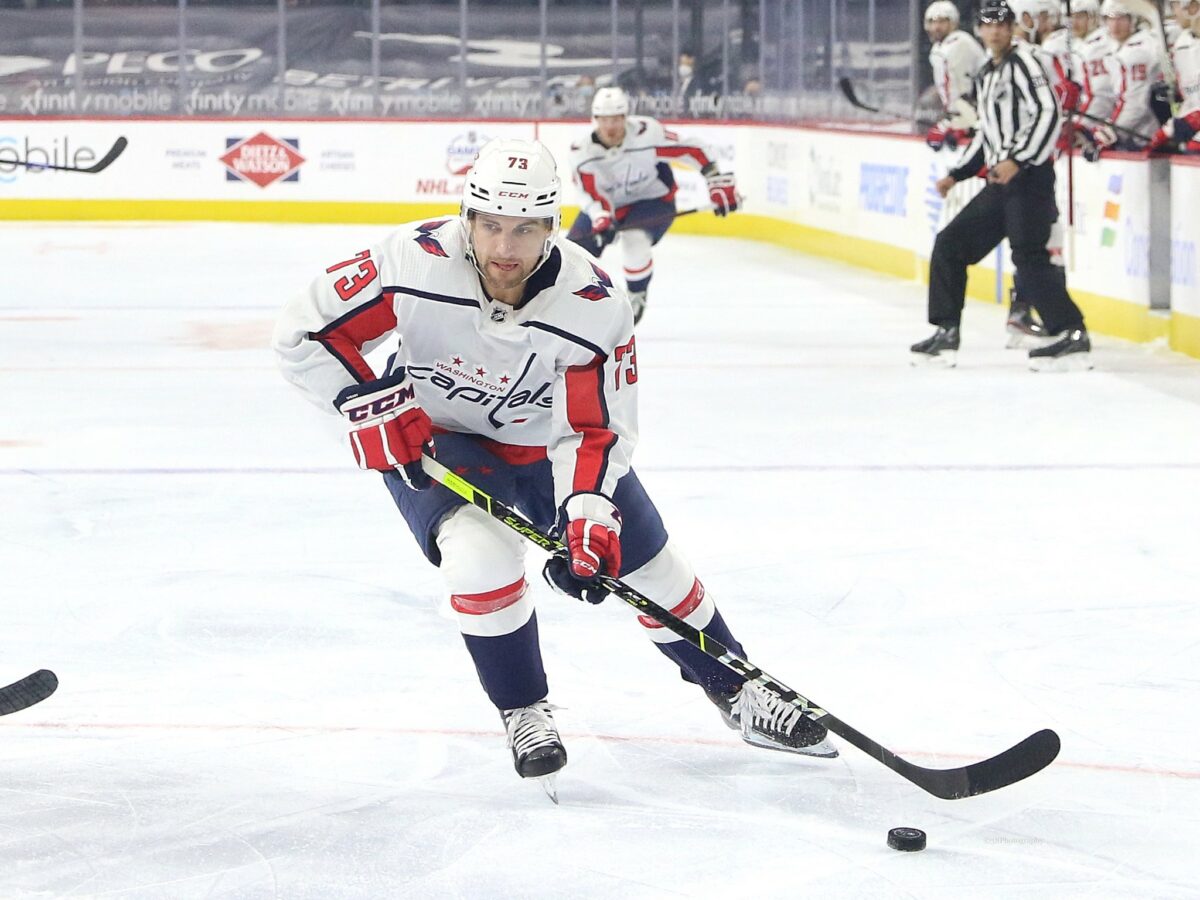 Sheary can consistently be counted on to provide 10-20 goals and 30-plus points. He may not be the biggest name out there the Flames could get, but it won't cost them a first-round pick. They would also have a lot of cap space remaining and with their uncertain playoff status, would still show they are at least trying to go for it this season.
The Flames have a choice if they are also looking for a one-stop-shop at the deadline with Washington. Jensen and Gustafsson provide much different play styles and both could benefit the Flames for a low cap hit as well. Jensen is the more expensive one at $2.5 million, but he has also been serving on the top pair. He is better defensively and all around while leading the current defencemen in ice time. Though he's not thought of as a player who can provide much offence, he has two goals and 22 points on the season.
Gustafsson may be a very underrated pickup by the Flames seeing as he has once again been given a chance and is providing tons of offence. With John Carlson out of action, Gustafsson has been manning the top power-play unit and providing a great deal of offence. He has seven goals and 35 points in 59 games while his cap hit is $800,000. This isn't a breakout season for him either. He put up very impressive numbers in Chicago in 2018-19.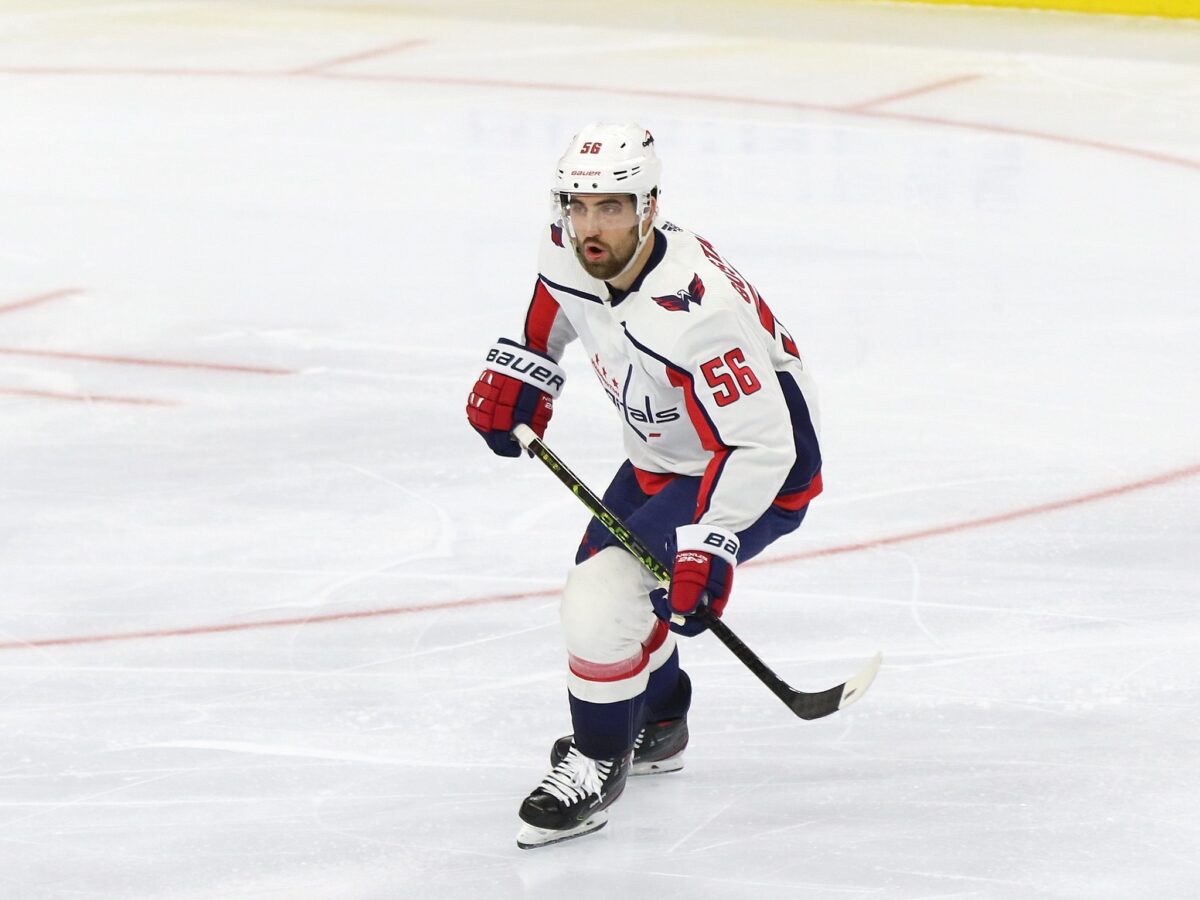 Though some of Gustafsson's offence comes on the power play, he is actually very effective at even strength where he's scored all of his goals and logged 25 points this season. The Flames would get great value as he could play on the second or third pair but provide the team with a power-play quarterback to help improve their conversion rate. Once again, I don't think Gustafsson would fetch the Capitals a first-round pick, but they may also have an inclination to re-sign him.
Capitals Open for Business
Now that teams know the Capitals are open for business, interest will start to pick up in the final week leading up to the trade deadline. Jensen may garner the most interest as an all-around, solid defenceman and teams with minimal cap space could look to the Capitals as well for their deadline fix.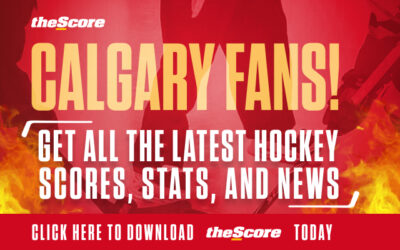 The Capitals are likely looking just to move what free agents they can as they already have a bunch of money tied up next season. Whether it be draft picks or prospects they can get in return, they should be accepting whatever can best be used to help them make a return to the playoffs next season if their playoff streak ends this season. The end of an era is coming in Washington once Ovechkin calls it a career, but they won't be rebuilding until he retires, they owe him that much.
There are still a few games for the Flames to get into better position in the standings, but it may not be the year to spend a first-round pick or trade a top prospect at the deadline. The team hasn't shown sustained success or are in an encouraging spot to undoubtedly go for it and pay big for an addition. A couple of smaller additions that will still contribute and boost the lineup is maybe all we could ask for from Brad Treliving.
---
---