The Calgary Flames' start to the 2020-21 season has no doubt been slower than fans would like (from 'No comeback this time as Flames fall to Jets after another slow start', Calgary Sun – 02/03/2021). And with this season unlike any before and likely after, the Flames have had to adapt.
One of the players to see a bigger role has been 24-year-old defenceman Rasmus Andersson, as the coaching staff have been more reliant on the young defender. With the departure of TJ Brodie this offseason, an offensive gap on the backend was exposed, and while the loss of the long-standing Flame had to hurt, Andersson has shown over the past few seasons his development was ready to take the next leap.
The coaching staff has shown their confidence in the six-foot-one defender as he's playing more minutes than ever before.
Next Level
After becoming a regular in the top-six in the 2018-19 season, Andersson put up 19 points in 79 games. The following season saw him score more points in fewer games with 22 in 70 games. After only averaging 16:02 in time on ice in 2018-19, the coaching staff entrusted the Swede with a large boost in ice time last season, jumping to 19:56. 
With an opening on the top defensive pairing next to captain Mark Giordano, sliding Andersson into that role looks to be the move for the foreseeable future. Despite the Flames' early struggles, Andersson has been finding the score sheet at a good clip with two goals and three assists in the first nine games. He has made the most of his power play time with one goal and two assists.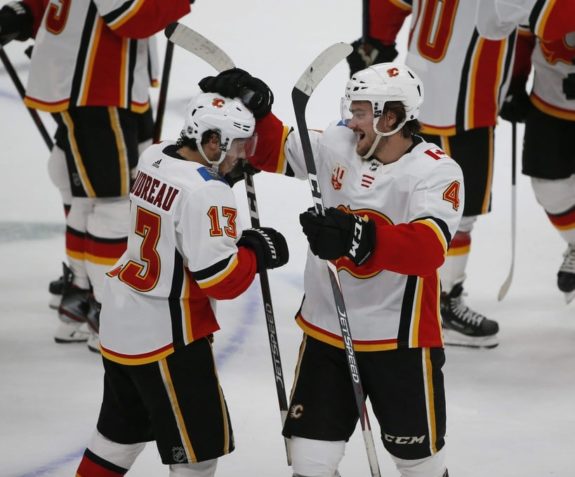 Considering his heavy shot and good poise as a puck carrier, Andersson is one of the better-suited defenders to play on the power play.
His average time on ice has also crept up to 20:54 this season, with an average of 4:13 on the power play and 0:41 on the penalty kill. While not a bonafide option for the penalty kill, the fact he is getting a shot is good news. At just 24, the Flames will need to have their defensive core take more strides, especially in their own end, with Gio not getting any younger.
The need for good two-way defensemen in the NHL is ever more prevalent each year, and if Andersson can prove he's capable of playing against top tier talent, there's no reason to believe he can't continue to be a mainstay with the Flames.
Improvements Still Needed
While the Flames have been leaning more on Andersson early this year, not all of his stats have shown to be on the upward swing. Despite decent point totals and higher time on ice, some stats have been lower, albeit he's only played in nine games.
His Corsi For % (CF %) is at 46.3 but considering he's been over 50 percent for the last two years, it shouldn't be too much of a concern yet. Looking at his zone starts, he's starting more in his own, and since he's playing with Giordano, that shouldn't be a surprise. In the past two seasons, he saw 54.6 and 58.1 percent starts in the offensive zone, where this year it's 52.9.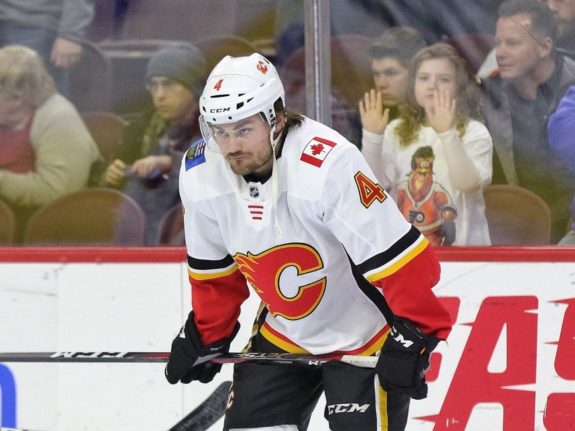 With more opportunity coming this year, Andersson will need to focus on consistency in his 200-foot game, and that will likely come with more experience playing in the top pairing (from 'Flames defenceman Andersson proving he was ready for workhorse duties', The Chronicle Herald – 01/22/2021). 
One of the things he needs to clean up is giveaways. After 39 giveaways last season, which was down from the previous season which he had 45, Andersson has committed eight giveaways in nine games. While he's skilled with the puck, better decisions on what to do with it will be needed.
What To Watch For
With the bulk of regular-season games still ahead, Andersson will no doubt continue to see more ice.
As a fairly physical defenceman, his use of the body to get opposing players off the puck will need to continue. He never tallies a ton of hits (51 in 2019-20 and 52 in 2018-19) but being in a position to eliminate the player from the puck and then making a smart decision after that will be critical for his success.
The Flames will be battling all year long for one of the final four North Division playoff spots, and Andersson will be a big part of that.
Looking at his current stats, there's reason to believe he'll be able to grow his points per game over the 0.31 in 2019-20 and 0.24 in 2018-19. Sitting at 0.56 in nine games, with plenty of ice available over the entirety of the season, hovering in the 0.6 to 0.7 range would be a great next step.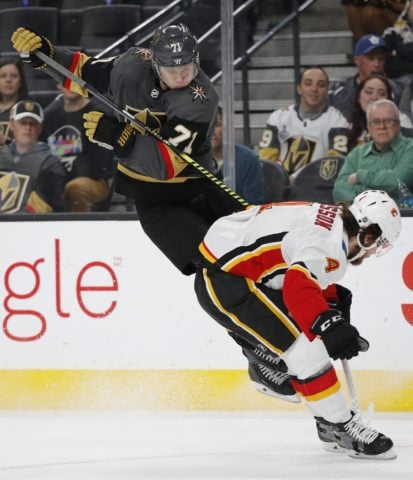 Another category to take note of over the rest of the season is expected goals for (xGF) and against (xGA).
Looking back, he has been able to produce better xGF in his two full seasons with 48.7 xGF compared to 40.4 xGA in 2018-19. In 2019-20, he saw 52.2 xGF compared to 45 xGA. While these stats don't tell the whole picture, it does help to show Andersson helps put the Flames in better positions to score rather than be scored on. Plus, playing with Giordano will certainly help some of his analytics by the end of the season.
The remaining games will certainly be a good look into what Andersson can bring to the Flames over the next several seasons.
---
---
Southern Alberta reporter/photographer who also covers the Calgary Flames for The Hockey Writers. Big hockey, baseball and basketball fan. Aside from sports, I also love music.