Over the course of his first four seasons in the NHL, Andrew Copp has been an effective player for the Winnipeg Jets. Finding himself alongside Adam Lowry and Mason Appleton for the majority of his NHL career, the trio continues to be a staple within Winnipeg's bottom-six.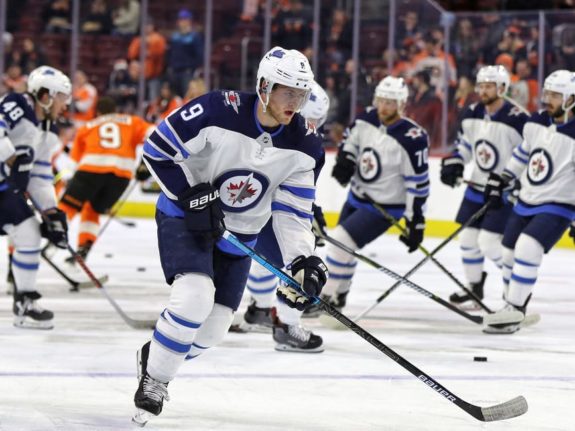 Now entering his fifth full season in a Jets' uniform, Copp has greatly benefited from the Canadian competition. With 10 points in his first 10 games, Copp is on quite the hot streak to start the season and has found himself skyrocketing up the Jets' lineup during that stretch. And with Patrik Laine's recent exeunt via trade, the opportunity is Copp's for the taking, should he continue to produce.
Being one of the many bright spots for the third-place Jets, here are some of the keys behind Copp's early-season success.
Copp's Versatility Evident in the Early Going
A big reason why Copp has found himself in a higher-usage role is because of his ability to play in any situation. In a small sample size, the 26-year-old hasn't only improved his offensive awareness but has also simultaneously grown his defensive game, becoming a go-to option on the penalty kill in addition to his growing role on the Jet's second power play unit.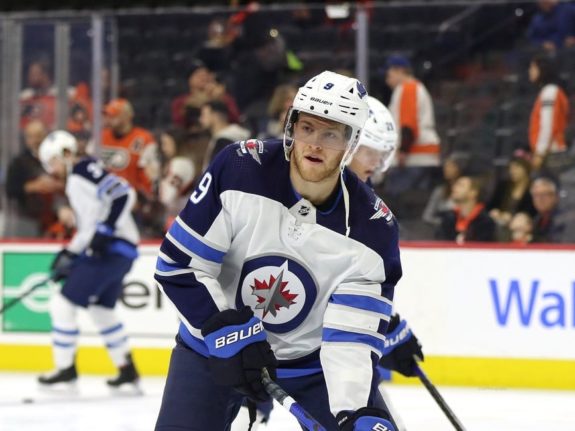 As a result of his hot start, Copp has seen a drastic increase in his time-on-ice, averaging 22 minutes and change over his last three games. With a near five minute increase compared to his first five games, Copp's impact at 5-on-5 as well as his role within Winnipeg's special team's strategy has allowed the Ann Arbor-native to blossom into a high-impact player.
Copp's Netfront Presence Making All the Difference
A strategy made famous by James van Riemsdyk, Copp has been rewarded with his ability to get to the dirty areas of the ice. Looking back at his four goals this season, all of them draw similar parallels amongst one another (aside from his lone empty-netter against the Oilers), often the result of Copp winning an offensive zone battle and finding open areas to take advantage of.
Back on Jan 23rd, Copp's first goal of the season came off his own rebound, sliding the puck across the goal line shortly after hitting the post. In that same contest, Copp whacked home his own rebound past Marcus Hogberg, following three or four previous tries at the top of the crease.
Three days later, against the Oilers, Copp buried an Adam Lowry rebound from a similar spot on the ice, marking his first power play goal of the campaign.
With all of his goals coming from just outside the crease, Copp has taken his aggressiveness and physicality and applied it in the offensive zone. While leading the Jets in shots through the first 10 games, Copp's ability to push opposing defensemen back while entering the zone has not only allowed him to get to the front of the net but has also created space for his teammates in order to sustain pressure.
How High is Copp's Ceiling?
As of right now, it's difficult to predict how much potential Copp has. His stint on the Jets' top line has only just begun, and his time on the second power play unit has been vastly overshadowed by how much the Mark Scheifele-Blake Wheeler-Kyle Connor combination has been playing. Only time will tell if Copp can continue to shoulder the offensive responsibility he's been given.
With that being said, there are plenty of positives within his game. Copp has been able to generate chances and put up impressive numbers in a secondary role, so it's quite easy to fathom why he could become even more dangerous should his ice time continue to climb.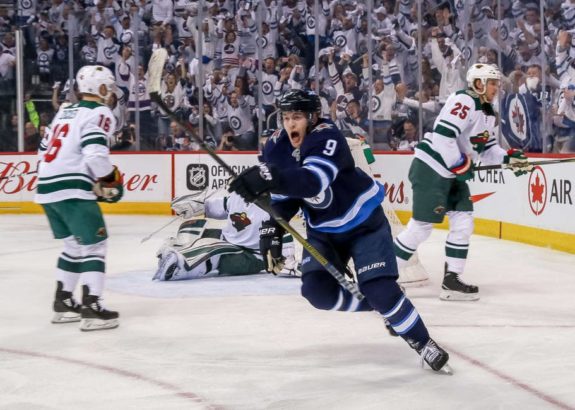 Regardless, his notable start is a welcome sign for Winnipeg, who continues to battle in the highly-competitive North Division. Depth scoring continues to be an integral part of today's game, so it'll be up to players like Copp to keep the Jets competitive as the season continues.
Upcoming Games Present Measuring Stick for Copp
As previously mentioned, Copp continues to be pencilled in on Winnipeg's top line, alongside Scheifele and team scoring leader Nikolaj Ehlers. While early-season success should certainly be celebrated, these next few games will provide a good indication as to what Copp's role on this team should be.
Early on, Copp has shown glimpses of his top-six capabilities, even without playing on the top line. Now situated alongside the Jets' best players, he's now been given the biggest opportunity to continue to produce.
What does this mean? It means Copp is in control of his destiny. Should he continue to produce, there won't be any reason to demote him. Should he cool off, the Jets may have to look at other options. But, in my humble opinion, the latter of those two possibilities is certainly far less likely to happen.
Which Jets' player has impressed you the most so far? What is Copp's role with the team moving forward? Let me know in the comments.
---
---
Currently a sport media student at Ryerson University in Toronto, Josh Kim is a freelance photographer and journalist with The Hockey Writers. Having worked within the ECHL, PWHPA, and OHL in a variety of content-based roles, Josh has been working in sports for the past 5+ years and currently finds himself working with Ryerson athletics as a sports photographer. With The Hockey Writers, Josh chases feature stories while also covering the Winnipeg Jets, the World Juniors, and the NHL Entry Draft. While hockey continues to be his main focus, Josh is also a fully credentialed WNBA writer and the host of the Get Your Head in the Game podcast, which emphasizes the connection between mental health and sport. If you're interested in seeing a full display of his work, if you've got a story tip, or just want to get in touch, please find Josh's socials linked below his articles and visit his website: joshkimphoto.com