At first glance, Blake Wheeler looks to be having a good start to the season, with three goals and eight assists for 11 points in just nine games.
However, offence is just one aspect of the game. Look beyond his point totals early into the 2020-21 NHL season and you'll see a player whose defensive game leaves much to be desired and whose deficiencies are deeply hurting the Jets.
Wheeler Awful at Even Strength
The Jets' captain has been a liability at even strength; perhaps the biggest liability on a Jets' squad that's giving up an inflated 3.22 goals per game.
The Jets have allowed 17 goals during five-on-five play this season. Wheeler has been on the ice for 12 of them, and is a team-worst minus seven. That's even more alarming given he's began 65.2 per cent of his even-strength shifts in the offensive zone.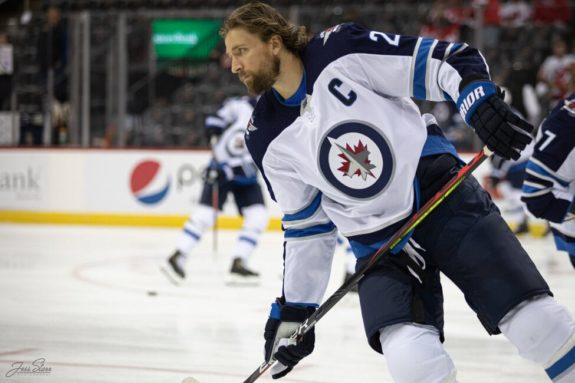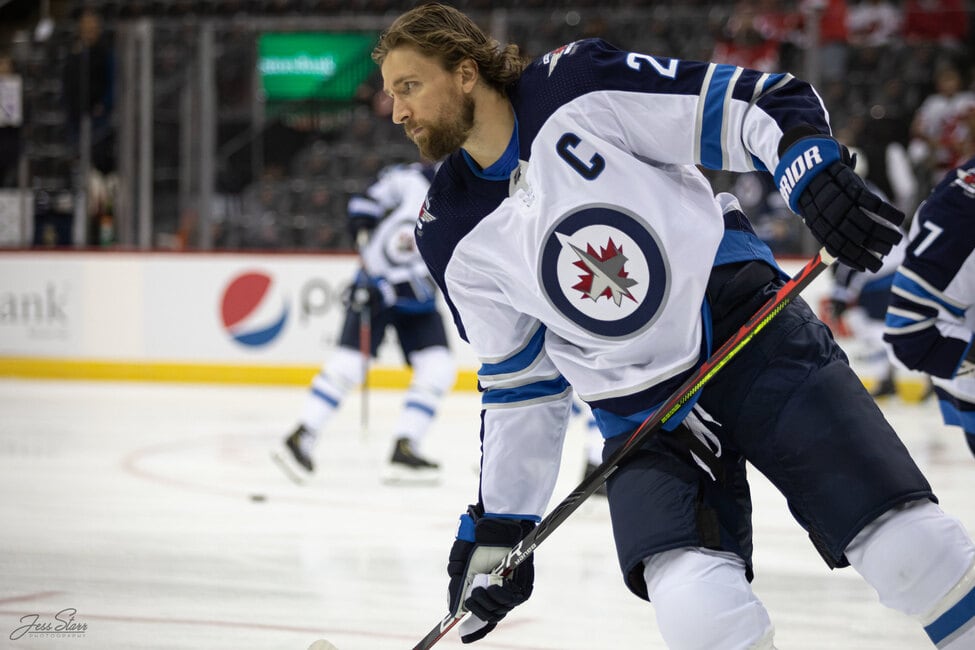 While his point totals are good and he'll probably record a point per game or close this season, the majority of his production has come on the power play. He's only recorded five points at even strength.
His even strength CORSI and Fenwick numbers at even strength are the worst of his career so far at 47.5 and 45.6 per cent, respectively.
Wheeler's List of Miscues Piling Up
Wheeler has either been caught coasting, has been indecisive, or has lost his man altogether many times this season. Just two of many cases in point:
On the Vancouver Canucks' first goal last Saturday — a tally that came just 29 seconds in and set the tone for the entire evening — Wheeler was standing around, directing traffic.
What he really should have been doing instead of pointing at others with his stick was looking over his shoulder for Brock Boeser, who slipped right into the middle of the ice undetected, took a pass from Alexander Edler, and easily backhanded it past Connor Hellebuyck.
Wheeler partially owned that one, half blaming the goal on a bad bounce off of Josh Morrissey's stick and half blaming his failure to keep close tabs on the Canucks' young star.
That goal is just one example. He was also caught gliding on the Calgary Flames' game-tying goal on Monday, letting Johnny Gaudreau get wide open for a back-side tap-in.
Wheeler isn't the only player guilty of being defensively deficient. Mark Scheifele has also been poor without the puck, but not as profoundly. The situation with the two of them on the top line with Kyle Connor — a line that was fearsome in seasons past — got so untenable that head coach Paul Maurice broke up the trio and moved Paul Stastny to play with Wheeler and Connor instead.
But Wheeler dragged down Stastny and Connor Monday night. Prior to that game, Stastny was dominating with Nikolaj Ehlers.
Related: Winnipeg Jets' Three Stars — January, 2021
The new line had five scoring chances for (2 high-danger) but 10 scoring chances against (6 high-danger) on Monday, The Winnipeg Sun's Scott Billeck reported.
Effort Level, Attitude, or Age?
A captain is supposed to lead by example in all aspects of the game, and a leader should play so hard that no one can question their work ethic. Wheeler has been well-known as a very serious player who is dedicated to his conditioning.
It's hard to make a compelling argument, though, that Wheeler is giving his full effort on every play. It's possible he's harbouring some inner frustrations that have manifested in poor play.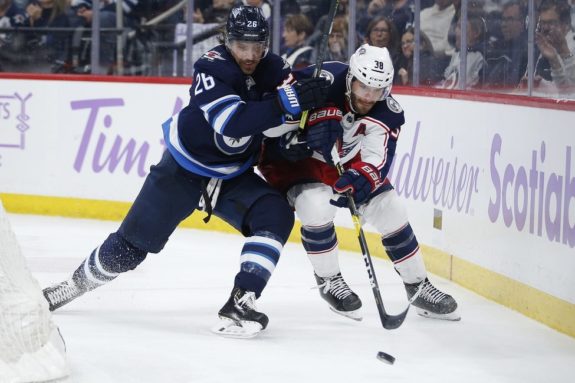 His ability as a leader came under scrutiny in the aftermath of the Patrik Laine for Pierre-Luc Dubois trade and rumours have surfaced from Finnish tabloid Iltalehti (albeit ones from an anonymous source) accusing him of driving Laine out of town and presiding over a toxic locker room.
Related: NHL Rumours: Maple Leafs, Flyers, Canucks, Jets Drove Laine Out, More
There's also the possibility that Father Time is finally catching up to Wheeler, now 34. Wheeler was a late bloomer and didn't show many signs of slowing down prior to this season. Father Time comes for every player, eventually, though.
If this calibre of play is what the Jets are to expect of their captain from now on, they're in big trouble. He's set to make $10 million next season, $6.5 million in 2022-23, and $8.25 million in 2023-24.
A Shake-Up is Needed
A shake up bigger than just shuffling Wheeler around the top six.
If any other player was playing this poorly, they'd be in the bottom six, no question, if not out of the lineup completely. The only thing keeping Wheeler on lines one or two is the 'C' on his chest.
Wheeler needs a stint on the third or fourth line to refocus and re-find his defensive game. He can play down in the lineup and still stay on the top power play unit. He hasn't missed a beat there.
Wheeler on the bottom six isn't great for optics, but the optics of him continuing to be on the top six are arguably even worse: that Wheeler himself — not his coach — dictates his usage and that he won't be held to the same standards as other players.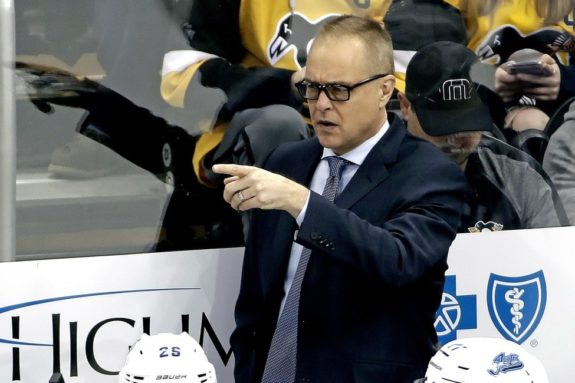 It's a shame the Jets have to worry about Wheeler at all, because for the amount he makes and with the experience he has, they shouldn't have to. However, The Jets, losers of three of their last four, can't afford to keep trotting him out against the North Division's many stars.
If they do, the goals against will keep piling up.
---
---