In today's NHL rumor rundown, could the Toronto Maple Leafs be moving a defenseman to obtain a forward? More specifically, could that defenseman be Travis Dermott? Meanwhile, Vancouver Canucks GM Jim Benning has found himself on the hot seat. How secure is his job as the team's manager? The Philadelphia Flyers and Florida Panthers are connected in trade rumors and was it three particular members of the Winnipeg Jets organization that drove forward Patrik Laine to want out?
Maple Leafs Willing to Move Dermott?
Following Elliotte Friedman's report on Sportsnet that the Maple Leafs might be in the trade market for a forward, Jonas Siegel of The Athletic agrees and suggested the Leafs might be willing to move Travis Dermott.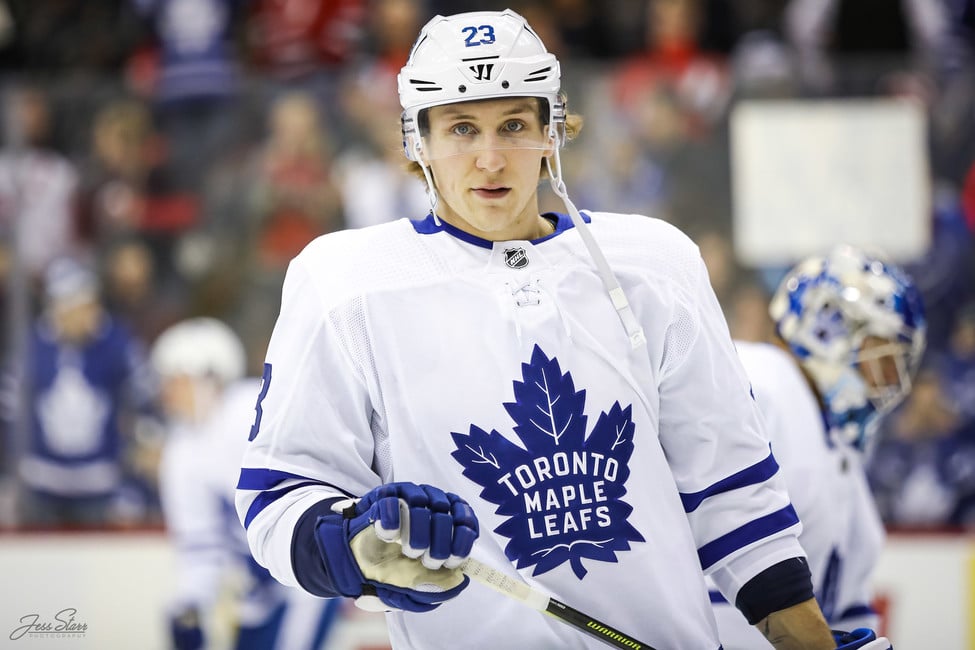 Siegel writes:
Travis Dermott feels like the likeliest candidate to move. He's averaged just over 11 minutes per game so far this season with no power play or penalty killing opportunity. Rasmus Sandin could slide easily into those minutes. Maybe Mikko Lehtonen can as well.

source – 'Monday Morning Leafs Report: Auston Matthews' injury concern and a trade thought' – Jonas Siegel – The Athletic – 01/25/2021
Siegel does caution that one injury in the top four and Dermott is likely to move up to fill the hole, thus there is a risk in moving him out. He also notes that if the Leafs move Dermott in a trade, they'll leave another defenseman exposed during the expansion draft.
Related: Maple Leafs' Takeaways: Simmonds, Marner & Milestones
Benning on Hot Seat in Vancouver
According to The Athletic's Harman Dayal and Thomas Drance, Benning is under intense pressure due to the team's early struggles and has found himself on the hot seat with criticism coming from a number of places.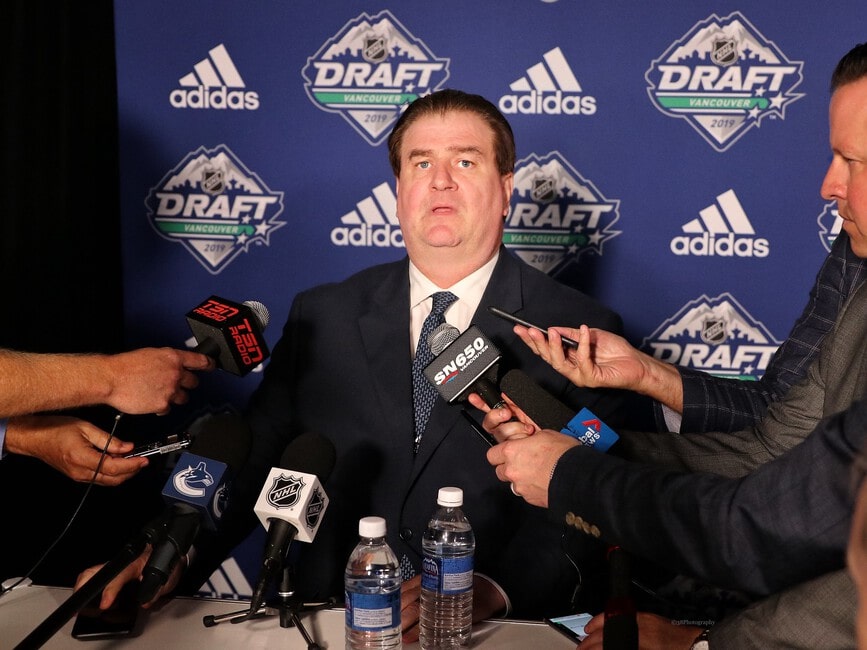 Benning is being blamed for many decisions, including not to retain Jacob Markstrom, Chris Tanev and Tyler Toffoli, and he's very much responsible for the team's bloated salary cap issues.
The scribes write:
"It's pretty rare that early-season struggles like what the Canucks are enduring would create this level of public pressure on an NHL general manager. Usually, the first ax falls on the head coach.

It'll be worth monitoring this dynamic as the season goes along, particularly if things get really bleak for the Canucks in the early going here."

source – 'The Armies: As Canucks absorb another loss, it's getting late just 7 games in' – Harman Dayal and Thomas Drance – The Athletic – 01/23/2021
Flyers Linked to Keith Yandle?
Jimmy Murphy of Florida Hockey Now reports there's been some trade chatter surrounding Philadelphia Flyers defenseman Shayne Gostisbehere and Florida Panthers blueliner Keith Yandle. That chatter dates all the way back to last fall's NHL Draft. Murphy adds there are "more than legs" to the rumors since the talk of Yandle potentially being a healthy scratch made headlines.
A source tells Murphy that the Flyers could "eat some money there," but also that if Yandle wasn't a fit, Flyers general manager Chuck Fletcher could be active in the trade market and looking at someone like Detroit Red Wings rearguard Danny DeKeyser.
Laine Driven Out of Winnipeg By Fellow Players?
Blake Wheeler said after Laine was traded that he regretted how he handled his and Laine's relationship. It was an odd statement that he didn't elaborate on, but there might be more information on that front coming to light.
Finnish publication Iltalehti is reporting that it was some of the players inside the Jets locker room, including Wheeler, that didn't get along with Laine and that's one of the key reasons he wanted out. The publication (translated into English) wrote, "According to information from Iltalehti's insiders, one of them was the Jets veteran striker, Captain Blake Wheeler. The other was Jets 'number one center, Wheeler weapon carrier Mark Scheifele."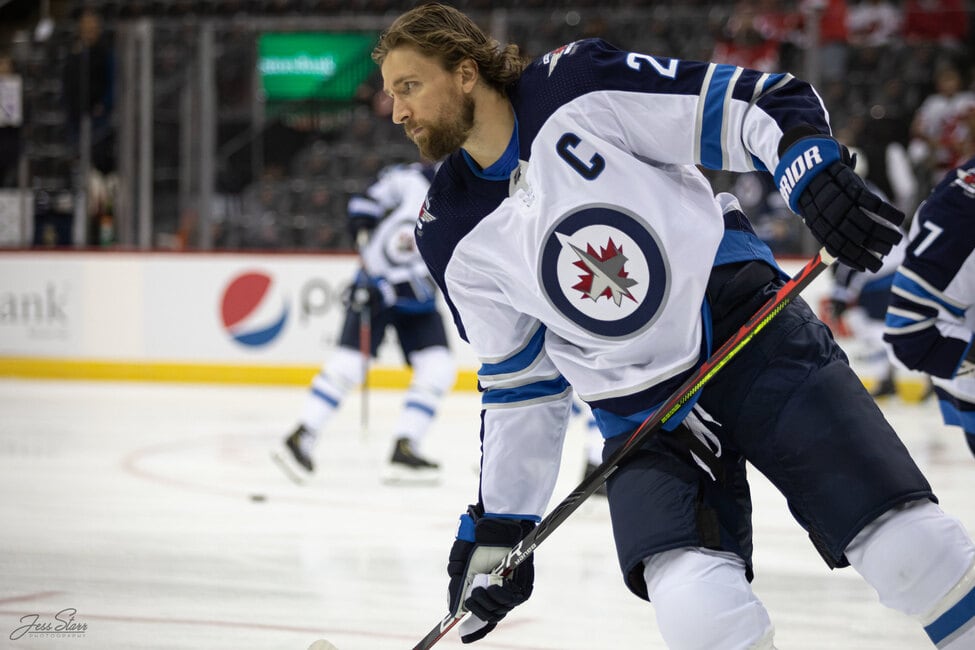 The report goes onto say that Wheeler felt his position as No. 1 right winger was being threatened and he didn't like that Laine was becoming as popular of a Finnish player as Teemu Selänne. They add, "Scheifele, who was on the team captain's leash, made it clear to everyone that he wanted to play with Wheeler."
The report suggests that Wheeler often spoke behind the back of Laine, releasing private details to the public and that Jets head coach Paul Maurice was too weak to defy Wheeler and Scheifele. It adds, Maurice was clearly not running the team, but Wheeler and Scheifele were.
These are some pretty serious accusations and it's not clear how reputable the source is, but it might lend some clarity to why Wheeler felt compelled to speak about his past relationship with Laine.
The report contends that Wheeler is a common thread to a number of the departures over the years for the Jets, including Evander Kane, Dustin Byfuglien, Jacob Trouba, and Jack Roslovic. They write, "This tells us that there is something rotten in the club led by GM Kevin Cheveldayoff and in the locker room led by Wheeler."
---
---
Catch up on all the latest NHL Rumors