The Calgary Flames made some noise on Wednesday, as they re-signed top prospect Glenn Gawdin to a one-year, two-way contract. Gawdin's new deal will see the 23-year-old earn $700,000 per season, and the Flames were able to tick off another name from their list of restricted free agents seeking work with the team next season.
Gawdin had a breakout season in 2019-20 with Flames' AHL affiliate team, the Stockton Heat, where he racked up an astonishing 47 points in 53 games. He was also on the AHL All-Star Classic roster in 2020 where he represented the Heat. (From 'Proof of his progress, Flames prospect Gawdin to skate among AHL all-stars,' Calgary Sun, 1/25/20)
Not only was his team leading offensive contribution's eye opening, but his ability to produce while remaining disciplined with 28 penalty minutes was, too. The season prior in his first campaign with the Heat, he tallied 38 points and 59 penalty minutes in 64 games. Career progression is the number one thing Gawdin must continue if he wants to crack a full-time roster spot with the Flames, and with several offseason departures at centre, his opportunity couldn't have come at a better time.
Who Is Glenn Gawdin?
Gawdin was drafted 116th overall by the St. Louis Blues in 2015, and signed with the Flames in 2017 as a free agent. His addition adds youth as well as size, as he stands at 6-foot-1 and weighs 191 pounds. He is sure to be strong on the puck in all ends of the ice, and his development over the last few seasons has proved that.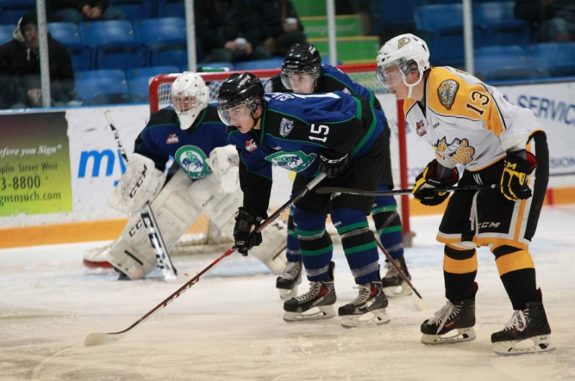 In his last two seasons with the Heat, Gawdin has posted 85 points in 117 AHL games, and also led his team in scoring last season. In the 2017-18 season, Gawdin blew away the Western Hockey League with 125 points in 67 games with the Swift Current Broncos, which put the centre at second in scoring leaders for that season behind Jayden Halbgewachs. After two seasons of steady improvement in the AHL, it appears the Flames are ready for a sample size of Gawdin.
How Short Is Gawdin's Window?
With the departure of Mark Jankowksi, Austin Czarnik, and Alan Quine, Gawdin has the potential to carve his name on the opening night roster. No, it won't be easy, but it isn't impossible. With Sean Monahan, Mikael Backlund, Sam Bennett and Derek Ryan at centre for the Flames, Gawdin will need to extremely hard during training camp if he wants to earn playing time in Calgary. Its hard to see one of those four guys sit out, but during the course of a season, there may be a period where he is needed as injuries and illnesses play a factor.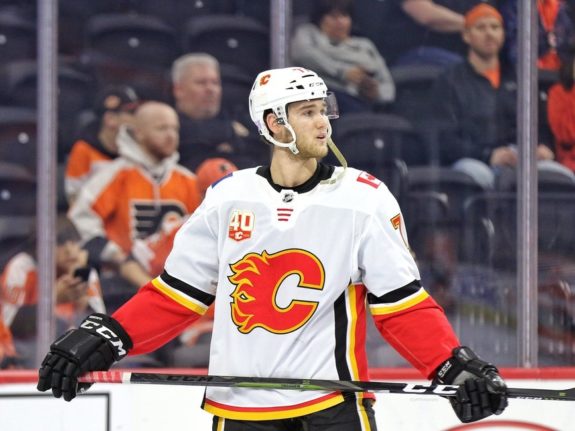 It is likely that the only way Gawdin will play on the 2020-21 season opener is if an injury arises. It's a circumstance no one wants to see play out, but if he can impress the Flames' brass during camp, he could be a tremendous addition to the big club's lineup when called upon. It will be interesting to see how possible playing time in the NHL transpires into his development at centre, as we all know the faceoff circle at the pro level is that much more challenging.
Potential For a Bright Future
After sustaining a high ankle sprain just before the NHL's 2020 Stanley Cup playoffs, Gawdin's future for next season remained uncertain. "It was unfortunate for sure. It wasn't the way I thought it was going to go. (The injury) lingered for probably a good three weeks. Thankfully now it's pretty much 100 percent… there was nothing I could do about it, so I just tried to keep my mind right and get back as quick as possible," Gawdin said. (From 'Top prospect Gawdin hopes to prove himself in new one-year deal with Flames,' Calgary Sun, 10/15/20)
Now that the contract has been signed, the injured ankle is almost healed, and the offseason has begun, Gawdin will spend his days focused on breaking into the Flames' roster. A goal that will certainly require dedication and drive, but with Gawdin behind the wheel, the fate of his destiny will be solely based on how hard he competes on and off the ice when all eyes are watching.
---
---