What a difference a week makes. Just when their strong special teams seemed to be leading the Calgary Flames to the playoffs, they've jeopardized it with poor play.
Nothing demonstrated that more than Monday's 2-0 shutout loss to the Winnipeg Jets, a team that was reeling after losing Patrik Laine to a concussion on Saturday. The Flames had a real opportunity to capitalize against a team behind them in the standings and instead they came out flat and unable to make a good pass for most of the game.
You'd think a team fighting for their playoff lives would play with more urgency and a higher compete level but that wasn't the case. What is baffling is that there doesn't seem to be much urgency on the part of management either.
Since the beginning of the season, there have been clear problems to address with the Flames defense pairings and next to nothing has been done about it aside from shuffling Brett Kulak, Jyrki Jokipakka, Dennis Wideman and Tyler Wotherspoon in and out of the line-up.
I know the situation is difficult to address with Wideman's nearly unmovable $5.25 million a year contract. Not to mention the fact that it's January and many teams are still holding back on making deals. But, shouldn't something be done?
http://gty.im/516083132
Is It Time to Shake Things Up?
Right now, we know there are many teams seeking mobile, puck-moving defencemen like T.J. Brodie and Mark Giordano. They also would be interested in any of the rising Flames prospects like Rasmus Andersson, Andrew Fox or Oliver Kylington. Mobile defencemen are an area of strength for the Flames and that's why many fans are wondering if it's time to improve the odds of making the playoffs this year by making a deal.
Brodie especially is having a terrible year offensively. He is on pace to drop more than 10 points from last season's total and has a plus-minus rating of -16, thanks to being paired up most nights with the defensively-challenged Wideman.
Giordano and Hamilton have played well together (except on that nasty Byfuglien goal vs Winnipeg) as the team's top pairing but the Flames can't afford to only have one consistently performing pairing if they want to make the playoffs.
There is logic to making a trade. After all, the Flames need to shore up their defense and acquire other defenders who are more confident in their own zone. If they were really lucky, maybe they could find the elusive first-line right winger that they desperately need to play with Johnny Gaudreau? Still, there is still a lot challenging about moving Brodie or Giordano.
Brodie, Giordano or a Young Prospect
Mark Giordano is the team captain and a life-long Flames player who, at 33 years old, has a no-trade clause and is only in the first of a six-year contract, paying $6.75 million per season. Last year, he could have won the Norris trophy if not for the season-ending injury when he tore his bicep tendon. It would be very difficult to move Giordano and there's also reason to believe that his play will improve if he shoulders less of the load for his under-performing teammates.
The more likely, but also riskier, trade scenario would be to move Brodie. He's having a terrible year but he's also only 26 years old and known for being one of the best skaters in the NHL. He also has a really great contract at just under $4.7 million annually until the end of 2019-20 season.
It would be easy to point the finger at Brodie for his abysmal season and give up on him by shipping him elsewhere but he is a rare player with great puck-moving ability and skating skills that can provide a lot of offense. He's a player that is worth his contract and that's saying a lot in today's NHL.
He's also playing with an anchor in the slow-footed and frequently out of position Wideman. Brodie might not be the best guy to move either. So, maybe a trade could have more impact if it were less of a blockbuster.
Do the Islanders Have What the Flames Need?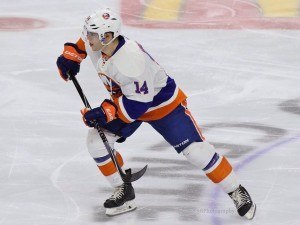 Right now, the New York Islanders have two defencemen in Thomas Hickey and Calvin De Haan, who both make around $2 million per season on short-term contracts that will end either this season or next. They are both in their mid-twenties and would be low-risk additions that could benefit from a change of scenery.
The Islanders sit last in the Eastern Conference with just 38 points and have very little hope of making the playoffs. Would they want to pursue a Flames prospect like Andersson, Kylington or Fox, or even a Flames draft pick from next year to improve their top prospects on defense this year?
Trading with the Islanders might be a good idea but the dilemma for the Flames will be to determine how much is too much to trade for a chance at the playoffs. It could be that they choose to do nothing and focus instead on developing prospects for next season. However, if the Flames want to make a deal, I think they should do it well before the NHL Trading Deadline at the end of February before their ability to hold down a playoff spot is damaged.