The Calgary Flames have had a challenging start to the regular-season, with so many new faces trying to fit in with their new surroundings. The club currently holds 6th place in the Scotia North Division, having played the least amount of games so far among any Canadian team. Their record sits at 2-2-1, and they're about to face-off against the one Canadian team that hasn't lost in regulation this season.
The Montreal Canadiens pose a very real threat to the Flames' two-game losing streak growing worse, and this team can't afford a third straight. Especially when you consider the speed at which the North Division standings can change at. The Flames have a ship to turn around before the waters get really ugly, really early.
The biggest question on everyone's mind back in Calgary, though, as this team prepares for its 5 o'clock tilt against the Habs, is who will be getting the start between Calgary's pipes? David Rittich hasn't seen the ice yet this season, and he needs a redemption statement from the way last season ended in the 2020 playoffs. (From 'An empty feeling': 'Flames' season ends with an ugly collapse in Game 6,' Calgary Sun, 08/21/20)
Itching to Get Back at It
Without a doubt in my mind, Rittich is starving to show the Flames' brass and fanbase that he can steal games, or even the keys to the crease for any amount of time if need be. After allowing three goals on nine shots to the Dallas Stars in that Game 6 heartbreaker last season, I think Montreal would serve as the perfect place for Rittich to demonstrate what he is capable of.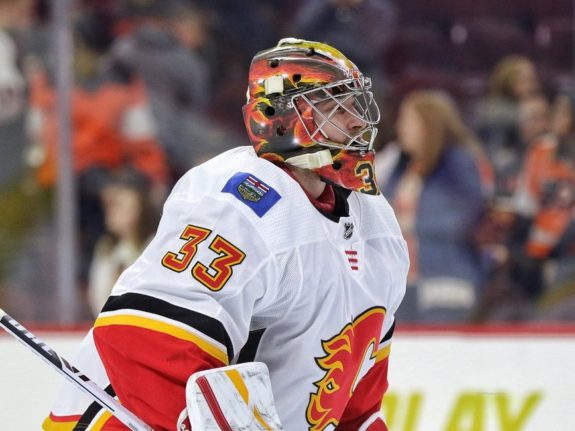 The last time the Flames beat the Canadiens was on Dec. 7, 2017, where Rittich posted 35 saves on 37 shots for the 3-2 victory. Not a bad night for Rittich back then, but the Flames have dropped their last five starts vs. the Habs. That is a stat to be concerned with, but the Flames will have plenty of battles with the Canadiens this season to try and solve them, nine to be exact.
Rittich has been in the crease for three straight losses to the Canadiens and has given up nine goals on the 120 shots they threw his way. Not terrible by any means, and it's very important to note that these losses were close- A 4-3 OT loss and 2-0 loss last season, as well as a 3-2 loss in the 2018-19 campaign.
Rittich Needs Ice-time
As wonderful as it is that the Flames have found their number one starting goaltender in Jacob Markstrom, a goalie coming off of one of his hottest season's yet, they still need to be giving Rittich a fair share of the ice-time. In a season faced with so many unknowns and what-ifs, it's best the Flames get Rittich in to start a game sooner rather than later, in case of an emergency in the crease.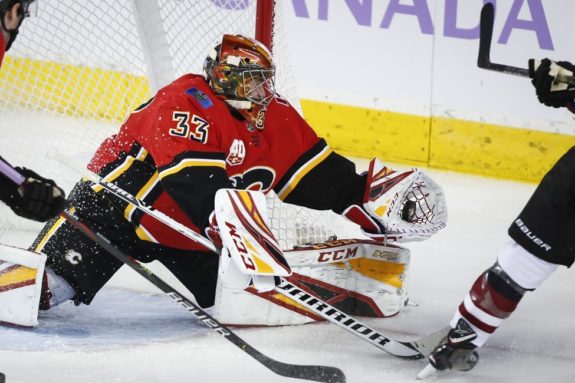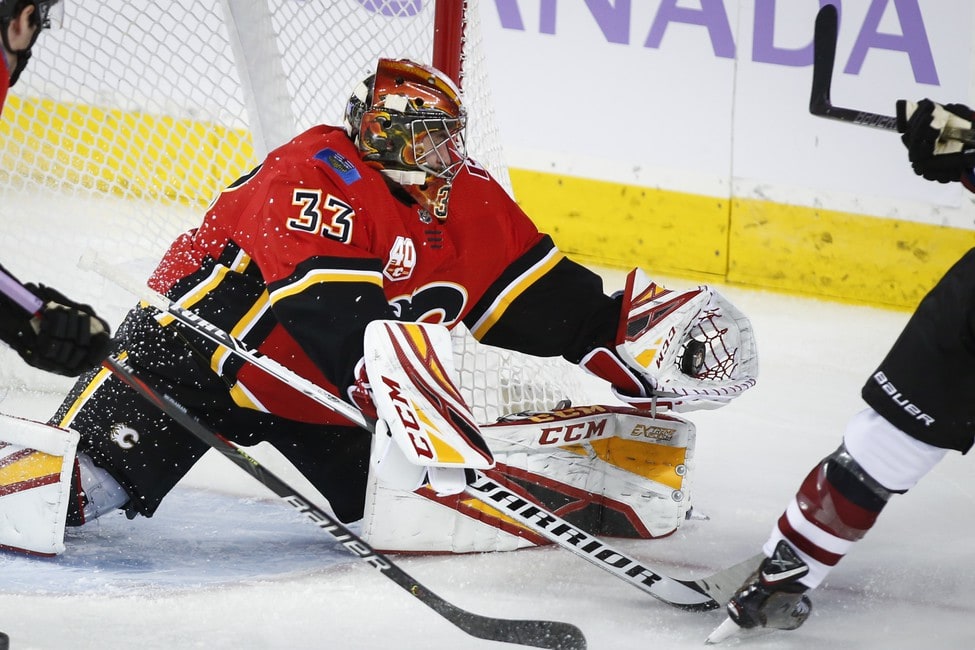 The last thing the Flames need is an illness or injury, especially in the crease with Rittich not having proven himself yet after last season's sour ending. However, his career numbers are decent. In his 4 years in the NHL, he's started 106 games, and played in 115 total. He holds a record of 59-32-14, and a save percentage of .908. His goals-against average did, unfortunately, tick upwards after last season, as he now has a 2.82 GAA.
If Rittich can get some time in the blue paint behind his team soon, we should see his numbers trend in a more positive direction. This is a new-look team in front of him, yet he's still with some of the core leaders that he's become familiar with during his time in the big league.
Friendly Tandem
Markstrom coming to Calgary has been nothing but positive thus far, but for Rittich, getting less time on this ice, and more time learning from the bench must have been tough news, or so you'd think. There really don't seem to be any hard feelings between the two, as Rittich says it's a blessing to have two elite goalies in the mix.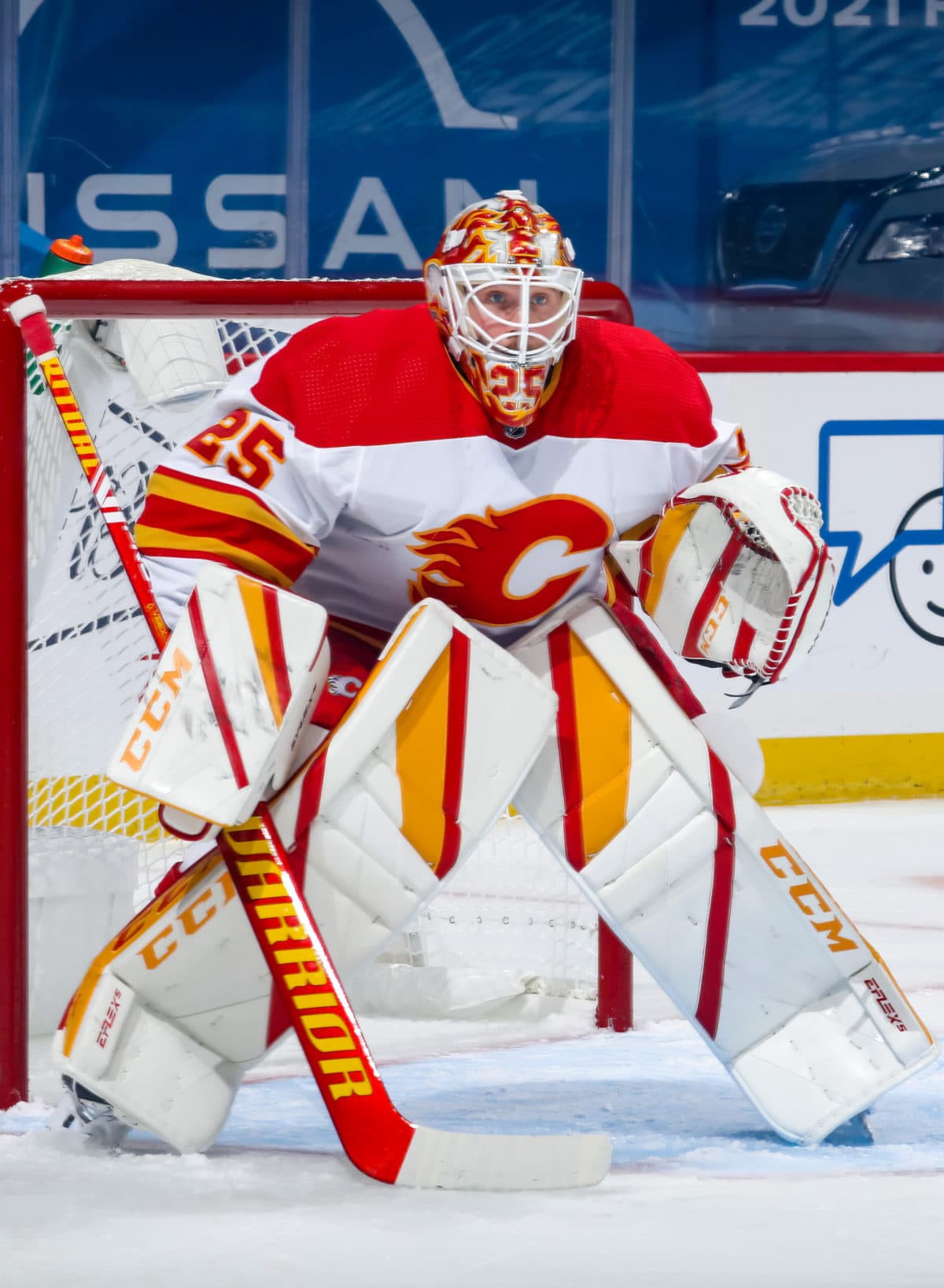 "It's a great opportunity for both of us to push each other to get better," Rittich said. "And the biggest thing is, which team can say their team has two all-star goalies on the team?" He's right, the two 2020 NHL All-Star goalies do bring a mean look to the Flames, but that reputation of being a prime-time goaltender needs a good refreshing. Being good on paper won't do this team any good, as they need results now. (From 'A great opportunity for both of us: Flames goalie David Rittich refuses to sulk about reduced role,' The Chronicle Herald, 01/05/21)
Could It Be?
Before it's too late, the Flames need to give Rittich his reps to solidify their ability to be a top team in the Canadian Division, and in playoffs. Fans have had enough of seeing their beloved Flames go down early in the postseason, and in too many years past, fatigued goaltending was an issue as the regular-season would wind down.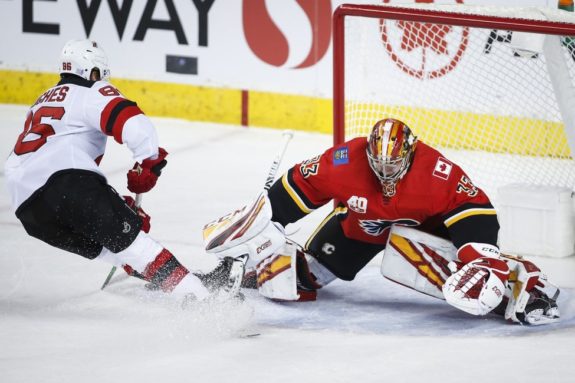 This team has a wonderful opportunity to finally activate their goalie tandem to its full potential, and prove to the league that there is more than just one starter in Calgary. Having two competitive puck-stoppers is a great problem to have, as it only builds the two to become better and stronger in search for their next green light in the blue paint. Look for Geoff Ward to give Rittich the green light at the Bell Centre tonight.
---
---