The Calgary Flames have another golden opportunity to showcase their true identity, as they get set to wrap up a four-game series against the Vancouver Canucks on Wednesday night at the Saddledome. The Flames are 4-1 against the Canucks this season, but they have recently taken a step back in their ability to dictate the game. Vancouver crawled back to earn a point in their last affair, and the game before that, the Flames were heavily dominated.
It's strange to watch a team that looked so good on paper coming into the season, based on their offseason acquisitions, deal with so many challenges with their consistency. Head coach Geoff Ward hasn't been scared to shuffle his lines when he sees fit, even in the heat of the moment. As injuries pile up, most recently to Swedish centre Mikael Backlund, Ward must now call up one of his tough guys from the taxi squad to inject some much-needed emotion into his lineup.
Zac Rinaldo's Impact
Zac Rinaldo joined the Flames on a player tryout and signed with the team on Sept. 29, 2019. When chatting with Flames TV's Ryan Dittrick last season, Rinaldo says he immediately felt wanted by the organization: "I've been on a couple different teams over the last couple seasons, trying to find a good fit, and Calgary welcomed me with open arms. That was a nice welcome to an organization." He has suited up for just 20 games with the Flames, but the versatile centre/winger has made an impact when he's been in the lineup, contributing in big moments with game-winning goals and key fights.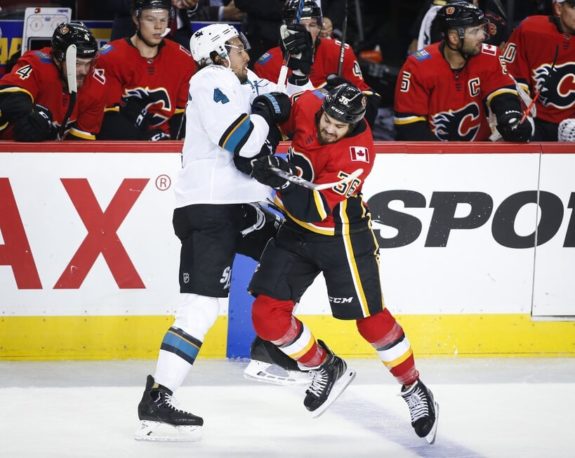 Rinaldo has 3 goals, 2 assists, 71 hits, 8 blocked shots, and 34 penalty minutes as a Flame. What do those stats tell you right off the bat? He is critical to an NHL roster. He's averaged roughly 7:58 of ice time per game in Calgary, which means his role is to create energy by blocking shots, and standing up for his teammates when the physical play intensifies.
All three of his Flames' tallies came at crucial moments, and the club won all three contests in which he scored. His most memorable game as a Flame was on Dec. 7, 2019, when he scored the game-tying goal after his team fell into a 2-0 hole, and he surprised everyone when he fought Kyle Clifford during a T.V. timeout, and the Flames responded to the fight by scoring the next goal before winning the game.
Of his 18 goals in 371 career NHL games, Rinaldo has 4 game-winning goals, 2 with the Flames. His contract is worth an affordable $700,000 to protect his teammates and provide a momentum boost, although he hasn't had many opportunities to show his "kill or be killed" mentality. The 178th overall draft pick from the 2008 NHL Entry Draft has spent most of this regular-season watching from the press box, taking names and numbers of the players in the Canadian Division who have crossed his teammates.
Rhino's Teammates Are Family
Rinaldo's role on the Flames became apparent very quickly. He is an energy-producing forward who earned the respect of the "C of Red" by using his 5-foot-10, 192-pound frame like a little wrecking ball against his opponents. Who can forget when Rinaldo looked right at Edmonton Oiler Zack Kassian after he fought Matthew Tkachuk, and said, "I'm next." Flames fans are still waiting for a Kassian vs Rinaldo matchup, but with nine more games against the Oilers this season, they may get their wish.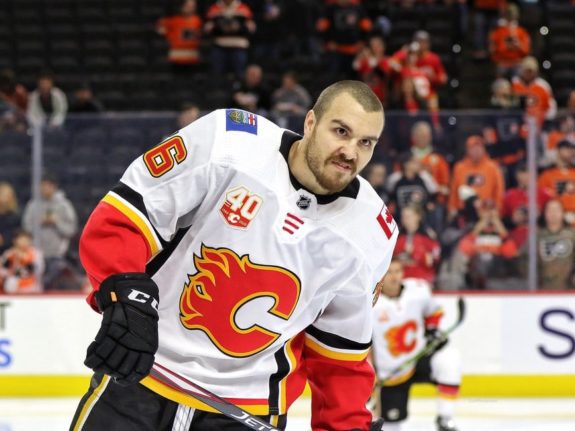 Rinaldo also told Dittrick on the Firestarter Podcast that family is everything to him. Not only is he a father of two, but he's a mentor for his teammates on and off the ice. He's not only physically tough, but also mentally. Rinaldo described the way the NHL has transformed into a less aggressive sport over the years as "heartbreaking," but he knows that easing up on his enormous hits will result in more time in the lineup. He is more of a puck-first player now, which allows him to still play the body while concentrating on his pursuit of the puck.
Regardless of his playing time, Rinaldo has found a way to create energy for his team by being physically present, blocking shots, and chipping in on the offense. He also never seems to complain and has gone about his time in Calgary focused on getting back into the lineup when the time is right.
Being an enforcer in the NHL today is a challenge. The Flames are in need of a spark in their lineup with critical games ahead against the Canucks and Oilers, especially if Backlund is still out of the lineup. Rinaldo is capable of providing the energy his team requires to build momentum, and get on a winning streak again (from 'Flames' Mikael Backlund: Officially day-to-day,' CBS Sports, 02/14/21).
---
---
My job as a writer is a dream come true. I wake up every day and remember, this is the kind of job I've wanted since a very young age. In order for me to continue fulfilling that dream, I need you, the reader, to let me know how I'm doing. Feel free to subscribe to The Hockey Writers, and drop a comment regarding anything Calgary Flames. Thank you!