This week, newly-hired Flames general manager (GM) Craig Conroy appeared on the Frankly Speaking Podcast with Frank Seravalli, and he mentioned that one of his top priorities is acquiring a top-six forward. With limited cap space, the Flames are unlikely to sign a big-name free agent like Patrick Kane. But there are several names on the market that could land in Calgary at the right price.
Sean Monahan and Ivan Barbashev will be free agents this offseason, and the Flames would likely be able to sign one of them without having to trade away key pieces to create cap space. Outside of free agency or a trade, the Flames could also turn to players already on their roster and look for them to step up into a top-six role in the coming seasons. In particular, Jakob Pelletier has shown promise in his young career, and if his development continues on an upwards trajectory, he could find himself in a top-six role sooner rather than later.
Sean Monahan
Monahan was drafted by the Flames, playing for them for nine years before getting traded to the Montreal Canadiens prior to the 2022-23 season to create cap space for the Nazem Kadri signing. His best season in Calgary came in 2018-19, when he put up 82 points in 78 games. Since then, Monahan has been plagued by injuries and inconsistent play, having a negative plus/minus each of the past four seasons.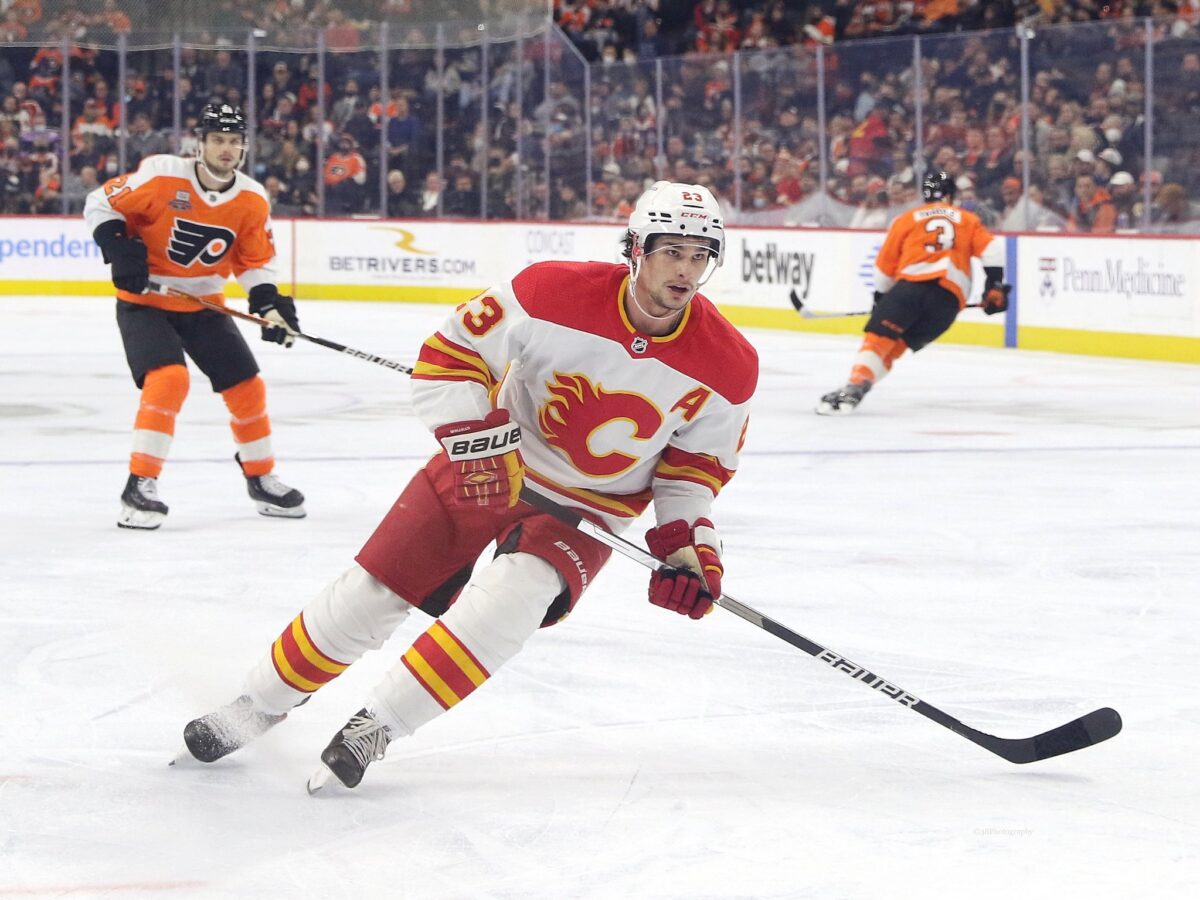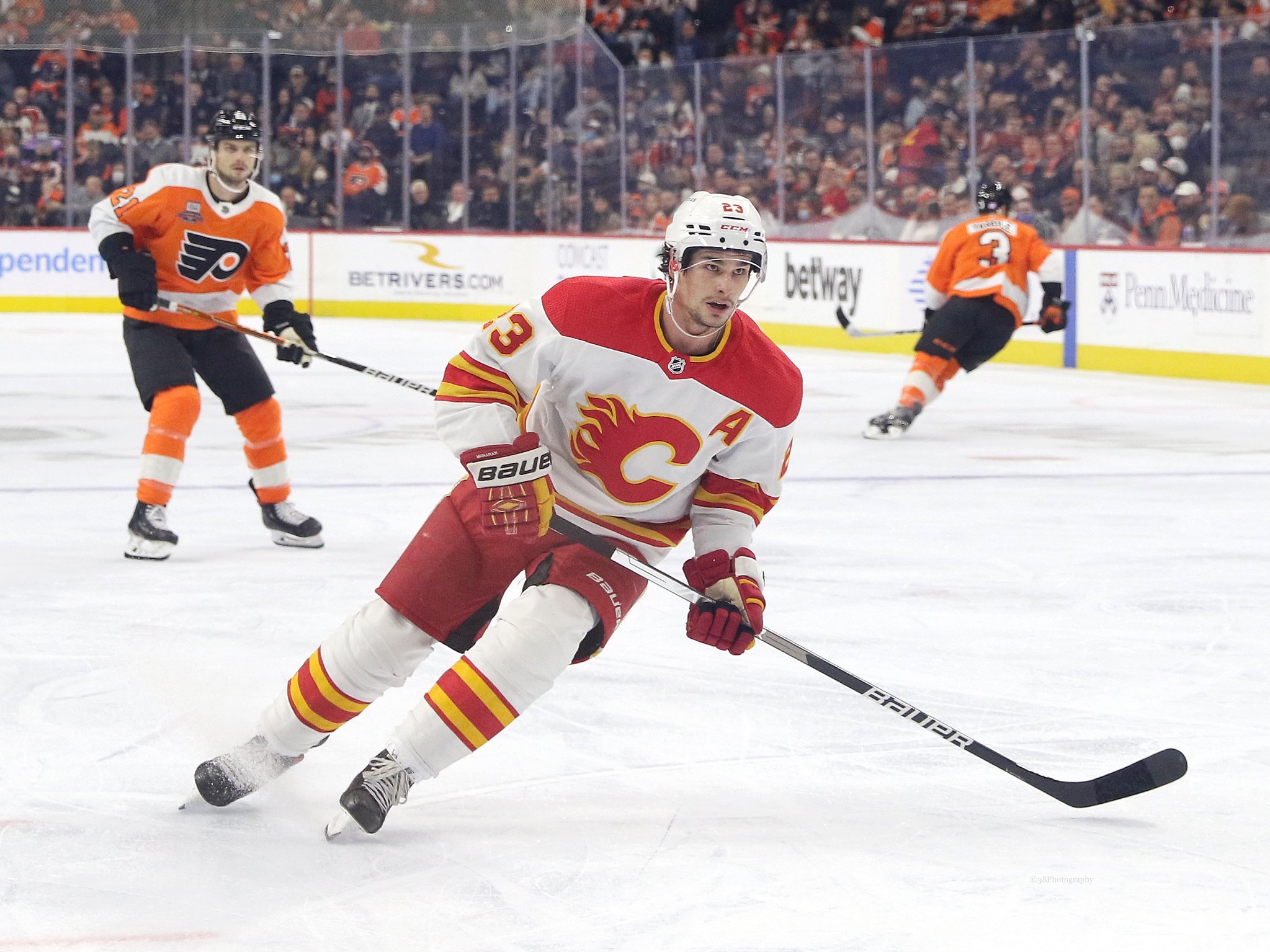 Monahan is not a player the Flames should look to sign to an expensive long-term contract. But if they can sign him to a relatively cheap short-term deal, it could prove to be a great move. His asking price will be at an all-time low, as he played in just 25 games for the Canadiens in 2022-23 and scored only six goals. If the Flames were to sign Monahan, he would be joining a team with a much better supporting cast than the Canadiens, and if he is able to stay healthy, his production could return closer to where it was several years ago.
Monahan would also be a welcome presence in the locker room, as he was popular among teammates and fans alike during his tenure with the Flames. At 28 years old, he should have plenty of gas left in the tank, and he could be a viable top-six forward that the Flames could get on a bargain deal.
Ivan Barbashev
Barbashev is set to hit the free-agent market at the conclusion of the Vegas Golden Knights' deep run in the Stanley Cup Playoffs. He is coming off a two-year deal that he signed with the St. Louis Blues that carries an average annual value (AAV) of $2.25 million, and he will likely sign a contract this offseason that pays him slightly more than that but in the same ballpark.
The 27-year-old Russian put up 16 points in 23 regular season games after the Blues traded him to the Golden Knights at the trade deadline, and he has 13 points in 15 games this postseason. Barbashev is listed as a center, but if the Flames were to sign him, they would likely put him at left wing, a position they will need to address if Milan Lucic and Nick Ritchie depart in free agency. Barbashev is in his prime right now, and he is playing some great hockey as of late. Signing him would give the Flames a sure presence in their top six.
Jakob Pelletier
If the Flames decide not to go after a veteran in free agency or by trade, they may have a forward with top-six potential in Jakob Pelletier. The 22-year-old has an abundance of raw talent, and he had an impressive career in the Quebec Major Junior Hockey League (QMJHL) before putting up 99 points in 101 games in the American Hockey League (AHL).
Related: 3 Reasons the Flames Will Bounce Back in 2023-24
---
Latest News & Highlights
---
Though his seven points in 24 NHL games are nothing to write home about, he has not looked out of place playing for the Flames. Pelletier will continue to develop in all likelihood, and in the coming years, he may turn out to be a top-six forward that the Flames will have at their disposal. 
Conroy Has Options
If the Flames decide to pursue a top-six forward in free agency, Monahan and Barbashev are great options. They would likely be able to sign Monahan for a relatively cheap deal, and if he is able to stay healthy he would be a valuable addition. Signing Barbashev would provide the Flames with a reliable option in their top six, though he will likely have a higher asking price than Monahan. Finally, if the Flames choose not to sign a top-six forward in free agency, Jakob Pelletier seems to have the talent to be a top-line forward in the NHL, and they should go all-in on his development.
---
---