With players like Johnny Gaudreau and Sean Monahan signing massive deals to stay with the Calgary Flames, it's easy to forget that the Flames also have players with smaller contracts on their roster.
With the salary cap having more of an effect on the game now than ever, the less money you can sign a player for, the better. The players listed have had a big impact on Calgary's season thus far, but are doing it without breaking the bank.
Mikael Backlund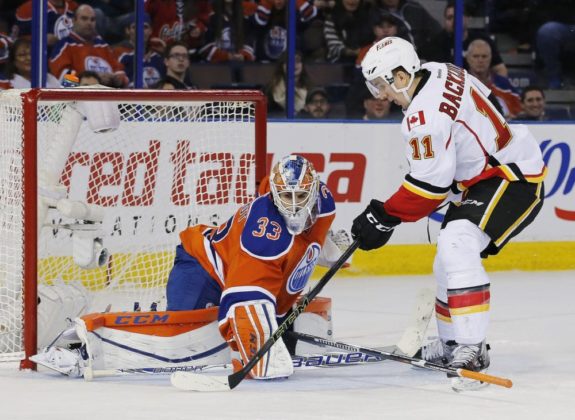 Right now, there aren't many bang-for-your-buck players in the NHL like Mikael Backlund. Backlund has exceeded expectations when it comes to offensive production and leads the Flames in scoring with 14 goals and 33 points. For a team's leading scorer, you'd expect him to be bringing in huge paycheques.
But with a cap hit of just over $3.5 million, Backlund is highly affordable and definitely worth the pay. In his last two seasons with Calgary, he has 80 points in 130 games, the third-highest among Flames players who have spent the past two years in Calgary. Perhaps the best part of Backlund's deal is that it turns him into a restricted free agent rather than seeing him become a UFA, and at 27 years old, there's a good chance Backlund will re-sign once his deal does expire in 2018.
Chad Johnson
Coming into the season, Chad Johnson was destined to be a backup. Signed at $1.7 million for one season, the plan in place seemed to be for Elliott to start between the pipes and hopefully re-sign with Calgary, while Johnson would just be the support to make sure Elliott got a couple of breaks.
Now the roles are reversed, and Calgary is hoping that Johnson will be the one re-signing next year. Having played 28 games so far this year, he has a record of 16-11-1 and a save percentage of .920. Johnson also sits tied for 12th in the league in goals-against average and has proven that he can be a starting goalie in the NHL, all while being paid a backup's salary.
Michael Frolik
Michael Frolik has been one of the most consistent players in the NHL the past few seasons. He's not flashy and doesn't put up the points of a first-line player, but he's solid and you know what you're going to get with him. In his last four seasons, his points-per-game average has been almost identical every year, landing somewhere between .50 and .58 in each one.
Though a five-year deal seemed a bit lengthy when he signed with the Flames in 2015, he's kept up his production and is worth his contract. At $4.3 million per season, Frolik doesn't come overly cheap, but still puts up more points than many forwards who are signed for the same amount.
Kris Versteeg
http://gty.im/621446036
After a tryout with the Edmonton Oilers just before the season started, it seemed all but certain that Versteeg would land in Alberta. He did – but not with Edmonton. In a twist, Versteeg signed with Calgary on a one-year deal worth just under $1 million.
Now halfway through the season, Versteeg has proven himself as a top-six forward with the Flames, but is being paid almost the same money as an entry-level contract to do so. With 21 points in 36 games, Versteeg is putting up is best numbers since 2011-12, and though it's up in the air whether or not he'll re-sign with Calgary next season, he's been a huge asset for the Flames thus far.
With contract signings looming for the Flames such as Sam Bennett and eventually Matthew Tkachuk, it's crucial that the Flames can balance their roster around the salary cap. But if general manager Brad Treliving can pull off more signings like these, the Flames will put themselves in a spot to succeed.
Ben is a journalism student at Ryerson University and covers the Toronto Maple Leafs.