With five weeks to go until the NHL trade deadline, the Philadelphia Flyers find themselves in an unenviable position. Philadelphia is very much alive in the postseason hunt, but they are likely more than a few additions away from competing for a Stanley Cup. To add to that, the top four teams in the Metropolitan Division are leaving most of the Eastern Conference in the dust. Unless one (or more) of them suffers an unimaginable fall from grace, the Flyers' best-case scenario is probably the second wildcard spot. For general manager Ron Hextall, hovering around in this blank space between contender and pretender creates a difficult set of decisions going forward.
The Flyers could try to get aggressive at the deadline. If that were the direction they chose to go, their first order of business would almost certainly be to add a goaltender. Another option would be to stand pat, let the season play itself out without making any seismic changes, and focus on reloading in the off-season. The third possibility is that Hextall recognizes the large gap separating his current roster from the better teams in the East, and moves a key player or two in exchange for some help down the road.
Stability in Net
The most glaring weakness the Flyers have right now is at the goaltender position. Steve Mason and Michael Neuvirth have not been cutting it of late, and Philly needs to address this if they want to be taken seriously in the postseason hunt.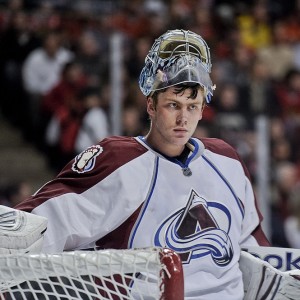 Despite possessing a wealth of young talent, the Colorado Avalanche have been nothing short of a dumpster fire this season. Goaltender Semyon Varlamov is having by far the worst campaign of his career, and perhaps a change of scenery would serve him well. The 28-year-old Russian is not far removed from some exceptional past seasons, so the possibility exists that this down year is just an anomaly.
Varlamov represents an interesting trade option for the Flyers.  His value is low enough right now that Philly wouldn't have to give up the farm to acquire him, and he's under contract until 2019. If the Flyers would be willing to take a chance on him, it could end up paying off in future years. Varlamov is currently sidelined with a groin injury, but is expected back following the Jan. 29 All-Star Game. He should be healthy in plenty of time to provide help later on in the season.
Another possible solution is Mike Smith of the tanking Arizona Coyotes. Smith has consistently posted GAAs of under 3.00 throughout his career, he's just been doing it primarily for bad hockey teams. Also under contract through 2019, Smith is another goalie who could provide multiple years of reliability for the Flyers in net. At 34 years of age, he will not command a king's ransom in return, either.
Flyers' Assets
Of course, if Philadelphia is going to pursue any course of action that makes them better in the present, the question becomes: what are they going to give up? As we look at the answers to this question, we come to the realization that perhaps trying to "win now" is not in the Flyers' best interest.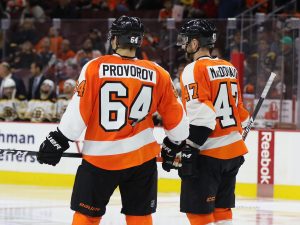 Philly has some promising young players in its system, a few of which have already begun to contribute at the NHL level. Defenseman Ivan Provorov and center Travis Konecny have gotten the opportunity to establish significant roles this season, with Provorov leading the Flyers in average ice time at just 20 years old. Shayne Gostisbehere's rookie season was considerably more impressive than his 2016-17 campaign has been, but the impact he had last year is more than enough reason to maintain faith in him for now. It is unfathomable that the Flyers would part with any of these three players.
Some other trade commodities at Ron Hextall's disposal are a trio of defensive prospects. Robert Hagg, Sam Morin and Travis Sanheim are all projected to make their NHL debuts within the next two years. With such a high premium being placed on versatile defensemen these days, all three of these young players would likely command respectable value on the trade market. That said, the current stable of defensemen taking the ice for Philadelphia each night has not been its strong suit. Would it really be wise to sacrifice future stability on the blue line in exchange for temporary help now?
Could Philly Move Veterans?
For a middle-of-the-road team, there is always the possibility of becoming a seller at the trade deadline. This is often a course of action certain to evoke discontent from the fan community, but the fact of the matter is the Flyers have a considerable amount of veteran talent. Nobody in South Philly wants to hear this, but players like Claude Giroux, Brayden Schenn, Wayne Simmonds, and Jakub Voracek would all command high value on the trade market.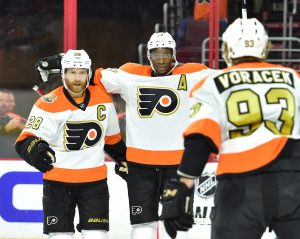 Let's make the safe assumption that Hextall doesn't want to incur the wrath of the most malevolent fan base in the NHL by trading away the team's captain and emotional leader in Giroux (also arguably the most revered athlete in Philadelphia right now). Let us also assume that most teams in the league aren't exactly dying to inherit Jakub Voracek's astronomical contract.
That leaves us with Schenn and Simmonds. Both are under contract through 2019 with team-friendly AAVs, and both play a physical style of hockey while also excelling on offense. High-scoring forwards who can throw their bodies around are an invaluable asset in the playoffs, and there is no shortage of teams out there who could use players like this in the springtime.
Schenn is only 25, and has the frequently sought-after ability to fire up his teammates and fans through his ruthless style of play. While the odds aren't great that the Flyers would move a 25-year-old center, the haul they could get in return is undeniable. Hextall would be wise to at least listen to offers for Schenn.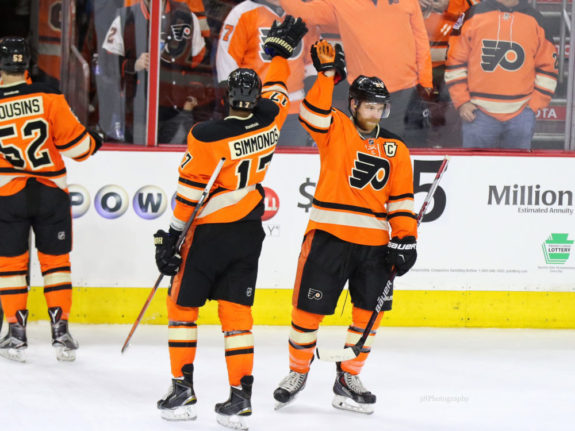 At 28, Simmonds will most likely be on the downswing of his career by the time Philly becomes a true Cup contender. A veteran team like the San Jose Sharks might be a solid fit for him as they take aim at a return to the Stanley Cup Final, and they have an attractive asset to send back to Philadelphia in 20-year-old Timo Meier.
Faith in the Future
No matter what direction Hextall goes in, decisions like this are what make hanging around in playoff purgatory so difficult. On one side of things, he could chase high-profile, short-sighted deals that might never materialize into a championship given how strong the East has gotten over the last several years. On the other, he could totally alienate his fan base by trading their favorite players for prospects that might never pan out.
Although there is no "wrong" answer, it's probably best if the Flyers don't swing too far in one direction. Their young players have shown promise, and there are more on the way. Sometimes the best thing to do at the trade deadline is to have faith in the way things have been going, and most importantly, to be patient. If the Flyers remain committed to the development of their young talent, it may end up paying off in the long run more than anything they could do on Feb. 28. For now though, they may just have to stay right where they are: in the middle.