When talking about players on the Ottawa Senators, there is one name that doesn't get the recognition he deserves. That player is Mark Stone.
Drafted 178th overall in the 2010 NHL Draft, there is no question that the Senators struck gold in the sixth round by selecting the Winnipeg, Manitoba, native.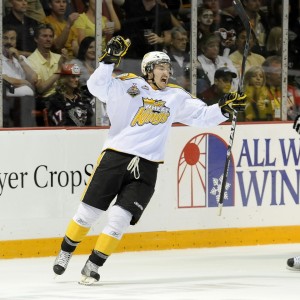 Stone is the only positive coming out of the 2010 draft for the Senators. In fact, he is the only player drafted by the team that year that is still playing in the NHL. Playing with the Brandon Wheat Kings of the WHL in juniors, Stone was a dominant offensive player. Through 232 regular season games played, Stone had 296 points, averaging 1.28 points per game. His final two seasons in Brandon is where he really advanced his game with 229 points in 137 regular season games played.
Linemates
With Stone being such a complete player, there is no question why others want to play on a line with him. He allows his linemates to generate more offensively. One only needs to look as far as Zack Smith to see that.
Statistics compiled by HockeyAnalysis.com tracks points when players are on a line together at even strength. The numbers show that when Stone and Smith have played together over the last two seasons (2015-16 and 2016-17), Smith has 42 even-strength points; 19 of them have come when Stone was on the ice with him.
Speaking to the media after practice last week, Smith praised his current linemates, Derick Brassard and the aforementioned Mark Stone:
"I think with those two (Brassard and Stone), they are very skilled players that want the puck on their stick and with me its about pushing the defence back most of the time, creating a little space, getting pucks from the corners to them," he said. "Putting it simply its getting them the puck and getting to the net and its worked well for us."
Consistency
Stone is now in his third full season with the Senators and year after year he has been one of the most consistent Senators forwards. Offensively, through three full seasons in the NHL, Stone is just under a point-per-game pace with 159 points in 197 games played. That's solid production for a player that was drafted in the sixth round.
The Winnipeg, Manitoba, native not only is consistent offensively, he has also led the team in takeaways for three consecutive seasons dating back to the 2014-15 campaign. Takeaways are an important statistic as they often lead to either offensive opportunities or a breakup of the opponent's offensive chances.
Stone is the type of player that coaches like — game in and game out you know exactly what you are getting.
New Contract
Stone is set to be a restricted free agent (RFA) at the end of the 2017-18 campaign and if he can continue to play a complete game, there is plenty of reason to believe that he will be in for a pay raise. The Senators are getting a bargain for Stone at $3.5 million AAV, a player that is just under a point-per-game pace and plays on the power play.
The Senators would be wise to re-sign Stone to a long-term deal, he will only be 26 years old when he hits RFA status and will have many prime playing years left in the NHL.