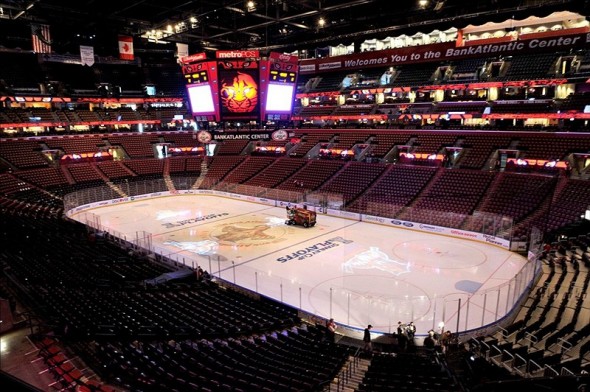 The Florida Panthers of the Past and Present
On October 6, 1993, history was made in South Florida as its first ever professional ice hockey team took the ice.  On that night, the new Florida Panthers tied the Chicago Blackhawks 4-4 in Chicago to begin their inaugural season.  Twenty years later, the Cats will have played two decades worth of hockey, filled with ups, downs, hopes, and heartbreaks.
In 1995, the team experienced their first playoff run, winning the Eastern Conference, but losing in the Stanley Cup Finals against the Colorado Avalanche.   Only three more times in the next eighteen years, in 1997, 2000, and 2012, did the Panthers qualify to compete with the NHL's best teams during the post-season.
During the team's first decade in the NHL, many talented players wore Panthers jerseys, including Scott Mellanby, Rob Niedermayer, Pavel Bure, Ray Whitney, and Roberto Luongo; however, in recent years, the team has been involved in much controversy surrounding trades, free agency signings, and draft picks.   For example, in 2006, the Panthers sent Roberto Luongo to Vancouver in exchange for Todd Bertuzzi in a five player deal that has been recognized by many as one of the worst trades in hockey history.
In the midst of these controversies, the Panthers have struggled to fill their stands compared to the rest of the league.  According to HockeyAttendance.com, South Florida's hockey team has not been drawing big crowds as of late.  See some compiled data below:
Of particular concern, is that the Cats' average attendance is down nearly 14% this season.  Needless to say, many sports media outlets have been active on social media regarding the team's attendance challenges.
The Panthers are using tarps to improve their low attendance numbers. http://t.co/gSGLXiiGSR

— SB Nation NHL (@SBNationNHL) January 3, 2014
Despite these concerns, the team has also developed a reputation throughout the league for its talented and deep pool of young prospects under GM Dale Tallon.  After a slow start to the season, the Panthers had a strong December collecting eight wins.   Under new ownership, with new coaches, and a plethora of young talent, perhaps there is a light at the end of the tunnel for South Florida hockey fans.
I had the privilege of speaking exclusively with the club's President and CEO, Michael Yormark about the team's struggles, current status, and future.  Mr. Yorkmark has been with the club since 2003, and has since reinvigorated the team in a number of ways.   He has repositioned the Panthers' brand around the color red, to signify intensity and power, and has been the center of major improvements to the BB&T Center, including a beautiful Panasonic HD scoreboard.  Finally, under his tenure, the Cats won the Southeast Division in 2012, and have collected a potent group of talented prospects.  Below is our conversation about attendance, prospects, and the future:
1-on-1 With Florida Panthers' President Michael Yormark
[THW]:  With respect to attendance and the hockey market, what will it take to fill seats in South Florida?
[YORMARK]: We have to give reasons to fill seats.  We have a strong fan base; however, in order to build on that base, we have to produce a good product.
[THW]:  And what does it take to produce a good product?
[YORMARK]:  Winning.  We have to win.  Right now, we are not giving fans any reason to support us.
[THW]:  I completely agree.  When looking at attendance statistics throughout the league, specifically in Florida, the Tampa Bay Lightening has consistently averaged higher attendance ratings than the Florida Panthers over the years.  What do you see as the distinguishing factors?
[YORMARK]:  First and foremost, they do not have any competition with respect to other sports during the season (In South Florida, Panthers games frequently overlap Miami Heat basketball games).  Second, the Bolts have made multiple playoff appearances, and have won the Stanley Cup.  Again, what it comes down to is winning, growing our young talent, and giving fans a reason to support us.
[THW]:  How do you feel about the fact that at many home games, where the Panthers play teams such as the Montreal Canadians and the New York Rangers, a large portion of the attendance are fans of the opposing team?
[YORMARK]:  I am okay with that.  We have to cater to all fans and we have to convert them.  Many people come to Florida during the cold months and that is completely understandable.  We have to convert them.  How do we do that?  Give them a reason to convert, connect to them.  Look at how it has worked for the Miami Heat.  Seven years ago, if you went to a Miami Heat basketball game against the New York Knicks, you would have seen the same thing; however, those fans were converted when the product improved.
[THW]:  I'd like to shift the conversation to the players, and what it takes to improve the product.  The Cats had a strong December.  What do you think were the difference makers?
[YORMARK]:  Three things.  First, new coaches have instilled better systems, which have bolstered offensive production.  Peter Horachek, John Madden, and Brian Skrudland have really been an effective trifecta of sorts, bringing a wealth of experience to the team.  Second, the maturity of our young players has been essential to our success.  Specifically,  Aleksander Barkov, Nick Bjugstad, Erik Gudbranson, Jonathan Huberdeau, Dylan Olsen, and Jimmy Hayes really came through in December.  Finally, Tim Thomas provided strong goaltending in December, which was a major difference maker for us.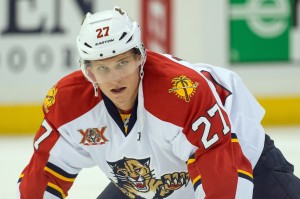 [THW]:  While it is great that the team had a strong December, what will it take for the club to maintain its strong play?
[YORMARK]:  We have to keep the young guys together, and we have to take it one day at a time.  I know this might sound crazy this early, but every game at this point is like a playoff game.  We have to get points every time.
[THW]:  A lot of hockey fans say the same thing about the Panthers: that, despite the young talent, the team seldom hangs on to talented players.  Moreover, that despite how talented prospects like Huberdeau and Barkov may be, the club will likely fail to keep them together when they become free agents.  How do you reconcile those concerns with your position that winning will require those young players to stay together?
[YORMARK]:  We have to provide resources to stay close to the salary cap.
[THW]:  Yes, but given the salary cap increases, the Panthers have notoriously spent way less than other teams.  How specifically can the team keep these players given the salary cap and what the team has traditionally spent?
[YORMARK]:  There is a new owner in town who is willing to provide those resources.  Vincent Viola has given the "green light" to do whatever is necessary to make this team into a competitive and legitimate franchise.
[THW]:  So given this new availability of resources, can fans expect the Panthers to make any moves before the trade deadline?
[YORMARK]:  I would not be surprised to see a couple of moves.  We are always looking to upgrade, so a move or two could always be possible.
[THW]:  I would just like to ask you one more question before we wrap this up.  Is there anything you would like to say to season ticket holders who may be on the fence about renewing their seats next season?
[YORMARK]:  Yes.  We have a unique opportunity here.  We have the right owner, a very talented general manager, and a pool of young prospects.  I ask you to please stick by us because we have all the tools we need to make this team competitive.
The Florida Panthers of the Future?
Coming off of a strong December, new coaching, new ownership, and with a wealth of young prospects, the future seems bright for the Florida Panthers.  My conversation with Mr. Yormark demonstrates that the club's front office is completely invested in legitimizing this organization.  If what Mr. Yormark says will happen, does in fact happen, the Panthers just may be on their way to becoming one of the most dangerous teams in the league.