In between periods of the Buffalo Sabres & Winnipeg Jets game Tuesday evening, TSN analyst Jeff O'Neill stated: "Nobody wants to stay there, nobody wants to sign there". The comments made by O'Neill, were in reference to his opinion that the Jets — due to reasons stated above — should work hard to lock up youngsters Jacob Trouba and Mark Scheifele. 
The Irony of O'Neill's Comments:

The irony of these comments is incredibly amusing coming from a guy who averaged  0.60 points per game over his career, in addition to a career plus/minus of minus-115, most of it with the Carolina Hurricanes. I'm not too interested in igniting the Carolina fan base — though perhaps their annoyances with O'Neill during his time there will benefit me — but the Hurricanes have one season — since tracking began in 2005-2006 — with attendance capacity of greater than 90 percent. Not surprisingly, the season in which the Hurricanes accomplished that feat was 2006-2007, the year after they won the Stanley Cup. In fact, during the regular season in which the Hurricanes went 52-22-8 en-route to their 112 points — and Southeast Division title — the RBC Center was filled to an average capacity of 83.5 percent. The year 2005-2006 of course, being the year after the lockout. Fans in Carolina weren't exactly chomping at the bit to go out and see a hockey game.
As a contrast, the Tampa Bay Lightning, a city often made fun of for not being a traditional hockey market either, filled their stadium to an NHL best 106.8 percent capacity during 2005-2006 — despite the one-year layover of no hockey — after winning the cup in 2003-2004.
Is O'Neill bitter that he had to play most of his career in the Carolina/Hartford market? or, is it perhaps because he was forced to retire at the age of 31 when nobody wanted him after his awful two-year stint with the Toronto Maple Leafs?
Assessing the Validity of O'Neill's Comments:
Moving on from the ironic nature of his comments, we should examine whether the 37-year-old TSN analyst has a point. The immediate reaction is no, since Blake Wheeler, Bryan Little, and Zach Bogosian all signed multi-year contracts this past off-season. However, lets extrapolate out from O'Neill's direct quote the premise that he was getting at.
Obviously the Winnipeg Jets have one of the most – nay, the most- passionate fan base in all of hockey. Their passion shines through the roof of the always filled to capacity MTS Centre. Players want to play in front of passionate fans. Apparently Jeff O'Neill did and he is bitter about having never gotten the chance to do so. So, Jets fans, join me in collectively analyzing the various meanings that O'Neill's comments could have had.
The quote: "Nobody wants to play in Winnipeg and nobody wants to sign here."
First Possible Meaning for O'Neill's Comments: Literal
Taken literally, this comment is completely asinine, especially if he (O'Neill) is referring to the city. In 1972 many of the teams in the World Hockey Association (WHA) folded but some of the teams, including the Winnipeg Jets survived. It was in 1972 that Bobby Hull was lured away from the Chicago Blackhawks and the National Hockey League. When Winnipeg made the offer of $250,000 per year to play, $100,000 per year to coach and be general manager (along with a one-million dollar signing bonus!), Hull thought it was a joke.
The following quote comes from this article, and all credit for the quote should be given to the owners of that website:
Going to the WHA was not one bit about money," Hull recalled in an interview with Sports Illustrated's Allen Abel in 1998, "I had been at war with the Blackhawks' management for years. We hated each other." Still, when the WHA made an offer of a quarter million dollars a year, plus a one-million-dollar signing bonus, Hull thought the offer was bogus. "I thought it was a joke," he told Abel, "I pretended to go along with it, just to scare Chicago. Then my agent, Harvey Weinberg, said, 'Bobby, these guys are serious.'" .
The Hall-of-Famer tallied 638 points in 411 games for the Jets in the WHA after 15 seasons as a member of the Chicago Blackhawks. During his three-year tenure as player/head coach of the Jets from 1972-1976, Hull amassed 340 points in 216 games, whilst "coaching" the Jets to a 81-79-9 record. He relinquished coaching duties in 75-76′ after the team got off to a 4-9 start. The Jets franchise won three Avco Cups (the WHA's league champion trophy) the following four seasons, before joining the NHL in 1979.
In addition to Bobby Hull — who people can argue whether or nor not Hull joined the Jets because of money, it really doesn't matter — the Jets were able to re-up Hall-of-Famer Dale Hawerchuk in 1985, after the former number one overall pick in the 1982 NHL Draft had proven himself to be an elite talent. Hawerchuk signed an eight-year multi-million dollar extension that was reportedly worth $3.2-million over the duration of the contract.
So clearly, players are willing to sign there. However, the two examples I used lead perfectly into the next possible implied meaning that O'Neill's comments could take.
O'Neill's Comments: Second Possible Meaning:
It's very possible that O'Neill was referring to the fact that the Jets don't have a big marketable star player, and due to what he might (rightly or wrongly) believe is a small market, the Jets may (in his mind) have to home grow their talent. Now, I didn't hear the comment live, so I imagine the tone probably gave away exactly what he meant, however, this point about paying for star players is definitely a conversation worth having. In fact, the conversation at this point turns to the current Jets situation, and the fact that don't have a star player.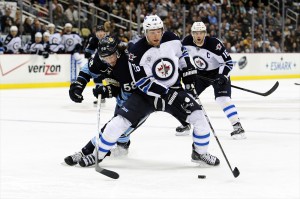 The Jets are currently paying Blake Wheeler $5.6-million per year, Toby Enstrom $5.7-million per year, and Olli Jokinen $4.5-million for this season. All three of those are horrendously bad contracts, but thankfully Winnipeg will get out from under Jokinen's after the season ends. Wheeler and Enstrom's contracts expire in 2019-2020 and 2018-2019 respectively. For some perspective, Niklas Kronwall, star defenseman for the Detroit Red Wings, is making $4.75-million per-year (cap hit) until his deal expires in 2019-2020. Anaheim Ducks defenseman Cam Fowler has a cap hit of $4-million per year through 2017-2018, and another perfect comp (but who does his job MUCH better than Enstrom) is Oliver Ekman-Larsson who is making $5.5-million per year until his deal expires in 2019-2020.
The Jets are a star free-agent and a competent goaltender away from becoming not only a contender, but an excellent team. See, the biggest problem with the Jets is that most of the pieces don't fit together. Evander Kane and Blake Wheeler are the two highest paid forwards on this team, and they can't play on the same line because they both need the puck.
If the Jets don't make a splash in free agency this coming off-season — when they will have approximately $23-million in cap space freed up,  serious questions about the Jets future should arise. General Manager Kevin Cheveldayoff really needs to have some success raising and grooming young talent Jacob Trouba and Mark Scheifele, or his days will and should be numbered.
It seems too nice to try and spin Jeff O'Neill's words to say that he meant that the Jets simply need to overpay everyone to stay in Winnipeg. The comments felt bitter, and felt like an attack on the city. Obviously, that makes his comments completely asinine. But, as a Jets fan, it's important to ask yourself this one question.
Is there some semblance of truth to O'Neill's comments? Look at your players. Enstrom and Wheeler are entirely overpaid, and even Byfuglien to some extent, because he's not a two-way guy. At least though, Byfuglien — if he can stave off weight troubles — will remain a potent offensive threat.
Do you have to overpay them to stay in Winnipeg? Or are you overpaying them because Cheveldayoff is daft? Whatever the case may be, you have a wonderful city with rich hockey history. But you have had to fork over the big bucks to bring in the marquee stars. Are you willing to do it, if that's what it takes to win?
Josh Kay is a contributor for The Hockey Writers, and a Co-Host of The Hockey Writers Live. He covers all teams across the NHL landscape, in addition to dabbling in Fantasy Hockey. He is the lead writer/editor for The Fantasy Fix.com's NHL coverage, and is a proud member of the Fantasy Sports Writers Association. Follow him on twitter: @JoshKayNHL_THW