All the leaves are brown, and the sky is grey… Okay, so maybe not in Florida (or California, for that matter), but I live in Victoria, so bear with me here.
After defeating the Dallas Stars in a shootout Tuesday night, the Florida Panthers embarked on their annual California road trip. Most teams dread the gauntlet of the San Jose Sharks, Los Angeles Kings and Anaheim Ducks, three of the toughest outs in the National Hockey League.
However, this particular road trip was very kind to the Panthers last season, with the Cats winning all three games in the midst of a stretch in which they won seven of eight (fun fact: the Panthers were eight games above .500 in late February of last season).
This year? Well, not so much. After a good effort in San Jose that resulted in a win, the Cats dropped back-to-back decisions against the Kings and Ducks.
Related – Florida Panthers Purrview: Week Six in Review
Florida Panthers' Week That Was
Panthers Outshot, but Not Outgunned
Florida began their week with a game against Jamie Benn's ridiculous '90s beard and the rest of the Dallas Stars, winning 4-3 in a shootout in Sunrise.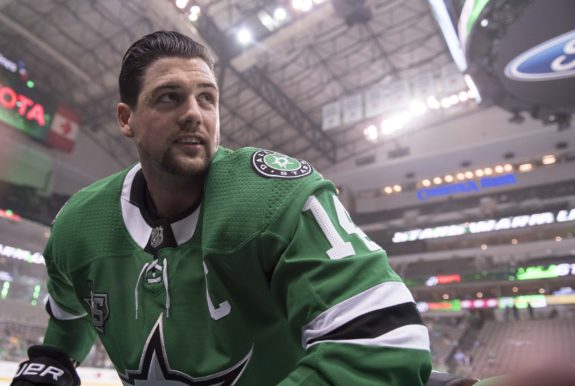 A wide-open tilt from start to finish, the Panthers survived getting outshot 43-29 (18-4 in the second period), mainly on the strength of their power play. Two of the Panthers' three goals were scored with the man advantage (courtesy Jonathan Huberdeau), and the third came four seconds after another Dallas penalty expired. Not a bad night against any opponent, let alone the Stars, who entered the game boasting the league's third-best penalty kill. Furthermore, Dallas has the NHL's top-ranked power play, which the Panthers held to only two opportunities, allowing zero goals.
That said, things could have gone a whole heck of a lot worse. The Panthers gave the puck away an insane amount (20 times to Dallas' 10, according to ESPN) and afforded the explosive Stars far too much space, both of which resulted in a bevy of prime scoring chances for the visitors. Dallas hit two posts on partial breakaways and Roberto Luongo did the rest, including a huge third-period save on Devin Shore and some late-game heroics at the expense of Alexander Radulov.
The Cats got lucky.
Panthers Watertight in the Shark Tank
In what might have been the ugliest shutout of Luongo's career, the Cats blanked the San Jose Sharks 2-0 Thursday night. Luongo didn't technically stop every puck; he allowed two very bad goals – one on a shot from outside the blue line and one on a lazy fly ball he dropped. Fortunately for Luongo and the Panthers, both were called back (as they should have been, I might add).
The Sharks are not a fast team; they win with their structure and puck movement. The Panthers were able to effectively shut them down for most of the evening by using their speed to limit time and space. For two periods, anyway.
The third period reminded us the Sharks were playing in the Stanley Cup Final just 17 months ago. Yeah, they're pretty good. The Sharks were finally able to attain and maintain pressure in the Florida end, swarming the Cats and besieging Luongo. Fortunately for the Panthers, they were able to weather the attack, and Nick Bjugstad finished off a gorgeous passing play to give the Cats some insurance on top of Colton Sceviour's earlier go-ahead goal.
Panthers Crown Kings
Like the Sharks, the Los Angeles Kings, though somewhat removed from former glory, are still a very good, exceptionally polished hockey team, a notion on full display during Saturday's tilt, which resulted in a 4-0 victory for the home side.
In front of a solid goaltending performance from backup Darcy Kuemper, the Kings played sound, efficient hockey, something the Panthers are still learning how to do. The superior team chemistry of Los Angeles was evident on a number of occasions, such as when Tanner Pearson cleaned up one of Kuemper's only errors to save a Florida goal.
20 shots on goal is a decidedly low total, but it was more than sufficient for the Kings, who weathered an early Panthers storm (the shots were 14-5 Florida after one period) and capitalized on their opportunities. If they were down or the game was tied, maybe things would have been different. But the Panthers insisted on handing Los Angeles opportunities, and the Kings were only too happy to oblige; on each of the Kings' first three tallies, the goal-scorer was wholly unchallenged going to the net.
Ducking Victory in Anaheim
As much as the Panthers may have beat themselves against Los Angeles, Anaheim Ducks netminder John Gibson singlehandedly beat the Cats Sunday evening, making 50 saves on 52 shots en route to a 3-2 Ducks win.
Yes, a poor Florida change on the penalty kill resulted in Anaheim's second goal, but the other two were a result of pure happenstance. Mistakes aside, when you outshoot the opposition 52-28, you can reasonably expect to win, especially when it's readily apparent the other team (Gibson aside) is having a rough game.
Unfortunately, the laws of convention did not smile upon the Panthers Sunday night and, thus, they finish their annual California road trip with a record of 1-2, scoring only four total goals during their visit to the Golden State.
Florida Panthers Weekly Takeaways
Coming out of a week in which they played four games against four powerful teams, a 2-2 record doesn't seem so bad. One can even make the argument they should have won all four, were it not for some goaltending heroics in the opposition net.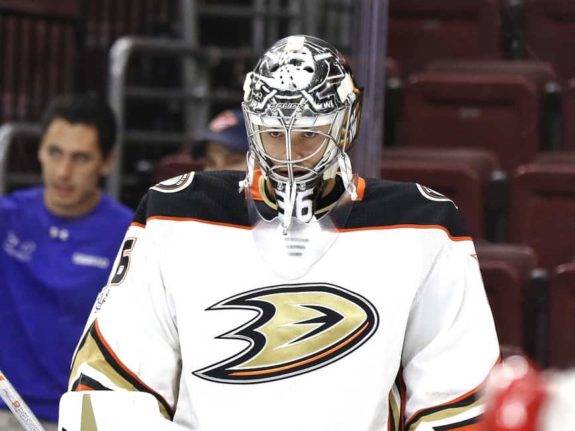 Alas, the same old issues continue to plague the Panthers: a lack of defensive awareness and a lack of secondary scoring. Good teams know how to win, even when they're not at their best. The Panthers received a crash course in that last week.
Florida Panthers Three Stars of the Week
Keith Yandle
Yes, he has his defensive adventures, but Keith Yandle's consistent offense from the back end is a big reason the Panthers aren't in the NHL's basement. His 11 points in 20 games are tied for fifth on the team, and only three of these have come courtesy the power play, meaning he's not exactly a one-trick pony.
Yandle is an excellent skater and passer, and had four points in four games last week. Though not a perfect player by a long shot, Yandle is the best offensive option the Cats have on their blue line, and has done everything the team has asked of him.
When he arrived in Florida, he'd been in the league long enough that everyone kinda knew what the Panthers were getting: an elite offensive defenseman and controller of play, though, admittedly, one who is prone to defensive blunders. Unlike many Panthers' acquisitions in recent years, he's lived up to high expectations, and deserves recognition as such.
Colton Sceviour
Sceviour has been oddly offensive since coming back from injury, with three goals in eight games. Perhaps most importantly, he has given the bottom end of Florida's forward corps some much-needed reinforcement. No longer does the fourth line get curbstomped; with Sceviour, they can break even – and often even take the play to the opposition.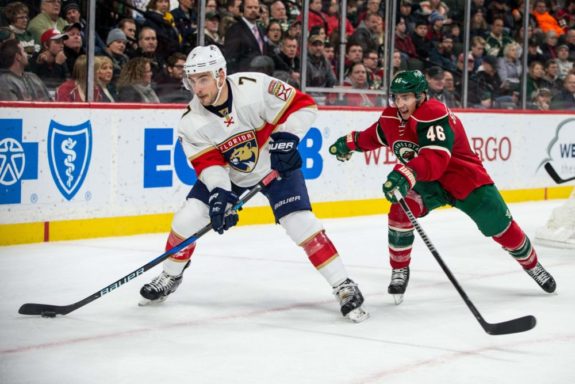 Bob Boughner has rewarded Sceviour's strong play with some time on more skilled lines. Well-deserved praise for a player I was – quite reasonably, I think – worried might have be shut down for the season.
Aleksander Barkov
As much as I've praised the Panthers' top line of Aleksander Barkov, Evgenii Dadonov and Jonathan Huberdeau, it should be noted that the catalyst of the unit is Barkov.
Traditionally a poor faceoff man, Barkov has upped his winning percentage on the draw to 55.53 percent, a full nine percent ahead of last season. He's all over the ice when he has the puck, using his efficient skating and dazzling stickhandling to make the game look positively effortless. Even better for the Panthers, he is as good on special teams as he is at even strength, meaning he's a constant threat, no matter what the situation. Oh, and he's absolutely lethal in the shootout, as Kari Lehtonen found out the hard way Tuesday night.
Barkov had four points in four games this past week, played nearly 29 minutes against Dallas and was all over the ice against Anaheim, tallying two assists (even though he was stymied time and again by John Gibson). A truly elite centre and the lynchpin of the Panthers' future.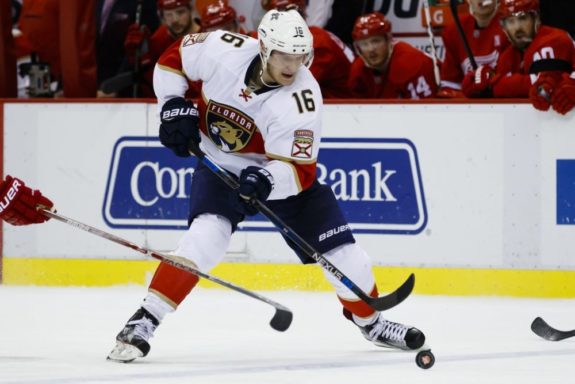 Florida Panthers Causes for Concern
Panthers Starving for Offense
After an offensive explosion to start the season, the Cats' scoring, aside from the top line and Vincent Trocheck, has completely dried up.
In their last seven games, the Panthers have scored just 13 goals. If you leave out the two empty-net goals against Buffalo, that becomes 11. Of the 32 total points on these 11 goals, the aforementioned foursome, who start on the first power play unit together, have 18 of them. If you include Keith Yandle, who also gets first-unit treatment, 22 of 32 points were tallied by just five players.
On any given night, there are 18 skaters in the Panthers' lineup. The other 13 need to be better. Much, much better.
Panthers' Imbalance Scuttling Season
On a related note, when the reports came out last week about the Panthers being in the market for some secondary scoring, that seemed to make a whole lot of sense. General manager Dale Tallon seemed poised to admit his summertime purge had gone too far. But the NHL's GM meetings in Montreal, seemingly the perfect time to make a trade, passed without news of an acquisition.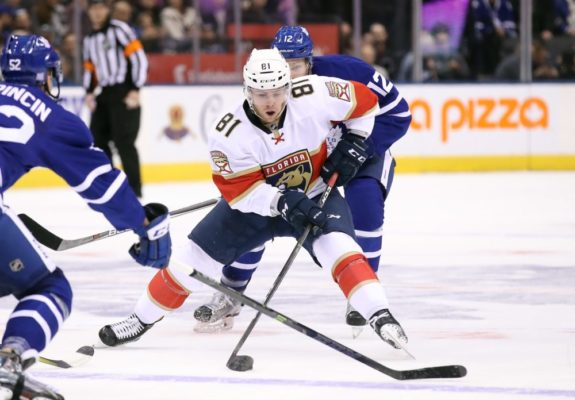 True, no doubt Tallon's counterparts were aware of Florida's desperate situation, so perhaps anything offered was lopsided. But time grows short. The Panthers are treading water, yes. But treading water won't get them to the playoffs; they need to start winning – now. And it would certainly help to get someone who knows where to put that black rubber thing.
…and no, Thomas Vanek is not a solution.
Radim Vrbata's Injury
Vrbata left early in Saturday's game after taking a puck to the face, and remains on the shelf heading into action against the Toronto Maple Leafs this evening. He only has three goals on the season, but the Cats can ill-afford to lose scoring forwards (or any scoring player, for that matter). Here's hoping for a speedy recovery.
Weekly Wonderings
Does anyone else find NHL.tv (or GameCentre or Rogers NHL LIVE or whatever the hell they're calling it these days) incredibly annoying?
First, you sign in and it always shows the scores. Even if you toggle this option to "Off," it doesn't remember your choice the next time you sign in.
Then, when you're watching the game, it's not one continuous page. Instead, scroll a millimetre below the video frame and you get snapped all the way down the page to the stats, video be damned.
What collection of brilliant minds designed this system? Probably the same team of geniuses who designed the NHL's embarrassment of a website…
Florida Panthers' Week Ahead
Wednesday: Toronto Maple Leafs – Home (14-8-0)
Saturday: Chicago Blackhawks – Home (10-8-2)