If there's anyone happier to see 2015 than myself, it's the Philadelphia Flyers. It's been a bumpy ride for the orange and black, riddled with sluggish starts, an early playoff exit, and a stagnant offseason. But instead of rehashing all the negative, let's ring in the new year with positive thinking. What better way to do that than looking back on the bright spots that the year of 2014 left behind?
The 'C' in 'Claude'
The Flyers may have been "consistently inconsistent" in 2014 – especially throughout the current season. But captain Claude Giroux has been the complete antithesis of that phrase. Giroux's third period goal in Wednesday night's 4-3 overtime loss to the Avalanche was his 92nd point of 2014, leading all NHL skaters. It was the 26-year-old's 30th goal of the calendar year, and potentially his best of 2014.
In parts of two seasons, Flyers' captain Claude Giroux is #1 in cumulative points and assists, topping some of the NHL's biggest stars in both categories.

Giroux's totals put him ahead of the likes of Crosby, Getzlaf, Seguin, and Phil Kessel among the game's elite talents. — Let's Go Flyers
Although Giroux's 30 goals fell 14 shy of Joe Pavelski's 44, Broad Street's captain led the league in assists with 62. And even though Giroux is still in pursuit of his first Stanley Cup, 2014 was par for the course for hockey's highest point getter in the last five seasons (346 points).
Let's not forget about the playoff berth guarantee from a season ago. Back in October of 2013, Giroux definitively declared that his 1-7-0 Flyers would make the playoffs. And despite a 12-game pointless drought to start the season, Giroux's 86 points carried Philadelphia to the Eastern Conference's sixth seed.
The Flyers have an elite talent who is entering the prime of his career in their 5-11, 172-pound forward. Giroux's skill set, along with his durability, not only gives fans plenty to look back on, but much to look forward to as well.
 Enter Ron Hextall
The Flyers' year of 2014 also brought a changing of the guard up top when Ron Hextall was promoted to general manager. The new GM was welcomed with praise and relief alike, as the former assistant to Dean Lombardi in Los Angeles succeeded current Flyers president Paul Holmgren.
With fingerprints on two Stanley Cup championships in L.A., along with two stints with the Flyers as a goalie, Hextall exudes the organization's long-time identity, making him a perfect match for the Flyers and their GM position. Hextall walked right into a less than desired salary cap situation in his first year at the helm, but a philosophy that's predicated on sustaining long-term success, along with his front office experience in a winning organization makes the Hextall hire a favorable memory from 2014.
"I think the biggest thing was, when we went there (Los Angeles), we kind of redid the whole infrastructure of the organization," Hextall said of his time with the Kings. "So, that experience, I think, is invaluable. The trainers, the coaches, the scouting staff. Everything with the minor league operation, everything was kind of uprooted and changed and the hiring of people, how important it was to hire the right people, not just people.
"I think the synergy between the amateur staff and your development people and your minor league coaches, like that whole chain of progression, is huge.
"Dean's a very analytical guy. I'm an analytical guy. He analyzes things up down and all around, and I think I learned a lot on that side of it."
Since taking over, Hextall has reiterated his vision of building through the draft, while developing prospects at their own pace. When the 50-year-old GM selected Travis Sanheim with his first draft pick as the decision maker in Philly, many compared the 18-year-old defenseman to Ryan McDonagh. And he didn't stop there.
Ron Hextall's first draft as Flyers' general manager broke down as follows: Three defensemen, two left wings, one center and one hybrid forward (center/right wing). — Tom Dougherty, CSN Philly
Ron Hextall's presence in the GM's chair is thee silver lining to enduring the latest brand of Flyers hockey. His knowledge and discipline make brighter days for the organization a matter of "when," not "if." And it all began in the year of 2014.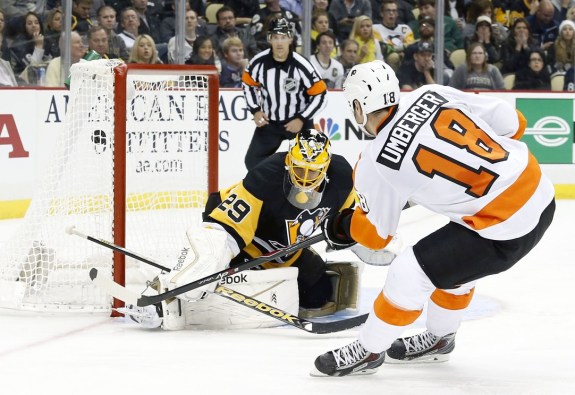 Complete Ownership of Pittsburgh
Although the current season has been a trying one, 2014 provided the Flyers an unblemished mark against their instate rival, the Pittsburgh Penguins. While the Pens have grown accustomed to sitting atop the Metropolitan Division, their 0-4-1 record against Philly in 2014 proves that the 365-day period possessed plenty of fond memories for Flyers fans.
There's something about playing the Penguins in Consol Energy Center that brings out the best in the Flyers.

It happens so often that it's not even surprising anymore that the Flyers keep finding ways to beat Penguins in a building that few other teams win. — Randy Miller, NJ.com
Oct. 23rd's 5-3 win extended Philadelphia's record at CONSOL Energy Center to 10-1-1, with 2014 adding four of those wins to that majestic count. Philly's current five-game winning streak against the mighty Pens include a home-and-home sweep back in March, as well as a an overtime game-winner off of Mark Streit's stick in April.
#Brandoning the Consol Energy Center. "The Flyers own it, the Penguins just rent it." pic.twitter.com/wzbKg9UeOY

— TheParaSixer (@TheParaFlyer54) October 27, 2014
Adding to the as of late lopsided rivalry, recent rumors are suggesting that former Penguins coach Dan Bylsma may have aspirations of coaching the Flyers. Bylsma, who was fired by newly hired Pens GM Jim Rutherford last offseason, continues to be a popular among potential suitors, with Philadelphia being an interesting one, considering they still have Craig Berube.
HOW CRAZY WOULD THAT BE? Dan Bylsma coaching the Flyers would be an insane story on par with when Jaromir Jagr spurned the Penguins in free agency and chose Philadelphia instead. It would be awesome from a trolling Pittsburgh perspective, especially because the Flyers are already in the Penguins' head. Having Pittsburgh's Cup-winning coach behind the Philadelphia bench would be just hilarious. — Travis Hughes, Broad Street Hockey
Indeed, it would be hilarious. Especially if Bylsma were to continue Philly's dominance over Pittsburgh. Hiring Dan Bylsma would bring the old cliché of, "If you can't beat 'em, join 'em," to life. From the rivalry's perspective, 2014 was a smashing success.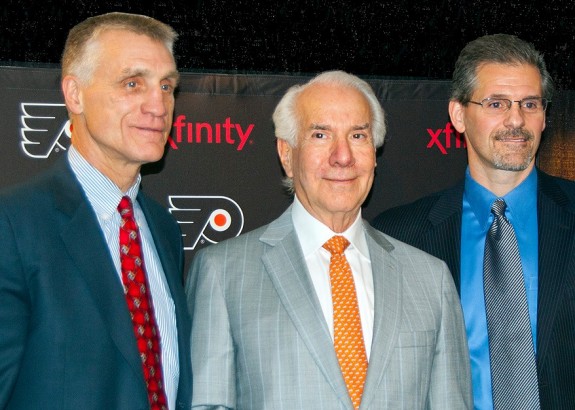 Other Memories from the Year of 2014
Mr. 900
The month of March was quite bountiful for the Flyers. Not only did the Broad Street Bullies (they were still bullies then) skate to a 9-3-2 record, it was especially significant for Vinny Lecavalier. The former Lightning captain's overtime game-winner on Mar. 2nd in Washington was more than just his 14th goal at that point of the season – it was Lecavalier's 900th point.
Philly Welcomes Gary Bettman
When Philadelphia was awarded the 2014 NHL Entry Draft back in 2012, it was a trip NHL commissioner Gary Bettman more than likely was not looking forward to. You can't necessarily blame the man, though. Bettman was greeted with boisterous booing and jeering on June 27th, which is actually common for commissioners throughout other major sports league.
Bettman did, however, match David Stern's sarcastic responses from the 2013 NBA Draft by rhetorically working Philly's moniker of, "The City of Brotherly Love" into his response. I still give the delivery points to Stern, though.
Ed Snider Beats Cancer
Just days before turning 82, Flyers owner Ed Snider can look back at 2014 as a big victory. After being diagnosed with cancer back in May, the founding father of the Flyers countered the illness with chemotherapy treatment throughout the year. On Aug. 13th, however, he was given the news that he was cancer free. That's outstanding news, even if the type of cancer Snider downed was considered "non-life threatening."
Philadelphia Flyers chairman Ed Snider claimed a personal victory Saturday he was free of cancer following radiation and chemo treatment.

— tatooed goalie dad #31🇵🇹🇨🇦 (@sandropacheco71) September 13, 2014
"I'm done," Snider said back in September. "I have no cancer. It's all gone. Well, you never want that 'Big C,' but luckily it's all gone. I'm totally healthy. It's gone."
Raising Them Right
Revisiting the Pittsburgh theme, one of the many memorable moments from 2014 took place on Christmas day. One set of parents decided to playfully prank their young son by giving him a Sidney Crosby jersey. The humorous joke came about when the boy's aunt mistakenly ordered the wrong size for the boy's cousin, who's apparently a Pens fan. When she realized that it was too late to return it, the boy's parents found an alternative use for the sweater.
Hats off to these parents. Not only are they fun, but they dress their offspring impeccably. All of these memories make an otherwise monotone 2014 worth looking back on.
Andy is a contributor for The Hockey Writers, covering the Philadelphia Flyers. He holds a Bachelor's Degree in Communications from Walsh University. He enjoys spending time with his family, golfing, and reading. He is married with a daughter. You can follow Andy on Twitter @ADudones.