Tampa Bay Lightning super goalie prospect Andrei Vasilevskiy improved his record in the NHL to 3-1-0 on the season. He got the win last night in Buffalo with a very light workload. Vasilevskiy stopped 10 of 11 shots on goal to earn the victory over the Buffalo Sabres.  It was a great team effort by Tampa Bay according to head coach Jon Cooper.
 "It was great that Vasilevskiy was there for us, but our team defense as a whole was pretty good," Cooper said
The 20-year-old Russian goalie was the Tampa Bay Lightning's 1st round pick (19th overall) in the 2012 draft. He is still a young goalie and developing his game. Starting goalie Ben Bishop was given the night off to rest and the young Russian was given the start to get some more NHL experience.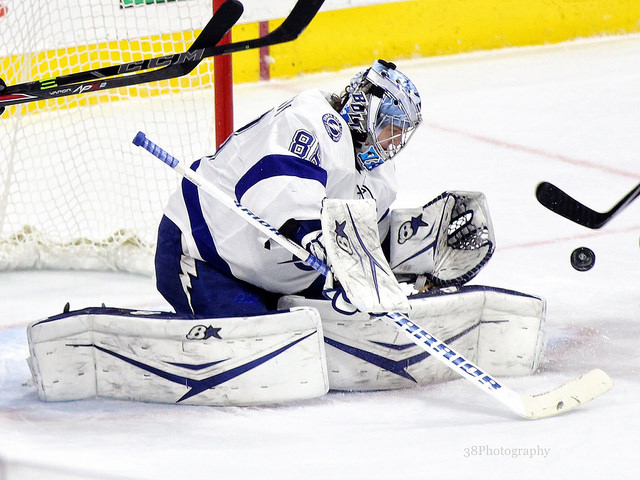 Vasilevskiy Is the Future
Vasilevskiy was drafted in 2012 to be the Lightning's goalie of the future. At the time the team was coming off a mediocre 38-36-8 season and finished last in the NHL in goals against.
The team's selection of Vasilevskiy showed their commitment to upgrade in net in the near future. That season Tampa Bay played 4 goalies during the campaign. Mathieu Garon and Dwayne Roloson got the majority of the starts and were clearly not the answer in net. There were also spot starts to Sebastien Caron and current Montreal Canadiens backup goalie Dustin Tokarski.
The Lightning have drastically improved since then and also have found a goaltender in Ben Bishop. Bishop has not proven he can stay healthy for a  full season at the NHL level yet despite all his successes in 2014. If Bishop continues to establish himself, and Vasilevskiy can keep improving his game and adapting to the North American style game,then the goalie situation could get interesting in Tampa Bay in a few years.
In my opinion any goalie that plays in the NHL at age 20 or less should be considered an exceptional prospect if they do well. Goaltending is a position where players come into the league at a later age than other positions. Goalies need time to develop their game to become NHL ready. Henrik Lundqvist for example was 23 his rookie year in the NHL. There are exceptions such as John Gibson who played in the playoffs last season as a 20-year-old for the Anaheim Ducks.
        Vasilevskiy's Elite Skill Set
Vasilevskiy is a big goaltender, 6'3, and 204 pounds. He obviously has the Ben Bishop factor with his size in regards to taking up space in the net.
According to The Hockey News some of the strengths to his game are his strong legs, therefore his push from side to side is excellent. Here is a perfect example of that attribute from the 2012 World Junior Championships.
The Hockey News stated his only flaw to his game is that he has to do a better job tracking pucks through traffic. The Hockey News also states that he has to continue to get used to the North American game.
As far as numbers, Vasilevskiy's are extremely impressive. At the end of the 2012-2013 season he made his professional debut in the KHL. He posted a 4-1 record with a 2.22 GAA and a .924 save %. In 2013-2014 in the KHL he impressed again with a 14-8-5 record, 2.21 GAA, and a .923 save %.
This season he had similar numbers in the AHL for Syracuse with a record of 9-3-4, a 2.34 GAA, and a .919 save %. Vasilevskiy has excelled at the World Juniors and the World Championships. He won the World Championship Gold Medal in 2014 with the Russian Men's National Team, going 2-0 in the tournament with a shutout and .985 save %. He has excelled at every level and looks to carry that success, playing experience, and confidence to an NHL rink near you soon.
Quote from Bryan Burns article- http://lightning.nhl.com/gamecenter/en/recap?id=2014020546