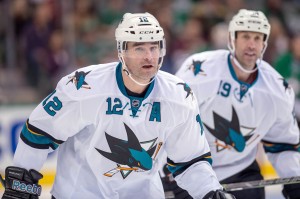 Currently, San Jose Sharks' longest tenured player, former captain, and All-Star forward Patrick Marleau is in a goal scoring slump. However, despite scoring just one goal in his last 16 games, Marleau's 27 points in 36 games has him just six short of the team lead. The team lead of course is held by another former Sharks captain, Joe Thornton. (Hmm, multiple former captains still getting it done, and yet people wonder why the Sharks are always in the midst of an identity crisis). As for Marleau, the 35-year-old is still averaging a full three shots per game, a quality shot total for a top-six scoring winger. His current shooting percentage of six percent is far below his 13.6 percent career average. This means he is getting incredibly unlucky. It does not mean his skills have decreased. If his skills were eroding, the chances would see a significant decrease, and that simply hasn't been the case.
McLellan Quick to Praise
Sharks head coach Todd McLellan brought up Marleau's strong performance after San Jose's 3-0 win over the Anaheim Ducks on Wednesday without even being asked about him. After answering a question about Barclay Goodrow, McLellan had the following to say about No. 12.
"I thought Patty was really good. Patty Marleau was excellent. He's frustrated because he's not scoring but he did so many good things on the ice surface today with his legs, with his body, face-offs, you name it. So we have to make sure we recognize that when he's going through a bit of a scoring slump." 
Marleau's linemates in younger players Logan Couture and Tommy Wingels are slumping mightily as well with points. Yet nobody in the media nor in the stands seem to be talking about them. The blame once again is on either Joe Thornton or in the case, "what's wrong with Marleau"? The answer? Nothing. Just an incredibly rough patch of luck right now goal scoring wise but he has still contributed a number of assists. Particularly at the beginning of San Jose's recent 9-1 stretch, Marleau had just a one goal but eight assists in the first six games of that stretch. In other words, during that long hot streak he was a big time contributor. Towards the tail end of that streak and into the last four games he hasn't scored much but by no means does he deserve a demotion.
This is something I have heard quite a bit recently from fans and media is the idea of "demoting" Marleau. A change in lines certainly is warranted to shake things up but the word demotion is an extreme overreach. If anyone deserves to be first bumped off the second line or see a decrease in ice time it would be Wingels. While one of my favorite players, Wingels has yet to establish himself as the top-six scorer that Marleau has been for years. With Matt Nieto back in the fold, a return of the Marleau-Couture-Nieto trio would be the tweak that makes the most sense. Playing the proven Marleau with third line players like Sheppard and Goodrow isn't going to help him get out of his slump. Marleau has proven chemistry with both Thornton and Couture as his center, moving him away from either of those two would be incredibly rash and counter productive. While Marleau has underrated passing skills, he isn't the type of player known for raising the level of those around him like Thornton or Pavelski. He has been primarily a dominant goal scoring winger since the 2008-09 season. The advanced data suggests there is little to worry about with Marleau.
Marleau's Advanced Stats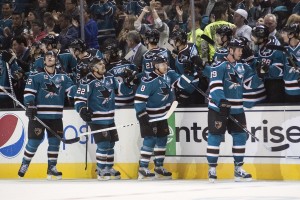 Marleau's goals against per 60 minutes is actually better than last season, so it's not as if his below 50 percent goals for percentage this year is due to a decrease in defensive performance. A year ago Marleau's goals for percentage at even strength was 51.5. This year it currently sits at 48.8. That can very easily jump back towards it's 2013-14 mark when his luck turns around. While his Corsi-for percentage and goals for per 60 are also down a bit this year, that is rather consistent across the board for all Sharks players. Team wide offense has been harder to come by this season. Marleau has no reason to be singled out as an individual not performing to his usual standards with nobody else deserving blame.
As terrific as Thornton has been this year, his current goals for percentage is actually worse than Marleau's 51.5 mark from last year (Thornton's GF% last year was 60.2 percent). Last year the Sharks finished 6th in the league in scoring at 2.92 goals per game. This year, with a much better power-play (but not as good even strength numbers), the Sharks sit just 16th in the league at 2.68 goals per game. With the vastly improved power-play this season, the Sharks five on five scoring decrease from last year to this year is even more substantial. San Jose was fifth last year in even strength scoring and just 21st this year. As far as production goes, you can make the case Marleau is closer to having the same impact he had last year than Thornton is to matching his impact of a year ago. Both players have been good but Thornton clearly misses having Brent Burns on his line at even strength. Marleau, has been closer to his 2013-14 self as he has primarily played with the same linemates. His shot toals are down a bit from last year but are on par with his 2011-12 totals where he scored 30 goals. He is currently on pace for less than 20 goals but it is a combination of his bad luck and the team not generating enough offense as a whole.