For most of the 2016-17 season, the Philadelphia Flyers have been a Jekyll and Hyde kind of team. Plagued by spotty goaltending and shaky team defense, the Flyers could never muster more than a few wins in a row, mostly trading a win one night for a loss the next. However, over the last couple weeks that shaky defense and spotty goaltending have come around and have contributed to their current season-high five-game winning streak. Here's what's been the major contributing factors:
Steve Mason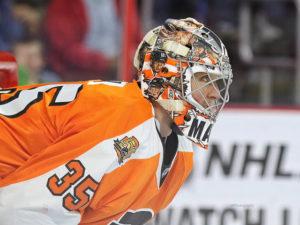 Steve Mason has been lights out during the Flyers' five-game winning streak. One of the biggest issues why the Flyers couldn't get into a groove over the first 20 plus games, was because the goaltending wasn't comparable to last season. It was only a matter of time before the netminders would come around, and now that it has, you see the Flyers winning games they had often lost in the early going.
Mason's play has been a major benefactor to the team's current run, and he was rewarded for his efforts by the NHL by being named the league's first star of the week (Nov. 27-Dec. 28), posting a 4-0 record and 1.71 goals against average.
Congratulations to Steve Mason, @NHL First-Star of the Week! More → https://t.co/jXoqrPdWio pic.twitter.com/cxYwUFmnXe

— Philadelphia Flyers (@NHLFlyers) December 5, 2016
Scoring by Committee
In addition to Mason's performance, the Flyers' offense is about as well-balanced as they come. Getting contributions from all four forward lines as well as having the defense chip in on most nights explains why they currently rank fourth in goals per game in the league.
Cant say Flyers D is 'bad'. Defensively, avg, maybe less. But offensively, no team's D is better this season. Offense is the best defense.

— Mikey D, O&BP 🤙🏼🏴‍☠️ (@MikeyD_OandBP) November 30, 2016
[irp]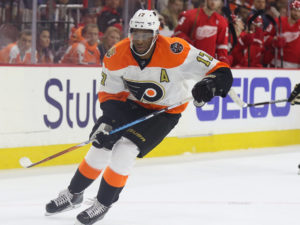 In years past, the Flyers relied heavily on Claude Giroux and Jake Voracek to provide offense on a nightly basis. In games where they were kept off the scoresheet, the Flyers earned an L in the loss column. However, in 2016-17, that's changed. The big guns have been producing, but what's changed most is that when they aren't other players are picking up the slack and contributing.
For example, against the Chicago Blackhawks on Saturday (12/4) afternoon, the heavy hitters, such as Wayne Simmonds, Giroux, and Voracek, were held pointless but it didn't matter. The Flyers still found a way to pot three goals which were all Mason needed to come away with the win. Guys like Travis Konecny, Brayden Schenn, and Michael Raffl have provided offensive depth which makes it difficult for other teams to match up against the Flyers defensively.
Ivan Provorov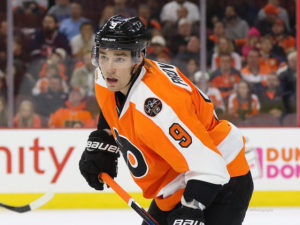 There was much hype about Provorov entering training camp and the preseason and for good reason. Now that the teenager has 27 games of professional experience under his belt, he's beginning to show Flyers fans and the league in general why he was selected with the seventh overall pick in the 2015 NHL draft. The kid's got it all when it comes to overall talent and has the hockey awareness to put his physical tools to good use.
Provorov arguably played his best game as a professional on Saturday against the Blackhawks, netting two goals in the midst of a 30-second span. But it wasn't just his offensive tools that were on display. He made outstanding reads in the defensive zone and was strong on the puck all game long. His play in all three zones over the last month have been by far the best amongst Flyers defensemen, which is why, during that span, he's been leading in ice time on the blue line.
As much focus as there was on Provorov's offense vs CHI, it was his play to steer Kane out of the O-zone that stood out most to me. #Flyers

— Anthony Mingioni (@AnthonyMingioni) December 4, 2016
The video below shows Provorov's offensive talent, and as he gets older and his defensive and offensive games grow, the Flyers might just have a perennial All-Star on their hands.
Defense to offense!

What a period for the Flyers! #FlyersTalk pic.twitter.com/Iob9E7a5Wq

— NBC Sports Philadelphia (@NBCSPhilly) December 3, 2016