It used to be one of those certainties in life along with death and taxes, that the Montreal Canadiens were forever in need of a No. 1 center. At nearly a point-per-game pace so far this season, it seemed Alex Galchenyuk (23 points in 25 games) had finally put that need to bed. For the time being though, it's re-awakened in a cold sweat as if as a result of a bone-chilling nightmare.
Medical update: Alex Galchenyuk underwent testing in St. Louis on Monday and will be out indefinitely. DETAILS: https://t.co/O2QZOw6tyt pic.twitter.com/e2g74Gukkj

— Canadiens Montréal (@CanadiensMTL) December 5, 2016
Galchenyuk Out Indefinitely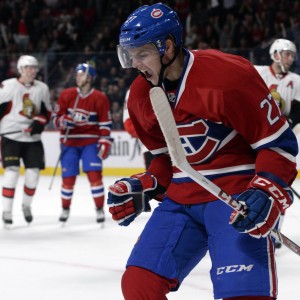 Out indefinitely with a lower-body injury that he suffered against the Los Angeles Kings on Sunday, Galchenyuk is currently tied for 11th in league scoring. Having formed a formidable one-two punch with Alexander Radulov (21 points in 23 games), Galchenyuk now leaves not just a hole down the middle, but all throughout as Montreal's lack of depth is suddenly all too evident.
With Tomas Plekanec's offensive struggles this season and David Desharnais' in general, the Habs can't legitimately ask either one to fill in competently on the top line. With nine (Desharnais) and seven points (Plekanec) so far, they hadn't even been chipping in enough to be considered legitimate second-line threats.
Charles Hudon might have been an option at one point to slot in and prove his worth on that second line, whatever that second line actually is these days. There really hasn't been one threesome or even twosome that has established itself as a permanent secondary scoring option. Now that he's on the shelf too, head coach Michel Therrien has his hands full with spare parts and a mad scientist's grimace on his face.
Options Down the Middle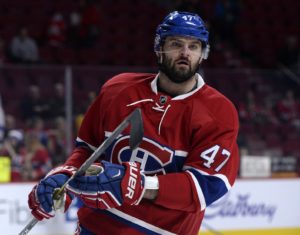 The most commonly used scoring unit that has not included Galchenyuk or Radulov has been that of Plekanec between Max Pacioretty and Brendan Gallagher. While all of the latter three could conceivably be reunited, that would run counter to the Habs' most recent offensive success, with Pacioretty getting looks with Radulov and displaying all kinds of chemistry against the Kings, combining for six points in the process.
Prior to suffering his knee-on-knee collision with Anze Kopitar in the third period, Galchneyuk did not record a point in the contest. Gallagher actually received the second assist on Radulov's second-period marker (Pacioretty with the primary). This implies that maybe, just maybe, the Habs can survive with those three on the top line, even if each is primarily a winger. After all, Radulov has played center before.
It's less than ideal, no doubt. However, that's pretty much consistent with the situation overall. In fact, as horrible as it seems on paper, the other options aren't much better with Torrey Mitchell, Paul Byron and Philip Danault joining Plekanec and Desharnais as the other players who have lined up at center so far this season.
Andrew Shaw and Brian Flynn have also been known to play center in their careers. Their half-decent point totals notwithstanding, the former three are not what you would call top-six forwards. As for Flynn, same deal minus the half-decent offensive point total. Shaw might be an option, but he's more of an elite role player instead of just an elite player, period.
That isn't to say Therrien won't try each of these guys out on that first line eventually, because… you know, mad scientist and all (or mad "line-tist"?). And some might even end up having good games, but over the long haul? They're likely to weigh a top line down.
The Status Quo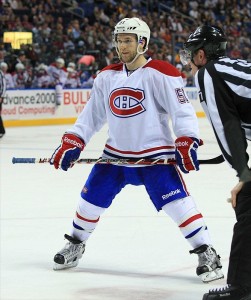 So, the best scenario is almost the status quo, to roll with Radulov, Pacioretty and Gallagher, all three of whom have been key members of the team's top line over parts of the last few seasons. The likeliest scenario, though? That's probably a lengthy game-to-game audition process with Desharnais ending up as Pacioretty's center, because that's unfortunately, Therrien's go-to. That's the actual status quo, it would seem.
Things could be worse. Just look to last season when another one of the team's top players went down with a knee injury. Goalie Carey Price is significantly more valuable than Galchenyuk, and thankfully he's still healthy and will presumably cover up for a lot of the team's potential deficiencies to come in the offensive zone.
So, in current possession of one of the league's best records at 17-6-2, the Habs are far from doomed. However, barring a downgrade relative to Galchenyuk's initial "out indefinitely" prognosis in the coming days, things just got a whole lot scarier.
Fans can find some solace that the main reason for that fact stems from who's behind the bench. On paper, the team has the bodies available to pull through. It's just a matter of logic winning out, even if logic typically has no place in nightmares. And this is the worst kind of nightmare, one from which you can't wake up.