The Philadelphia Flyers won't lace up the skates again until Feb. 6 when the New York Islanders travel to the Wells Fargo Center. They'll rest and watch Kevin Hayes compete in the NHL All-Star Game in Sunrise, FL over the weekend. Meanwhile, trade rumors surrounding James van Riemsdyk and Tony DeAngelo have pickup while head coach John Tortorella continues his search for answers within a broken organization. 
Tortorella Checks in at All-Star Break
The Flyers sit in seventh place in the Metropolitan Division with a 21-21-9 record. Winning only 21 of 51 games can get a team to a .500 point percentage in the NHL. Philadelphia is still considerably below the league median. They own a better point percentage than just two Eastern Conference teams, and the Pittsburgh Penguins are six games ahead of them for the final playoff spot with two extra games left to play.
Despite the longshot playoff odds, the Flyers have taken legitimate steps forward in 2022-23. Tortorella spoke on 97.5 The Fanatic on Feb. 1 about the team's progress.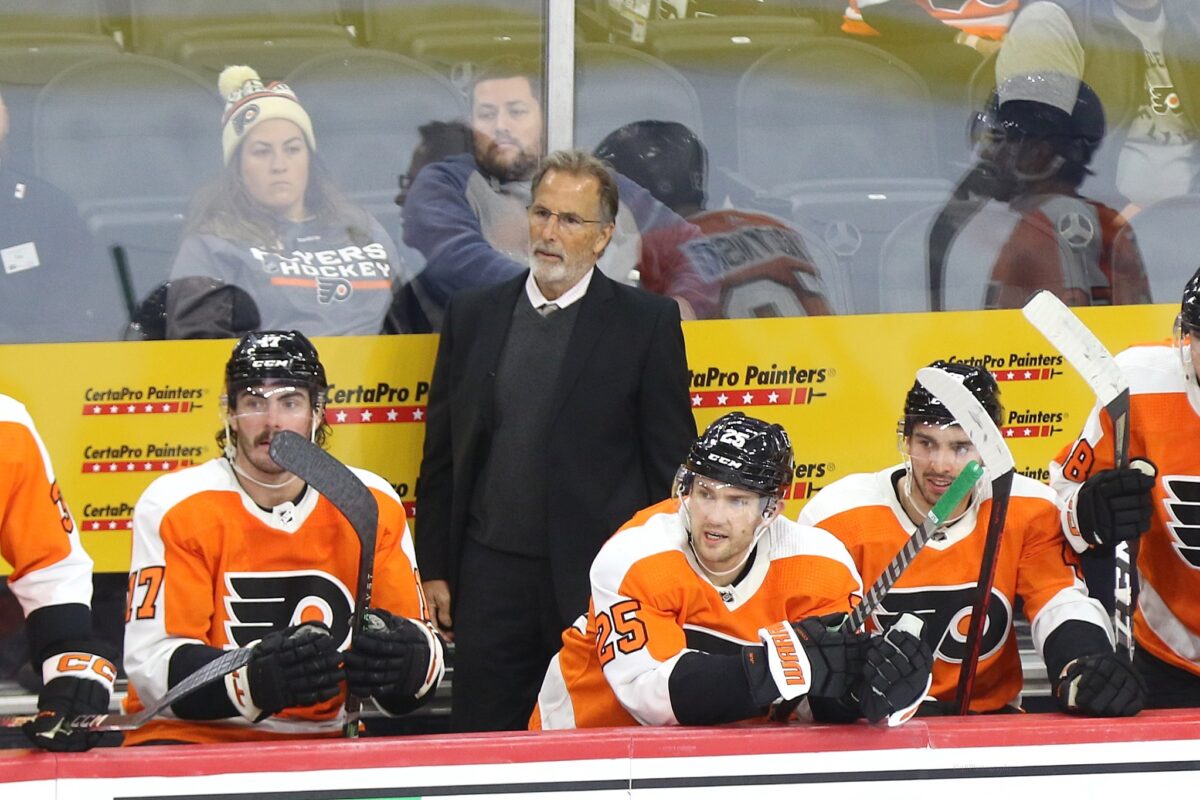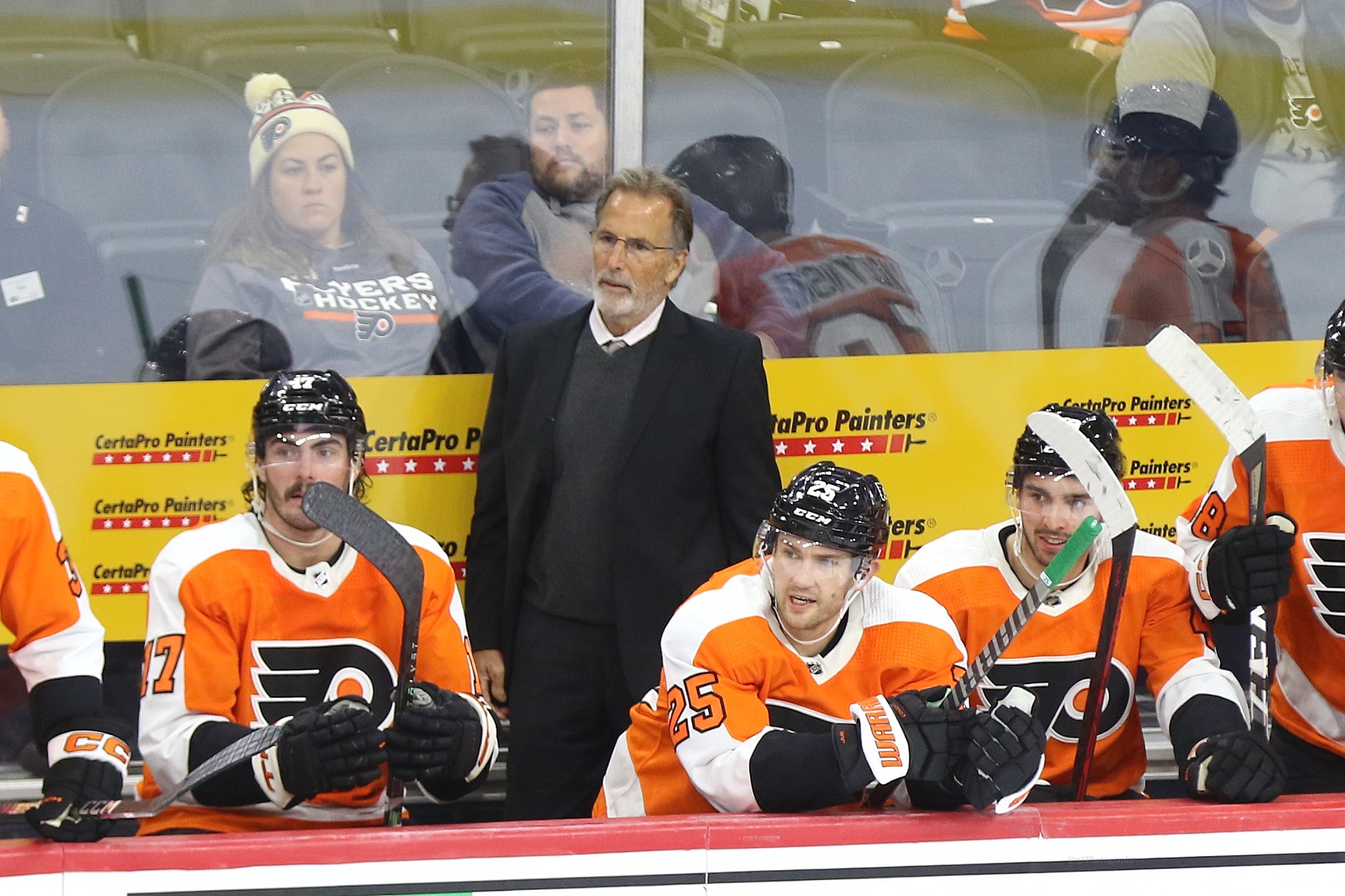 "I think we've handled some adversity… (We've) found some footing. I think we've slowly been consistent in the style of play that I think we want to develop here," the two-time Jack Adams Award winner said. "Have we gotten where we want to be? No. Do we need to change some players out? Yes. Do we need to add some youth? Yes. Do we need to get rid of veterans? Yes."
The small steps of progress aren't changing Tortorella's long-term vision. He is the only prominent member of the organization who has openly used the word "rebuild" to describe the current situation for the Flyers.
Related: History of NHL All-Star Game Format Changes
"I don't think our organization should miss any steps in going through the process of becoming a competitive hockey team in this league. When I say competitive, (I mean) a team that's fighting for playoffs each and every year. We are not there right now. I do think we've improved…It will not change at least my thinking as far as the process we have to go through to become that legitimate team. It's not a short-term thing here," he said.
Tortorella doesn't mince words, and he is evaluating his team realistically. His contentious lineup decisions and fiery behavior became the story of the first half of the season in Philadelphia. Expect the former Stanley Cup winner to continue his bold approach to fixing the bleak situation he inherited with the Flyers.
Kevin Hayes- NHL All-Star Game
Hayes spoke to the Philadelphia media on Jan. 5 after he found out about his first career NHL All-Star Game selection.
"It's probably the only thing that my brother, since he stopped playing hockey, that he wanted me to accomplish. I never honestly thought it would happen, but it did and it's cool. I know my family is really excited. His son Beau will be with me the whole time, so it will be an extra-special experience," he said.
His older brother Jimmy passed away tragically at age 31 last summer. The Hayes family continues to be a prominent beacon in the hockey community, especially in the New England area, one of the largest hockey markets in America. Kevin is a recognizable face across the NHL and a player with a solid reputation as a man of character off the ice. While Travis Konecny might've had a more productive first half of the 2022-23 season, Hayes will represent the Flyers well during a showcase of the sport.
Hayes has experienced an unusual season in 2022-23. With 15 goals and 30 assists in 50 games, he is on pace to finish with 73 points, which would shatter his previous career high of 55. However, he hasn't meshed with Tortorella as well as the organization hoped. The veteran coach has moved Hayes to the wing instead of his natural position at center, benched him twice in-game, and sat him as a healthy scratch on Dec. 17 against the New York Rangers. His defensive game hasn't met the standard that Tortorella is trying to set in Philadelphia. 
The 6-foot-5 forward will compete in the Honda NHL Accuracy Shooting competition on Friday, Feb. 3 against nine other players including his Metropolitan Division teammates Artemi Panarin of the Rangers, Brock Nelson of the Islanders, and Jack Hughes of the New Jersey Devils. He will also represent the Metro in the 3-on-3 tournament. The two Western Conference divisions will face off at 3 pm on Saturday, Feb 4, and the Metro will face the Atlantic Division at 4 pm. The two winners will meet in the final.
Flames, Maple Leafs As Fits for van Riemsdyk
van Riemsdyk is the most logical trade chip for the Flyers in the final year of his contract at age 33 on a team that will be looking to sell ahead of the deadline. Elliotte Friedman mentioned the Calgary Flames as a landing spot for the former second-overall pick. 
---
Latest News & Highlights
---
"I think Philly is getting to the short strokes with van Riemsdyk, and I do think Calgary is potentially one of the teams," he said.
Friedman didn't discount the notion that the Toronto Maple Leafs might have interest, but he mentioned that they would want a player who could complement their core of stars well. van Riemsdyk is better suited for a lesser role at this point in his career despite his familiarity with the Maple Leafs. He has eight goals and 13 assists in 31 games in 2022-23. Both the Flames and the Maple Leafs will have a difficult time fitting in his salary, and the Flyers would benefit from retaining a percentage if it increases his trade value.
DeAngelo as a Trade Candidate
DeAngelo has hit a rough patch midway through the first year of a two-year, $10 million contract he signed in July. He has been a defensive liability with frequent turnovers, overaggressive decisions to join the offensive rush, and unreliable defensive zone coverage. His 41.11 expected goals for percentage (xGF%) ranks him 186th out of 199 NHL defensemen who have played at least 300 minutes this season.
The South Jersey native brings legitimate value to an NHL roster, as fans saw from his game-tying goal with under two minutes remaining against the Minnesota Wild on Jan. 26. However, he's not a fit with the Flyers as they're currently constructed. Bill Meltzer discussed the possibility of trading DeAngelo before the deadline on March 3.
"That is possible. He's on a two-year deal. That's often the best time to move a guy when he has a year remaining," Meltzer said.
"Particularly a team that's solid in most areas can work around his defensive shortcomings and could use a little power-play boost. I think that (DeAngelo) could be a player of interest. A $5 million cap hit isn't outrageous. It's only (for) the remainder of the season anyway which is prorated. From a Flyers standpoint, apart from getting an asset if you move him, the Flyers have had trouble slotting him."
Tortorella spoke on Dec. 31 about DeAngelo's season with the Carolina Hurricanes in 2021-22. He described Carolina's luxury of "a field of players around him (DeAngelo) that protected him also and some of the things where I think the deficiencies in his game is, but I think he had people that protected him because it was a deeper team than we have right now."
Ivan Provorov and Cam York have begun to figure things out on the top defensive pair, and it's unlikely they'll split up anytime soon. Nick Seeler and Rasmus Ristolainen have reached a comfortable point on the third pair. Meanwhile, DeAngelo and Travis Sanheim have posted a brutal 38.37 xGF% as a tandem on the blue line this season. One of the biggest reasons for acquiring DeAngelo was the idea of using him on the right side of the top pair. If the 27-year-old doesn't fit with this year's group of defensemen, the Flyers need to move on.