The Philadelphia Flyers are undefeated in the month of December. However, there has only been one game played in the month, but they have won their last three straight games. Philadelphia first knocked off the Nashville Predators during overtime, then they shutout the New York Rangers 3-0 and most recently dominated the Ottawa Senators in a 4-2 win.
However, despite their impressive recent performance, the Flyers are one of the most inconsistent teams in the entire NHL. Overall, they're 10-10-5, which is good for sixth in the Metropolitan Division and just two points out of a wild card playoff spot.
At first, their offense was producing and there defense couldn't stop anyone. Then their offense faltered and their defense picked up the slack, but it's been a back and forth motion by the team. It was only recently that every phase of the game finally came together and the Flyers have looked like a respectable hockey club.
Take a look at this graphic, courtesy of war-one-ice.com.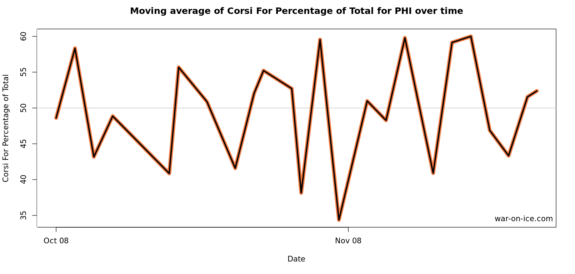 The chart measures the Flyers Corsi-for percentage or, in other words, the percentage of shot attempts that favor the Flyers in a given game. If you thought the Flyers were playing consistently bad this season, you're wrong and if you thought they were playing well all season, you're also wrong.
The Flyers more or less are what they are. They're a team riddled with offensive talent and a solid goaltender, but that's where their strengths end. They have arguably three or four legitimate NHL defensemen on the roster and they're struggling with shot suppression.
One game, the Flyers might attempt to shoot the puck 60 times and the next only attempt 30 shots. It's an unsustainable pattern that the team needs to find a solution to, and they need to find one fast.
A lot of people are already writing the Flyers 2015-16 season off as a wasted year, but it doesn't have to be. The Flyers do have the offensive players to push for the playoffs, but their defense is holding them back. Sure, you can look at someone like Jakub Voracek, who was recently demoted to the fourth line, and wonder how they could possible make the playoffs. But at the same time, the Flyers have players like Brayden Schenn, Wayne Simmonds and Claude Giroux to help with offensive production. They're doing the best they can and it's unreasonable to think that Voracek will continue shooting at just 1.3%.
The Flyers have also been blessed with a pleasant surprise as rookie defenseman Shayne Gostibehere has been doing everything in his power to win hockey games. He's played in just nine games, but has scored four goals and two assists. Two of "Ghost's" goals were also game winning tallies.
Consistency should come later in the season, right now head coach Dave Hakstol is still learning the NHL level. It's his first season and there have been a few times where his inexperience has shown, but it's a learning process.  More than anything, the Flyers need to be patient with Hakstol and his team. He preaches that his team his focusing on the fundamentals and sometimes that takes time to properly develop and that's what the Flyers are currently seeing.
It might seem like it's doom and gloom with the Flyers this season, but the year is still very young. The Flyers have a habit of playing up, or playing down to their opponents. If they can solve these consistency issues, the Flyers season could end with a playoff berth, all it takes is proper execution every night.
Thanks for reading! Feel free to leave your comments below or tweet me anytime @MPityk_PHI
Michael Pityk is an analyst who has written for numerous sites since beginning his professional career. He's acted as a credentialed member of the media for the Philadelphia Phillies, Philadelphia Flyers, Pittsburgh Pirates and the Pittsburgh Penguins. His work has been featured in Sports Illustrated, The Sports Journal, MSN, PensLabyrinth, Montreal Hockey Talk, ESPN Pittsburgh, The Hockey Writers, Todays SlapShot and The Bleacher Report. He formerly was the editor of Pens Labyrinth and an analyst for The Sports Journal. Michael presently acts as an NHL Analyst for The Hockey Writers