The Philadelphia Flyers have started out the 2015-16 season like they're dragging cement blocks behind them. They're 6-9-5 and are second last within the Metropolitan Division. Yes, even the Carolina Hurricanes have more points than the Flyers this season.
The source of their woes has been a lack of offense. Through 20 games played, the team has scored a mere 35 goals, one of the worst starts in franchise history. They're scoring the fewest goals per game of any team in the league and in 10 home games, they've scored just 15 goals. I've been there watching their struggles and it's a much different situation than what's going on in Pittsburgh.
On the western side of the state, the Pittsburgh Penguins have been playing relatively well, but they're not converting on chances. Then there are the Flyers, who aren't playing well and they're not converting.
Flyers Lack Of Offense Due To Coaching Inexperience
I will preface this by stating the facts. None of the Flyers coaching staff has ever spent time working as a head coach in the NHL. Sure, some of them have experience as an assistant coach, but never as a head coach. The lack of experience has been a problem for Philadelphia.
Head coach Dave Hakstol has essentially been teaching himself how to coach at the NHL level and if the team's play is any indicator, he's struggling.
But from what Hakstol has been talking about, he's on the right track and the team's play could improve in the near future. Hakstol's been focused on improving fundamentals, even if it means sacrificing current performance to ensure long-term success.
Here's what he had to say about the lack of goals and poor play.
All the focus coming out of the last two games, and certainly coming out of Saturday night, is on the lack of goal-scoring. That's what I feel. That's where all the focus is at. I'm going to flip that 180 degrees. We had 81 shooting attempts Saturday night and zero goals, so obviously we have to do a little better. We have to be hungrier around that net. But I think if we have 81 shooting attempts the next game, we'll probably get one.
The Flyers aren't as bad as their numbers would indicate. In terms of generating shooting chances, the Flyers are second in the league with a corsi for per sixty minutes played of 56.7 at even strength. However, they have been a victim of horrific luck when playing opponents.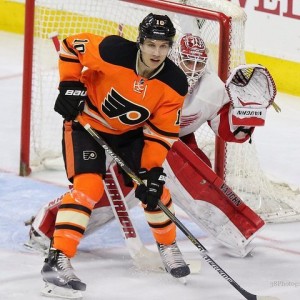 Despite their almost league leading shot attempts, their team corsi for sits at an even 50%. In other words, it just happens that when opponents play the Flyers, they generate a ton of shots. Some of this can be accredited to the poor shot suppression by their defense, but facing a team that matches your shots every night is simply unlucky.
It also certainly doesn't help that the Flyers have the fourth lowest shooting percentage in the NHL of 5.2%. Only the Anaheim Ducks, the Carolina Hurricanes and Los Angeles Kings have shot with less efficiency.
In past years under Craig Berube, Peter Laviolette and Ken Hitchcock have always found a way to compensate for the Flyers poor luck by having a strong power play. However, this season the Flyers have the worst power play of any team in the league, as they convert on just 13.3% of opportunities.
Again, Hakstol has continued to say the proper things, but until the Flyers start executing, they're just words.
When you look at the last couple of games, you'd be able to make an argument that we deserved a better fate. But I'm not in the business of making that argument. I think we can and have to be better in areas of the offensive game. There's no question about that. But, No. 1, first you have to deal with the things that give you long-term success.
He's got the right mindset, but it's going to be a long road ahead. The Flyers are in the midst of a confusing season. They'll likely finish the season with a record around .500 and if they can convert on more chances, they could push to make the playoffs, but is this the best thing for the franchise? They've been consistently good enough to compete during the regular season, but not bad enough to net a high draft pick.
Is Hakstol the right man for the job? I'd like to think so, but it could be a while before we really see what his Flyers are capable of.
Thanks for reading! Feel free to leave your comments below or tweet me anytime @MPityk_PHI