The Philadelphia Flyers staring at the face of defeat Wednesday night in front of a sold out Wells Fargo Center, forced the Washington Capitals into playing at least one more game in their first round match-up.
The Flyers held on to a 2-1 victory on the back of Michal Neuvirth to avoid the sweep and take the series back to the nation's capital Friday night for a 5th game.
The Power Neuvirth
The star of the night goes to none other than Philadelphia's and former Capitals goalie Michal Neuvirth. He was called upon by head coach Dave Hakstol after a few shaky games from Steve Mason in games two and three.
Neuvirth would weather a Washington onslaught in the third period to preserve the victory for the Flyers.
Gostisbehere on Neuvirth: "He's a first class goaltender for a reason, he's amazing… he's definitely our No. 1 star tonight."

— Kyle P (@Kyle_Phillippi) April 21, 2016
Leaky Penalty Kill
Neuvirth would finish the game with 31 saves, but perhaps the other biggest difference maker for the Flyers in game five was their discipline. They were taking an absurd amount of penalties in the first three games and paid for it dearly.
Hakstol: "We made a little adjustment on PK. But biggest thing was we only had to kill two."

— Bill Meltzer (@billmeltzer) April 21, 2016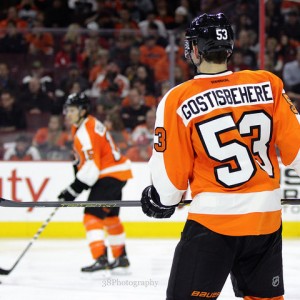 In game three on Monday night, a game in which the Flyers scored first and had a stellar first period, ended up losing control of the game because they simply couldn't stay out of the penalty box.
As a result, they suffered the wrath of five power play goals at the hands of the Capitals, en route to a series devastating 6-1 loss and a 3-0 series lead for the Caps.
The Flyers now face a daunting task at coming back from a 3-1 series deficit.
However, if the Flyers can stay disciplined and out of the penalty box along with stellar goaltending from Michal Neuvirth, they can certainly make the Capitals sweat a little bit and squeeze a few more games out of this series.
Glen Stricker is a Temple University graduate with a degree in Media & Communication. He is the Lead Writer for the Philadelphia Flyers for The Hockey Writers as well as the social media coordinator and contributor for @PHLFlyersNation