Ready or not, with an emphasis on "not," Anthony Stolarz is now in the NHL. With injuries to Steve Mason and Rob Zepp, it's not like the Flyers had a choice. But what does Stolarz's sudden call-up mean for not only his own development, but the team he now joins?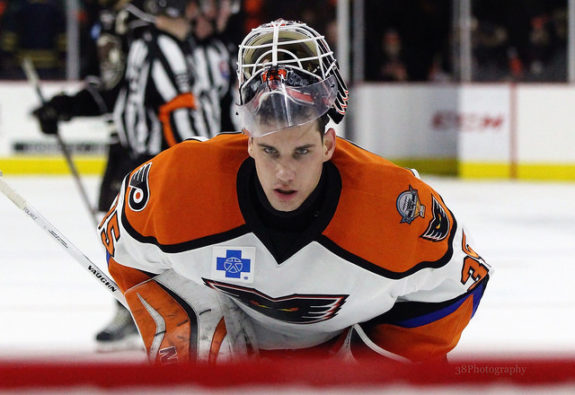 The Perfect Storm
The latest injury to Steve Mason didn't leave Flyers GM Ron Hextall with many options. In fact, calling up 21-year-old prospect Anthony Stolarz was his only alternative.
Normally, the sudden opening would warrant another call-up for Philadelphia's newest folk legend, Rob Zepp. But with Zepp sidelined with a lower-body injury, the loss of Mason stings even more this time around. Not only will the Flyers miss Mason's .925 save percentage, which ranks seventh best throughout the league among goaltenders with at least 10 starts, they're now forced to interrupt the development of their top goalie prospect.
"He's a first-year pro like me," said forward Scott Laughton, who broke into the lineup earlier this season. "It takes a little bit of adjusting from junior. For a goalie, I think it is huge just the strength of the guys and the speed of them coming at you.
"I thought he adjusted well. He has all the tools. He's going to be a really good goalie down the road."
The key phrase in Laughton's assessment, of course, is "down the road." In his first season in the professional ranks, the 6-6, 220-pound netminder has adjusted to better competition as well as you'd expect anyone in his position.
A year removed from a 25-win season with the London Knights of the OHL, Stolarz joins the Flyers after a rocky ride through his introduction to the AHL. In 22 appearances this season for Lehigh Valley, the Jackson, New Jersey native has a 7-10-1 record to show. And while a goalie's record doesn't necessarily determine what type of year he's having, Stolarz's .911 save percentage, along with his 3.04 goals against average give a better illustration.
"Is he ready for this level? Probably not," Hextall said on Sunday.
If there's anyone who would know, it's Hextall. The team's current GM not only spent 13-years guarding the twine in the NHL, he's been mentored by a multi-Stanley Cup-winning GM in Dean Lombardi. Credentials aside, it's really no secret that Stolarz isn't NHL ready.
https://www.youtube.com/watch?v=qzjTUdA3iFw
It's not as if the Flyers don't have an experience to look back on when it comes to playing an unseasoned goalie. Last season, Cal Heeter was called up to guard the pipes in the season finale against Carolina. And despite the meaningless nature of the tilt – already qualifying for a playoff spot – the Ohio State product allowed five goals on 38 shots in an overtime loss.
While an outing like that is hardly demoralizing, it certainly isn't a declaration of one's arrival.
The goalie position is unlike any other in hockey. Especially at the NHL level. While every position brings their own set of challenges, such as adjusting to the speed of the game, the goalie is the only player on the ice that can single-handedly steal a game, or give one away on a nightly basis. Equal to the physical demands, if not more, the mental toughness that the position requires is seen in an extreme few at Stolarz's age.
Technique always will be a key component of a successful goalie, but no one can win the Stanley Cup without first having an even stronger mind. — Justin Goldman, NHL.com
What else were the Flyers to do, though? Besides, it's not as if the Flyers are asking their young prospect to win a Stanley Cup for them this year. But are there other short-term implications?
Emery's Impact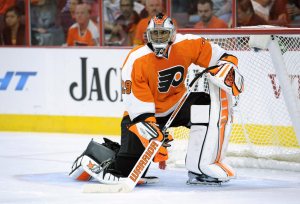 The good news, however, is that Stolarz isn't likely to see any playing time throughout his first visit to the NHL. With Rob Zepp expected back at some point this weekend, the team's newest backup is likely to remained stationed on the bench. But that doesn't take the Flyers off the hook.
If the Flyers are still thinking playoffs, nine points out of the Eastern Conference's eighth spot heading into Tuesday's game in Montreal, they'll need the good version of Ray Emery to show up on a nightly basis. Extended playing time, though, could either benefit, or hurt the 10-year veteran, who has been incredibly streaky.
"Consistency and getting in the net, night in and night out, will help, for sure," said Flyers coach Craig Berube. "He'll definitely feel better about himself. His numbers aren't where he wants them to be, but Ray's a proven winner, and he's won a lot of games in this league."
With Stolarz on the bench, there will be no room for error. There will be no safety net to bail him out of a poor outing, like Jan. 27's performance against Arizona.
Without Mason the Flyers turn to Emery, whose 3.34 goals-against average in his .886 save percentage in 21 games are both career-worst numbers in a single season. The team recalled 2012 second-round pick Anthony Stolarz Monday to back-up Emery Tuesday night in Montreal.

He may not be around long, though. — Dave Isaac, Courier-Post
After allowing a pair of goals with just under six minutes gone by in the opening period, Berube yanked the 32-year-old in favor of Mason. The Flyers would end up winning that contest, 4-3 in overtime, but that's now history.
"We could care less what anybody else says, or what you guys say about us," Flyers forward Wayne Simmonds said after Sunday's 3-1 win in Washington – a game in which Ray Emery relieved the injured Mason by stopping five of the six shots thrown his way.
"We know we have a solid team. We know we can win games. We've waited a long time to play good hockey, but I think if we can just keep playing like this, we can put a final push together and hopefully make the playoffs."
Sunday's win against the Caps was Emery's first road win since Dec. 23 at Minnesota. And with three games remaining on the current road trip, Emery will have to duplicate his performance in Washington.
"It was a tough moment, losing Steve," defenseman Mark Streit said after his team's recent victory. "But Razor [Ray Emery] came in and made some key saves."
Look. For the sake of his development, you DO NOT WANT Anthony Stolarz to have to come up to the Flyers right now. You just don't.

— Sarah Baicker (@sbbaicker) February 8, 2015
As for Stolarz, success can be measured in avoiding the battle. His untimely call-up will make for a better story if he can dip his toe into the water without having to get into the pool. If it means wearing a lopsided loss or two on the chin, so be it.
It's no knock on the guy. It's just reality.