Sunday night, the Dallas Stars fell to the Florida Panthers, 4-2, in preseason action at the American Airlines Center. Perhaps the score should've been more lopsided, as the Panthers iced a lineup just one or two players removed from their expected regular season roster, while the Stars gave several prospects one more long look. Valeri Nichushkin was the only one of Dallas' projected top-six forwards to play, and the reason was clear: The Russian is rusty.
The Stars' top pick in the 2013 NHL Entry Draft enjoyed a promising rookie campaign, putting up 14g-20a-34p in 79 games as an 18-year-old. Nichushkin's sophomore season was derailed by injuries, however, limiting him to just eight games. Now 20 years old, the right wing from Chelyabinsk is trying to rediscover his game while adjusting to life as a left wing.
Timing is Key
Sunday, Nichushkin skated on a line with prospect Devin Shore and veteran Patrick Eaves, while his projected regular season linemates, Jason Spezza and Ales Hemsky, didn't dress for the game. Thus, the night was more about finding his game than developing chemistry with his new linemates. How's that working out? Stars Head Coach Lindy Ruff had this to say after the game:
I like him on the left.  I tried him on the right early and he really struggled.  He still hasn't quite found his game.  He was closer tonight to it than he was the other night…For me, I think, I've got to be patient.  He missed a lot of hockey last year and…I think it's just a little bit of the quickness.  His skating's better, but the quickness in tight isn't there, he's not making quick enough decisions with the puck, some pucks could go to the net…and I think that's just a timing issue, a realization that, "whoa, I won't have much time," and he's been caught from behind a couple times…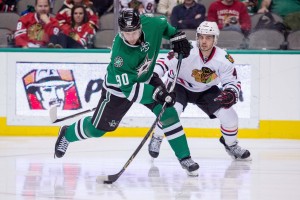 In 16:13 on the ice against the Panthers, Nichushkin finished with no points, one shot on goal, and was on the ice for two Florida goals. On the positive side of the ledger, he had two hits and his three takeaways tied Radek Faksa for the team lead. Though he has no points through three preseason contests, the young Russian is slowly making progress in his overall game, and that's what's most important right now.
Patience Will be Rewarded
Nichushkin was recently described as an "X-factor" for the Stars, but a question mark would work just as well. How long will it take him to get back up to NHL speed and develop consistency in his game? Coach Ruff can afford to be patient, as the Stars have an enormous amount of offensive firepower.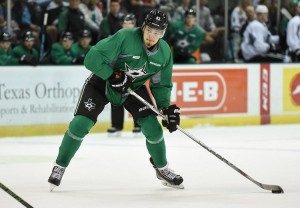 What about the young Russian's patience, though? Throughout his rookie season, Nichushkin let his frustration show by slapping his stick blade on the ice following a missed scoring chance, a turnover or any of a number of mishaps. During training camp this year, the 20-year-old's stick blade has been heard from repeatedly. Left unchecked, frustration can erode a player's confidence. If Ruff and his staff can manage Nichushkin's expectations for himself as well as they seem to be managing their own, a marked improvement over the talented winger's successful rookie campaign could be in the offing. For Nichushkin, it's just a matter of time…and timing.