Brock Nelson's career with the New York Islanders can be summed up in two songs by the epic rock band Foreigner — "Hot-Blooded" and "Cold as Ice."
At times appearing ready to become the 30-goal scorer the team envisioned he'd be when they drafted him in the first round of the 2010 entry draft, Nelson has sometimes mystified with a rocket shot and remarkable release. At other times, however, he's been inconsistent on both sides of the puck, rekindling memories of other young stars on the Islanders in the past the likes of Oleg Kvasha and Brad Isbister — players who had all the talent in the world, but couldn't put it together.
Despite a 26-goal season in 2015-16, Nelson struggled again over the second half of the season, scoring just five goals over the season's last 24 games. In 11 playoff games, Nelson only lit the lamp once on 28 shots.
"I thought that some of the "kids" didn't progress as far as I would have expected last year," Islanders statistician Eric Hornick told The Hockey Writers. "I'll be looking at that.  One thing I'd like to see is for Brock Nelson to have a second half equal to his first half.  In his career, he is 48-37-85 in 165 games before the All-Star break but is only 12-11-23 in 70 games after the break."
So who do the Islanders get this season? The talented sniper in training or another first rounder that can't make the next step?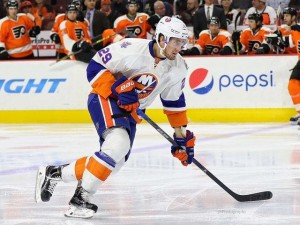 Last Season
26 goals are nothing to be shy about, but when you consider the fact that Nelson spent 40 percent of the time on the ice with Kyle Okposo and John Tavares at even-strength in 2015-16, it makes sense. His shooting percentage (15.8) was solid as well. So what happened? Simply put, Nelson got cold again over the last leg of the season and was relegated to playing with other struggling players the likes of Nikolay Kulemin, Ryan Strome and Josh Bailey. The fact that 35 of Nelson's 40 points came at even-strength proves that Nelson wasn't a force on the PP either. Whether it's a conditioning issue or him simply holding the stick too tight, Nelson needs to silence his critics and prove he can be a steady performer for 82 games and not just 58.
Expectations
Early this offseason, Islanders general manager Garth Snow said Nelson was moving back to center. This could actually hurt him more than help. No longer getting an opportunity to skate with Tavares, Nelson's numbers could revert back to his rookie year, where he scored just 14 goals.
With Josh Bailey and Nikolay Kulemin flanking him on the wings most likely, the Islanders third line looks like their weakest. To make matters worse, Nelson isn't solid at faceoffs either, winning 721 and losing 907 in his career. In a game that is all about puck possession, Nelson is a much better winger than center, regardless of what position the Islanders drafted him at.
With so many question marks about where he'll play and who he'll play with, Nelson is going to have a tough season unless he gets penciled in with Tavares if recent acquisition Andrew Ladd struggles as well. Either way, Nelson will hover around the 20-goal and 35-point mark, unless he comes into camp in the best shape of his career and proves he's ready to be the consistent force the Isles need him to be.
Over the past ten years as a working journalist, Patrick Hickey Jr. has covered the New York Islanders, New York Rangers and New Jersey Devils, as well as the Brooklyn Aces of the former EPHL, contributing pieces and/or holding Editorial positions at NBC, New York Sports Day, NY Sportscene Magazine and the New York Times. During that time, he has interviewed NHL stars the likes of Brendan Shanahan, Bernie Nicholls, Bob Probert, Martin Brodeur and Zach Parise. He is also the first winner of the New York Islanders Blog of the Year Award, for his work on TheDriveForFive.com in 2008.