Garry Valk is now a real estate agent in North Vancouver. However, he also was an NHL hockey player who played for the Toronto Maple Leafs from 1996-2000. He was primarily a bottom-six forward who played a gritty, physical style of hockey. During his time in Toronto, he was known for being a solid penalty killer and a hard worker on the ice.
But Valk is also remembered by some older Maple Leafs fans because, similar to Alex Kerfoot in Game 4, Valk scored a game-winning overtime goal in a playoff game between the Maple Leafs and the Pittsburgh Penguins in May 1999. In this post, I'll share a bit about Valk's NHL playing history and focus on his time with the Maple Leafs.
Related: One for the Ages: Guy Lafleur's 1989-90 NHL Season
Finally, and the genesis of this post, I'll share what I believe is an engaging recent Sportsnet video where Valk shares what it's like to score a game-winner playoff goal for the Maple Leafs. As he tells it, playing in Toronto differs from playing anywhere else in the world. 
What Was Valk Like as an NHL Player?
Valk was born on Nov. 27, 1967, in Edmonton, Alberta. He was selected by Vancouver Canucks in the sixth round (108th overall) of the 1987 NHL Entry Draft. During his career, he played for five different NHL teams — the Canucks, Anaheim Mighty Ducks, Pittsburgh Penguins, Maple Leafs, and finally, the Chicago Blackhawks. 
In his 777 NHL games, he scored 100 goals and 156 assists (for 256 points) while also registering 747 penalty minutes. During 61 career playoff games, he scored six goals and added seven assists.
---
Latest News & Highlight
---
Valk's career highlight was helping his Maple Leafs advance to the conference final for the first time since 1994 when his Game 6 playoff goal pushed his team to a win against his former team, the Pittsburgh Penguins. (from: "Valk, Leafs oust Pens in overtime," Staff Writer, South Coast Today, 18/05/1999).
Valk's Time With the Maple Leafs
Valk played in Toronto for four seasons under coach Pat Quinn from 1998-99 to 2001-02. During his tenure with the team, he played a total of 287 games, scoring 31 goals and 63 assists for a total of 94 points. 
Related: Are the Maple Leafs Tough Enough for the Postseason?
His most productive seasons with the Maple Leafs were in 1998-99 and 1999-00, where he played 77 games and scored eight goals with 21 assists for a total of 29 points. He played 17 postseason games that season with three goals and four assists for seven points. The next year, he played 73 games with 10 goals and 14 assists (for 24 points). He also played in 12 postseason games, scoring one goal and adding two assists.
Despite being known for his toughness and grit, Valk added versatility to the team. He could play both wing and center and was often utilized in a shutdown defensive role. But the goal he scored (shown in the Tweet below) is his most famous.
Valk was a favorite for many Maple Leafs fans. They loved his hard-nosed style and his willingness to do whatever it took to help his team win. After his time with the Maple Leafs, he played for several other NHL teams before finally retiring in 2003.
The Game-Winning Playoff Goal Valk Is Speaking About
During a playoff game between the Maple Leafs and the Penguins, which took place on May 17, 1999, Valk scored his memorable goal. In that postseason game, he scored two goals. His unassisted goal tied the game at 2-2 in the second period. Then, he scored the game-winner 1:37 into overtime. And coincidentally enough, he had played for the Penguins the previous season.
In the Sportsnet video below, Valk shares what it's like to score a game-winner for the Maple Leafs. His memories also suggest some of the differences between playing for the Maple Leafs as opposed to other NHL cities.
Key Points That Valk Made During the Interview
Key Point One: The Feeling of Scoring a Game-Winner 
Valk described the feeling of scoring a game-winner for the Maple Leafs as "feeling like Wayne Gretzky." As he noted, he didn't want to take his gear off and felt like an absolute hero. Because his goal was the series clincher, the team went out to celebrate when they returned to Toronto. 
Related: The 2022-23 Maple Leafs, Better Built for Postseason Success
He recalled that everything was comped (free). The next day, he went out for breakfast on Yonge Street. As he walked down the street, everything stopped as people chased him down for autographs and to congratulate him. He noted that this kind of attention is unique to Toronto. Valk also compared his feat to what might happen in other cities where a goal like his might be quickly forgotten quickly.
Key Point Two: The Power Play Trend in Overtime 
Interestingly, Valk also shared other thoughts about current NHL postseason games. He expressed his frustration with the playoff trend of power-play goals in overtime. Valk joked that he felt the referees were trying to avoid working too much longer. As a former player, he was clear that he'd rather see five-on-five hockey in overtime.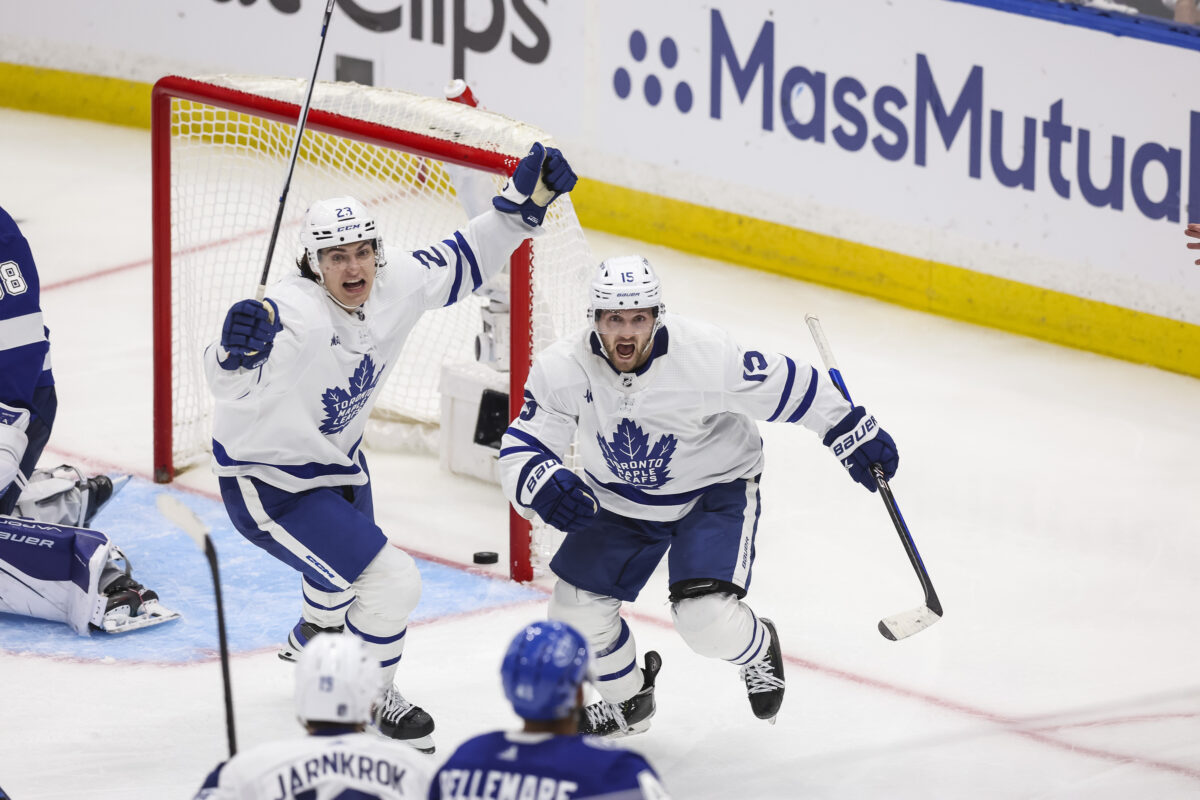 At the same time, he was happy for current Maple Leafs player Alex Kerfoot for his recent game-winner. Valk noted that it was different for him since he scored it in Toronto.
Key Point Three: The Importance of Postseason Scoring in Toronto 
Valk emphasized that scoring a game-winner in Toronto is different than doing it in any other city. Toronto fans have a long memory, and a goal like his will be remembered for years, even decades. He mentioned that he was recognized and celebrated for his goal years later and that if the Maple Leafs ever win the Stanley Cup, he'd be there to celebrate. 
He contrasted this with his experience in Vancouver, where he's now a real estate agent and most people don't recognize him for his past NHL career.
Valk's Maple Leafs Memories Are Lasting
Interestingly, Valk's memories of scoring a game-winning goal for the Maple Leafs highlight the unique importance of Toronto as a city in the NHL world. The attention and celebration that come with a goal like he scored are unparalleled, and the fans' long memory ensures that it will be remembered for years to come.
---
---