San Jose Sharks GM, Doug Wilson, announced earlier in July that former blue liner, Brent Burns, will make a permanent move to forward next season.  In 23 games, Burns scored 20 points.  Out of those 20, 17 were during 5v5 situations.  That was the highest by far of points per 60 minutes of even strength time on the Sharks (minimum 300 minutes played).  Now,  full-time forward Brent Burns will hope to add more depth to the limited scorers that the Sharks offer.
Forward Brent Burns Provides Spark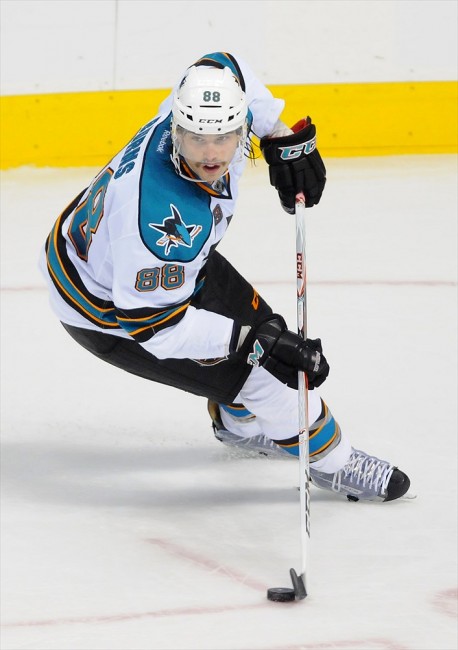 As mentioned previously, Brent Burns excelled where many other Sharks scorers struggled.  With a total of just over 400 total minutes played at even strength, Burns scored 2.49 points/60 minutes.  Logan Couture, the go-to scorer for the Sharks, is down ten spots with a respectable 2.30.  As a defender, his productivity was obviously much lower.  His defensive abilities are still noble, but they may be wasted on a Sharks team that stresses two-way players at every single position.  Blocking shots and backchecking were required of every player.
What makes this stat more impressive is that the Sharks were hard-pressed to find scoring when they did not hold a tactical advantage.  At even strength, San Jose was 25th in the league with only 77 goals all season.  Their improved Power Play unit might have kept them above water.  They scored 28 goals when up one man which placed them at ninth in the league.  Bringing Burns up to the forwards gives the Sharks a dimension of the game that was severely lacking last season.  When pitted directly against an opponent, with a defender for every shooter, the Sharks' bite was much more tame than most of the league's contenders.
What Made Burns so Effective?
A Corsi number is complicated.  But it has been widely regarded as one of the new stats that can truly show a player's effectiveness.  It is determined by "the shot differential while a player was on the ice. This includes not just goals and shots on goal, but also shots that miss the net, and in some formulations, blocked shots. In other words, it's the differential in the total number of shots directed at the net."  The best players, in terms of Corsi number, earned a score just under thirty this past season.  The Sharks were not huge winners on the Corsi numbers, however.  But, Burns did represent the best in San Jose in 5v5 Corsi with an 8.4 score.  Really, anything in the positive means the player was a positive influence on the game for his team.
Brent Burns earns that Corsi score because he plays a game similar to that of pariah, Raffi Torres.  But he does not have the downside of reckless hits and becoming Brendan Shanahan's favorite player to "make an example of."  Burns skates harder than many forwards in the league and thus runs a more aggressive game than NHL defenses are prepared for.  His hard-work plays are also reminiscent of Joe Pavelski, but use the obvious advantage he has in size.  Burns reignited the Joe Thornton line with a surprising scoring touch and heavy forecheck.  With the leadership of his captain on his line again, the Sharks may find another line that can do significant damage on offense.
Wilson on Burns at forward: "I think it's only going to get better if he trains specifically for that this summer." #SJSharks

— Kevin Kurz (@KKurzCSN) July 5, 2013
The move to forward allows the Sharks to consider putting him on the Power Play lines as well.  They have lacked a scoring threat on defense outside of Dan Boyle on the man advantage.  Burns could hold the D-line and still improve the already strong Power Play.  But the most important role that Burns and his hard-nosed offense brings to the table is the even strength battles that Burns wins.
The NHL regular season schedule was released on Friday. Check out our partners at TiqIQ for the best deals on San Jose Sharks tickets for all 2013-14 games.