The Boston Bruins are ready to hand out their individual honors.
The club will hand out the Seventh Player Award before Tuesday night's tilt with the Florida Panthers. The honor is voted on by the fans and given to the Bruins player who they believe exceeded expectations for the season.
Since Ed Westfall won the inaugural award in 1969, several Boston legends including Terry O'Reilly, Ray Bourque, Cam Neely, and Rick Middleton have been presented with this piece of hardware during their careers.
Here is a look at some of the more likely and worthy candidates on the Bruins to take home this year's honors.
David Pastrnak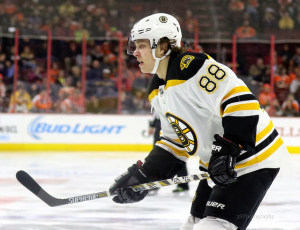 It may be hard to believe that an 18-year-old could be a frontrunner for Seventh Player, but David Pastrnak has played his way into the conversation. Boston's first-round pick last summer has quickly turned into a fan favorite with a combination of skill, speed, and a positive personality.
His 10 goals and 25 points in 40 games have been a breath of fresh air for the Bruins this season. "Pasta" has thrived playing alongside Milan Lucic and Ryan Spooner recently, creating a formidable second line for the club. Averaging around 14 minutes of ice time, not many Bruins fans expected Pastrnak to have the immediate impact he has given the club in his rookie season.
Ryan Spooner
Speaking of Spooner, he is another player that has given Boston a shot in the arm offensively. The 23-year-old center has seven goals and 15 points in 18 games since being called up as a result of David Krejci's knee injury back in February. His first NHL goal was a game-winner in overtime against New Jersey and torched his hometown Ottawa Senators for four goals in two games.
Coach Claude Julien is still suspect when it comes to Spooner's defense but his offensive instincts are promising. The club has responded as well registering a 10-4-4 mark since Boston's second-round pick in 2010 was called up. Having played just 23 games all season, Spooner is a longshot to win the award but it is hard to ignore what his insertion into the lineup has meant for a club desperate to add more speed and skill to the roster.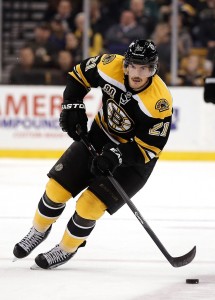 Loui Eriksson
Coming off of a nightmare first season with the club, fans did not expect much from Loui Eriksson. The 29-year-old winger is constructing his own road to redemption in Boston this season. His 43 points ranks second only to Patrice Bergeron in team scoring while his six power-play goals lead the club. The most important concern for Eriksson and the Bruins heading into this season was his health after two concussions cost him 21 games last year. However, he has been a model of durability this year having only missed one game.
There have been times when the Swede has been the best player on the ice, carrying the club with his goals and solid two-way game. A model of consistency, Eriksson needs one goal to eclipse the 20-goal plateau for the fifth time in his nine-year career. Arguably the biggest piece of the now-infamous Tyler Seguin trade may not put up superstar numbers, but Eriksson has been a vital part of Boston staying above water in the playoff race.
Brad Marchand
There is no doubt Brad Marchand is playing an important role this season. The 26-year-old winger leads Boston with 22 goals but the quality of those goals have carried more meaning this year. He has notched the first goal for Boston 10 times this season, good for second behind Washington captain Alex Ovechkin (12). Marchand has five game-winning goals, including three in overtime. Given the Bruins three-point cushion over Ottawa in the playoff race, those goals are proving to be the difference between their eighth straight postseason appearance and an April 12th tee time.
Marchand has been the definition of clutch for Boston this season. His impeccable timing of scoring big goals for the Bruins this year makes him a viable candidate to take home the Seventh Player Award for the second time in his career.
Joe is a writer covering the Boston Bruins. He is a lifelong native of Massachusetts and is currently a content writer/manager for a newsletter at a Human Services Agency. Joe can be found on Twitter: @JoeCherryTHW