With the 2012 World Junior Hockey Championships just around the corner, officially beginning on Boxing Day, fans of all 30 NHL teams are beginning to take a close look at the various prospects in their team's systems that will be representing their home countries in the tournament.
The Dallas Stars are no different, and will have four of their top prospects participating in the event. Here's a quick rundown of the players, their teams and what Stars fans can expect to see.
1) Jack Campbell – United States – Drafted 11th overall, 2010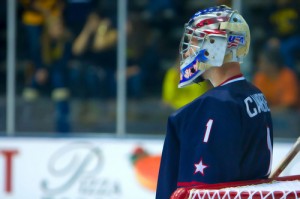 Campbell comes into this tournament not just as Dallas' most prominent prospect, but as one of the top players to watch overall. The lanky goaltender, who has split this season so far between the Windsor Spitfires and Sault Ste. Marie Greyhounds of the Ontario Hockey League, led the Americans to a Gold Medal-winning upset over Team Canada in the 2010 WJHC, and then backstopped them to a Bronze Medal finish last year, while also picking up the honours of best goaltender in the tournament thanks to a sparkling 1.70 G.A.A. and .940 save percentage. Jack Campbell also led the Americans to back-to-back IIHF World U18 golds in 2009 and 2010.
With a wealth of international experience and a proven ability to elevate his game when the pressure is on, Campbell is more than capable of carrying the US team into medal contention.
2) Jamie Oleksiak – Canada – Drafted 14th overall, 2011
Although his dual citizenship allowed him to try and make both the Canadian and American teams, Oleksiak made the right choice and opted for Canada. Even though he donned the red, white and blue in the 2009 Ivan Hlinka Memorial Tournament and would have played a larger role this year for the US team, the host Canadians are the early favourite to win the tournament, which increases Oleksiak's chances of overall success.
At 6'7″, 240 pounds, Oleksiak is the biggest player on Team Canada, and will be relied upon as one of the team's top shut down defenders and penalty killers. For the Canadian hockey fans that remember the impact that current Buffalo Sabres defender Tyler Myers had for the Gold Medal winning Team Canada roster in the 2009 WJHC, Oleksiak is of a similar size and playing style, and will be expected to have the same impact. (Another weird coincidence between the two: Myers also holds dual Canadian-US citizenship)
 3) Patrik Nemeth – Sweden – Drafted 41st overall, 2010
There are no secrets about what Nemeth's role will be for the Swedish team. Big and strong at 6'3″,  212, Nemeth, like Oleksiak, will be tasked with stifling the opposition's best forwards. With 0 goals and only 1 assist in 27 games for AIK in the Swedish Elite League Nemeth doesn't have much offensive upside to his game, but comes with plenty of leadership and experience, having played in the tournament last year as the Swedes finished 4th.
4) John Klingberg – Sweden – Drafted 131st overall, 2010
Although a surprise addition to Sweden's roster last year, Klingberg proved his worth by potting 2 points and a +2 in 6 games, and will have a bigger role as a returnee this time around. A smooth skater and puck handler, he could find himself playing on Sweden's top powerplay unit, despite only registering 1 goal and 2 assists in 19 games with Jokerit Helsinki of the SM-liiga so far this season. He could also find a spark of chemistry with fellow Stars prospect Nemeth.