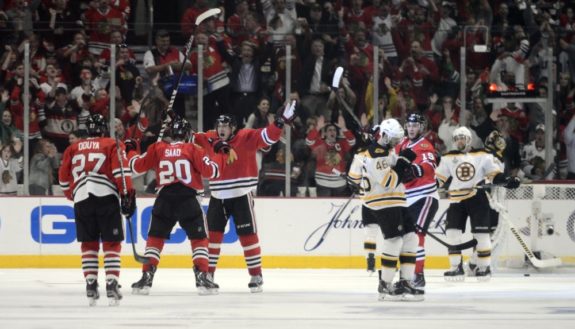 The Chicago Blackhawks erased all doubts after Andrew Shaw scored the game-winning goal in triple overtime just after midnight to beat the Boston Bruins. The team needs to continue to do whatever works. No deviation from the game plan needed. Continue to control the puck and don't make mistakes that can't be minimized.
Here are four steps the Blackhawks can take game two from the Boston Bruins:
Match The Pace of The Game
From the start of the game the Blackhawks matched Boston's style of play with some physical play of their own. Brandon Bollig was put into the lineup for that very reason. If the strategy the Blackhawks applied continues to work, expect not to see Viktor Stalberg for the rest of the Stanley Cup Finals. The Blackhawks showed a lot of fight in front of an international audience. Maybe some the so called expert will go back on their predictions for the series.
Fix The Special Teams
Once again, the Blackhawks wiffed on the power play by going 0-3. On two of those chances, the team only mustered one shot on goal.  Boston's penalty killing unit is a top notch group led by Bruins captain Zdeno Chara. The Blackhawks were having problems with the power play before the series. The team was very lucky that those missed opportunities weren't the difference in the game. Expect for an improvement during the series.
Continue To Ignore The Rough Stuff
The Boston Bruins will continue to get the Blackhawks off of their game. The rough stuff will continue. What I mean by that is the Bruins will try to get the Blackhawks to do something stupid that will cause a penalty. We all saw from game one that the Bruins will try anything to bait the Blackhawks into a fight. For instance, remember in game one when Corey Crawford came out of the crease the play the puck and the Nose Face Killah aka Brad Marchand used his skate to trip up him up? That was smart of the team to not engage in foolishness during a crucial part of the game.
Go Where Corey Crawford Takes You
Blackhawks goaltender Corey Crawford has a game for the age this week. Crawford made 51 saves to keep the team in the game.  Crawford stood on his head when the team needed it. Remember the saves he made during the two penalties caused by the having too many men on the ice? The fans may not want to admit it but Crawford saved the team for imminent doom on too many occasions. The fans need to start giving him the respect he deserves.
If the Blackhawks stick to the program,they can send to Bruins back home 2-0.
Evan F. Moore is The Hockey Writers contributing Blackhawks Writer.His work has appeared in the Red Eye,The Checking Line,Gapers Block,ChicagoSide,Extra Bilingual Newspaper, Chicago Now, Time Out Chicago. He resides in Chicago.