Calling it a career is exactly what Fredrik Modin had in mind this morning.  Although most would label it as a career involving dreams that came true. When Modin officially announced this morning that he is retiring from the game of hockey, there are plenty of organizations to go around to thank Modin for parts of his 14 years of service to the game.
A World Championship gold medal with team Sweden in 1998, a Stanley Cup Championship with the Tampa Bay Lightning in 2004 and an Olympic Gold medal in 2006, Modin leaves the great game of hockey as a champion and a member of the Triple Gold Club.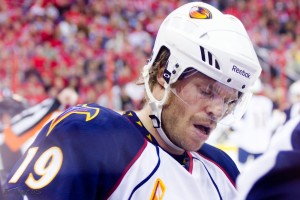 Back problems that lingered on throughout the last 2 years of his career forced Modin to face reality in a difficult way, yet all at the same time allows him put a positive spin on things for the future.
"It is not an easy decision to make. But it is the right decision for the future. The most important thing is to be healthy and my back has been hurting for a while now. After all, I am soon 37 and things don't get any easier," Modin said to a Swedish newspaper.
Modin, a native of Njurunda, Sweden compiled 232 goals and 230 assists in 898 National Hockey League games, playing in 6 different NHL cities including the likes of the Toronto Maple Leafs, Tampa Bay Lightning, Columbus Blue Jackets, Los Angeles Kings, Atlanta Thrashers and Calgary Flames.
"For us, he wasn't underrated. He was a huge part of our team. He was a great leader and great for us," Vinny Lecavlier told the St. Petersburg Times.
Modin was traded to the Blue Jackets in June of 2006 in a deal that sent goaltender Marc Denis to Tampa Bay. Modin played 176 games for the Blue Jackets, but three out of four seasons were cut short due to constant injuries.
Eventually Modin would move on to the Los Angeles Kings where the back problems began and caused him to miss a tremendous amount of action not only in LA, but Atlanta as well, leading to a difficult decision to hangup the skates.
Fredrik Modin leaves the game of hockey, but can honestly look back and feel proud of his accomplishments as a Professional Hockey Player.
DarrenCoslov on Twitter