Did you work late last night? Did your significant other make you run errands while the game was on? Did your dog chew off your TV cable wires?
Have no fear – THW's Monica McAlister has your back, covering everything in the hockey world from From Abdelkader to Zuccarello every morning. Check in daily to quickly get up to speed on all things hockey – recaps, storylines, videos and great links.
While You Were Sleeping
Winnipeg Jets 3 Toronto Maple Leafs 4 (SO)
The night may have started with Toronto fans giving the Jets a standing ovation welcoming them back into the league but Winnipeg meant business last night.
A penalty to Maple Leafs Luke Schenn for hooking lead to a power play goal by Tobias Enstrom as he put a slap shot past James Reimer to give the Jets the early lead. It would take just under two minutes for Toronto's Joffrey Lupul to tie the game before breaking for the first intermission.
The second period would belong to the Jets as Alexaner Burmistrov would score his first of the season just 2:27 into the new period; and Mark Scheifele would score a power play goal after Maple Leafs' Mike Komisarek found his way to the penalty box to make it 3-1 heading into the third period.
Penalties to the Jets would cost them their two goal lead. Winnipeg's Zach Bogosian would be called for interference and see Lupul score his second of the game to bring Toronto within one goal. Less than a minute after the Lupul goal Jets Derek Meech would head to the penalty box for tripping and see Phil Kessel capitalize on the man advantage and tie the game.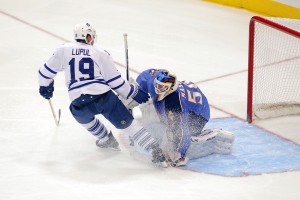 The game would need more than just the overtime period and head to the shoot out…
Phil Kessel (TOR) – Save
Kyle Wellwood (WPG) – Save
Joffrey Lupel (TOR) – Goal
Alexander (WPG) – Save
Matt Frattin (TOR) – Goal
Three Stars:
1st – Joffrey Lupul (Toronto) 2 goals, 5 shots on goal
2nd – Phil Kessel (Toronto) 1 goal, 2 assist, 5 shots on goal
3rd – Dustin Byfuglien (Winnipeg) 2 assist, 3 shots on goal
Pension Plan Puppets Can Byfuglien and Wellwood lift the Jets? Fat chance.
Artic Ice Hockey Jets run into some turbulence over Toronto: lose in shootout.
Up into the Netting
Were you watching the TSN feed of the game last night and hear about Eric Lindros' thoughts on his career, concussins, and some Winter Classic rumors? Want more information? Check out THW's own Justin Johnson's interview with Lindros.
Pro Hockey Talk's Jason Brough says "It's OK everyone, Luongo's "Gotten used to" being booed ":
Vancouver reporters were predictably all over the story today, and as a reward for their doggedness they got a great quote out of the man himself. When asked how it felt to be booed on home ice, Luongo replied, "The good thing is it has happened so many times, I've gotten used to it."
If you were in the Metro Detroit area over the last few days you may have had a run in with a Red Wing or two as they were out on their Hockeytown Thanks Tour. Players were seen around town including captain Nicklas Lidstrom making pizza's at a local Little Caesers and Pavel Datsyuk serving coffee via the drive thru at Tim Horton's:
ShananBan: Kris Letang's Suspension Penguins getting what they asked for:
GM Ray Shero was among a minority of officials at last year's GM Meetings to publicly and staunchly support stiffer penalties for head shots, blindside hits and other dangerous, avoidable plays. After losing Sidney Crosby and at least three other forwards for extended stretches due to concussions, as well as winding up on the surprised end of the melee on Long Island, the Penguins had reason to be among the most vocal proponents of culture change.
THW's own Ryan Pike shines some light on some trouble spots in the league with a look at the NHL game attendance since the lockout and how the outdoor games relate.
Video tributes to Rick Rypien from both the Vancouver Canucks and the Winnipeg Jets.
With the latest news out of Russia is that Lokomotiv Yaroslavl's charter crashed due to pilot error Dmitry Chesnokov made note over at Puck Daddy that the KHL is selling Lokomotiv commemorative gear to benefit the families . The site for ordering is currently only in Russian and may be difficult for those here in North America to order though they are shipping overseas.
Top Spots:
Points: Phil Kessel – Toronto (12)
Goals: Phil Kessel – Toronto (7)
Assist: Erik Carlson – Ottawa (7)
Plus-Minus: Dion Phaneuf – Toronto (8)
GAA: Nikolai Khabibulin – Edmonton (0.96)
Save Percentage: Jonatha Quick – Los Angeles (0.960)
Wins: Kari Lehtonen – Dallas (5)
Shutouts: Tomas Vokoun – Washington (1)
Northwest: Colorado Avalanche
Pacific: Dallas Stars
Central: Detroit Red Wings
Atlantic: Pittsburgh Penguins
Northeast: Toronto Maple Leafs
Southeast: Washington Capitals
Face-Off
Toronto Maple Leafs at Boston Bruins 7:00 p.m.
Washington Capitals at Philadelphia Flyers 7:00 p.m.
Montreal Canadiens at Pittsburgh Penguins 7:00 p.m.
Winnipeg Jets at Ottawa Senators 7:30 p.m.
New York Islanders at Tampa Bay Lightning 7:30 p.m.
Buffalo Sabres at Florida Panthers 7:30 p.m.
Chicago Blackhawks at Colorado Avalanche 9:00 p.m.
New York Rangers at Calgary Flames 9:30 p.m.
Minnesota Wild at Edmonton Oilers 9:30 p.m.
Nashville Predators at Vancouver Canucks 10:00 p.m.
Los Angeles at Phoenix Coyotes 10:00 p.m.