Did you work late last night? Did your significant other make you run errands while the game was on? Did your dog chew off your TV cable wires?
Have no fear – THW's Monica McAlister has your back, covering everything in the hockey world from From Abdelkader to Zuccarello every morning. Check in daily to quickly get up to speed on all things hockey – recaps, storylines, videos and great links.
While You Were Sleeping
New York Islanders 2 Boston Bruins 6
It took only one minute and thirty-two seconds after puck drop for Boston's Benoit Pouliot to net his first of the season. Seconds after puck dropped again a fight broke out between Bruins Adam McQuaid and Islanders Matt Martin. It would take a few minutes later in the game for Matt Moulson would tip-in a shot from defenseman Steve Staios to tie the game up at one for the Islanders.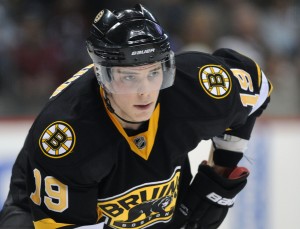 A Corss checking penalty to Islanders Travis Hamonic would lead to a power play goal from Bruins Nathan Horton to give Boston back the lead. Less than a minute after Horton's goal Tyler Seguin would put a wrist shot past Evgeni Nabokov to make it 3-1.
Islanders' Nabokov was pulled from net after he allowed three goals on twelve shots to be replaced by Al Montoya. Montoya seeing his first ice time since October 20th. The change in goal tendering sparked the Islanders offense as Michael Grabner scored to make it 3-2 heading into the first intermission.
The second period saw Boston take two penalties; however, the Islanders were unable to take advantage of either power play.
Less than five minutes into the third period Milan Lucic would tip-in a shot from Horton and put the Bruins up 4-2; less than a minute later Horton would score his second of the night.
Boston would pull Montoya early to try and even up the 5-2 score to at least force over time which would lead to an empty net goal for Bruins David Krejci.
Three Stars:
Nathan Horton (BOS) 2 goals, 3 points, 2 shots on goal and a plus/minus of 1
Tyler Seguin (BOS) 1 goal, 1 assist, 4 shots on goal, plus/minus 1
David Krejci (BOS) 1 goal, 3 points, 4 shots on goal, plus/minus 1
Los Angeles Kings 2 San Jose Sharks 4
Battle Royal – California style as the Kings took on the Sharks last night in a late game of those in the east.
The first period was scoreless though both teams were awarded a power play within the first half of the period.
It would be a penalty to Sharks Colin White early in the second that would lead to a power play goal from Kings defenseman Jack Johnson as he slapped the puck past Antti Niemi.
White's goal sparked to offense in the game; just not for his team. Joe Thornton would go back hand on Jonathan Quick to tie the game. Less than a minute after Thornton tied the game Patrick Marleau tipped-in a shot from Dan Boyle to make it 2-1 for the Sharks. Boyle would then score minutes later on the power play after Willie Mitchell was called for cross checking.
After a scoreless first the game was 3-1 in favor of San Jose heading into the second intermission.
Third period would see Logan Couture put the puck past Quick to make it 4-1. Minutes later Colin White would take a penalty for cross checking and give Los Angeles the power play in which Anze Kopitar would put a slap shot past Niemi to make it 4-2.
Three Stars
Patrick Marleau (SJS) 1 goal, 3 points
Joe Thornton (SJS) 1 goal, 5 shots on goal
Dan Boyle (SJS) 1 goal, 7 shots on goal
Up into the Netting
Andy Liegl takes a look at Patrick Kaleta The head butt, 10 reasons why Sabres fans love him and Barnaby too!
The Columbus Blue Jackets have replaced Davis Payne behind the bench with Ken Hitchcock but will it be enough to get the team back on track? Scrutinizing the Columbus Blue Jackets Roster with THW's own Alex Stallings.
The Florida Panthers and an extreme makeover during the summer and now Jack Skille and Shawn Matthias are showing that hard work pays off .
Many NHL cities are chastised for their attendance issues… Dallas, Phoenix… Atlanta… just to name a few. They are often said to not be "real" hockey markets and that hockey does not belong there. So what is the excuse for Toronto Junior Hockey Attendance Troubles?
It isn't unusual for atheletes to make public service announcements; now you can add NHL star Anze Kopitar to that list.
Time is running out on your chance to get a hold of an autographed Miller jersey for a buck .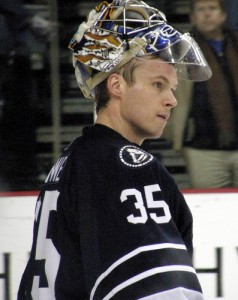 Top Spots:
Points: Phil Kessel – Toronto (21)
Goals: Phil Kessel – Toronto (10)
Assist: Denrik Sedin – Vancouver (13)
Plus-Minus: Tyler Seguin – Boston (10)
GAA: Nikolai Khabibulin – Edmonton (0.98)
Save Percentage: Josh Harding – Minnesota (0.965)
Wins: Kari Lehtonen – Dallas (10)
Shutouts: Pekka Rinne – Nashville (3)
Northwest: Edmonton Oilers
Pacific: Dallas Stars
Central: Chicago Blackhawks
Atlantic: Pittsburgh Penguins
Northeast: Toronto Maple Leafs
Southeast: Washington Capitals
Face-Off
7:00 p.m. EST
Winnipeg Jets at Buffalo Sabres
Florida Panthers at Toronto Maple Leafs
Dallas Stars at Washington Capitals
7:30 p.m. EST
Carolina Hurricanes at New Jersey Devils
Edmonton Oilers at Montreal Canadiens
Colorado Avalanche at Detroit Red Wings
8:00 p.m. EST
Chicago Blackhawks at St. Louis Blues
9:30 p.m. EST
Minnesota Wild at Calgary Flames
10:30 p.m. EST
Nashville Predators at Los Angeles Kings