The Pittsburgh Penguins are off to a strong start despite dealing with a number of big injuries once again this season.  They've compiled a 9-3-3 record and sit atop the NHL standings (albeit with a few more games under their belt than other teams).
We often forget to take into account the domino effect a rash of injuries can have on the entire organization.  With Pittsburgh nursing a dozen players on injured reserve at various times last season, both Wilkes-Barre/Scranton (AHL affiliate) and Wheeling (ECHL affiliate) managed to put together very successful seasons.
The injury bug is back for another campaign but that hasn't impacted the minor-league squads yet.  Is this a testament to organizational depth, player development, scouting, coaching?
I've seen both teams play this season but wanted to get insight from a few friends of The Hockey Writers who know these teams inside and out.
Wilkes-Barre/Scranton Penguins — 7-2-1-1, 2nd Place East Division
For Wilkes-Barre/Scranton insight we go right to Eric P who runs Wilkes-Blog over at the PensBlog.  You can follow Eric on Twitter @EricP55.
*THW* Give us three things in Wilkes-Barre that have stood out to you the most so far this season?
Eric: The consistency of power forward Eric Tangradi, the development of Brian Strait, and the unexpected break-out start by the undrafted Bryan Lerg.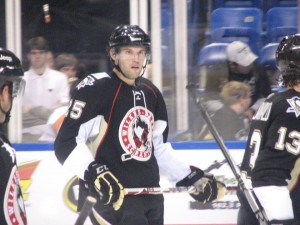 3 — Let the 'Big Dog' Eat
Eric Tangradi, the team's top forward prospect on the farm, took this year's training camp demotion to the AHL completely different than last year's.  One aspect of his game that the coaches wanted him to work on was bringing "his game" every night which includes finishing three to five checks a game as well as owning the corners and net-front areas.
That's what the 22-year-old has done thus far and it has rewarded him. Tangradi has gotten off to a more productive start than he ever has as a pro, posting ten points (5+5) in 11 games with Wilkes-Barre/Scranton.  His confidence and no-fear mentality is also still there, as just the other night he dropped the gloves with long-time veteran tough guy Dane Byers, after taking a borderline check from him earlier in the game.
He is the undisputed first call-up at forward right now, if Pittsburgh is in need of a wing who can play on one of the top three lines.
2 — Strait as an Arrow
Brian Strait recently began his third season of professional hockey, his third straight season with WB/S.  After a solid prospect tournament and training camp, Strait was sent down due to a surplus of seven defenseman on NHL one-way contracts.
The numbers game didn't intimidate Strait, however, as he elevated his game to an even higher level.  After shutting down the opposition's first scoring line and putting up four points (1+3) in 5 games, he was called up to Pittsburgh.  A smart, solid, defensive defenseman with a smooth break-out is something the Penguins could use.  Strait is out with an injury right now but his potential makes you wonder about the future of the likes of a guy like Ben Lovejoy.
1 — Lerg is the Word
Bryan Lerg played four seasons at Michigan State, and three toiling in the Oilers' minor-league system.  Two off-seasons ago, when no AHL club came calling, he packed his bags and headed to Europe, where his dream of one day playing in the NHL would absolutely fade.
He made a phone call to head coach John Hynes, who coached Lerg on the 2002-2004 U.S. National team, vying for one last at a fresh start.  Hynes gave it to him and now the undrafted 24-year-old is tearing the AHL apart day-by-day.  Lerg's stickhandling ability, crafty shot, and work ethic is at an elite level right now, and if he keeps his production up, he could earn an NHL deal as early as next year.
He is currently tied for 15th in the entire league in scoring, with 13 points in just 11 games.  The funny thing is, he can't even be called up to Pittsburgh due to his current AHL-only contract.  A true underdog story is starting to unravel with this kid.
*THW* What else can goalie Brad Thiessen do to top his performance last season in Wilkes-Barre?  Brent Johnson has been one of the best backups in the NHL but his contract is up next summer.  Where does Thiessen fit into the Penguins equation in goal?
Eric: There isn't much that Thiessen can do to top last year. He was the best goalie in the entire AHL, and I would argue he was the best player in it period.
This season hasn't been any different, and he definitely fits into the future plans up in Pittsburgh as Fleury's back-up.  He's actually put up better numbers in Wilkes-Barre than Fleury did, but I'm not sure how far you can look at that. I think 'Johnny' still has another year in him though.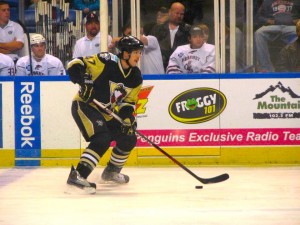 *THW* How is Simon Despres adjusting to his first taste of professional hockey?
Eric: Despres has gotten off to a good start, but he's got some work to do before he's playing in 'The Show', that's for sure.
There's no denying his talent level. He can lug the puck through the neutral zone, and man the point on the power play better than a 19-year-old should be able to.  But as he tries the little things that worked for him in the QMJHL, he struggles.  As he develops, his turnovers and questionable puck decisions will limit themselves.
He's got top-4 NHL potential as a defenseman, no question about it.
*THW* What holes still exist in the Wilkes-Barre lineup — and the entire Pittsburgh Penguins organization as a whole?
Eric: Right now, there's still a lot of injuries up in Pittsburgh. This always causes a few AHL starters to be called up.
It was disappointing to see Keven Veilleux, a rare 6'5″ 220 lb. forward that can score and fight, go down in pre-season with an injury.  He's out until about April so they signed long-time veteran winger Niko Dimitrakos to a professional try-out deal.
Outside of that, this is the deepest the depth has been in years. From Pittsburgh all the way down to Wheeling.  Ray Shero and his staff have done an impressive job bringing in undrafted skilled players like Bryan Lerg, Ben Street, and Brian Gibbons; not to mention some undrafted body-bangers like Zach Sill, Brandon DeFazio, and Ryan Schnell.
I'd put money down that all six of those guys play in Pittsburgh at one time or another. The future is very bright.
Wheeling Nailers (ECHL) — 6-1-0, 1st Place Atlantic Division
Our go-to source for coverage of the Penguins' ECHL affiliate is Shawn Rine, beat writer at the Intelligencer and Wheeling News-Register.  You can follow him on Twitter @Shawn_Rine.
*THW* Before we get to this year, give us your thoughts on last season. Injuries to a number of forwards at the NHL level seemed to gut the Penguins minor-league system, but the Nailers still found a way to advance to the Eastern Conference Final. How did they do it?
Shawn: It was really remarkable to see the transformation, from a team that liked to get up and down the ice to one that had to be defensive-minded.
Stan Drulia did a tremendous job of building not one, but two separate teams. It's coachspeak, but each and every guy bought into the team concept and what they were trying to do.
*THW* Injuries are mounting once again for Pittsburgh on defense. Will the domino effect on the backend be more difficult for the Nailers to cope with this season?
Shawn: The jury is still out in that regard. Wheeling has eight to ten guys it's comfortable inserting into the lineup on a given night. Stan really hasn't settled into a top-6, so to speak.
*THW* This is Coach Drulia's second season behind the bench. If you had to pick one word to describe his teams and their style of play, what would it be?
Shawn: Tenacious. Stan spent a lot of time with Dan Bylsma and John Hynes this summer and Wheeling has really adopted the Pittsburgh system. The Nailers are a straight-line team that wants to get the puck behind the opposing defenders, and get on top of them quickly.
*THW* Goaltender Patrick Killeen is the only player on the Nailers currently under contract with Pittsburgh. What does his future look like in the organization?
Shawn: Killeen is an interesting guy. Drulia has said numerous times that Killeen works very hard at his game, and that work ethic is not the reason he's here.
Killeen needs to be better technically. We hear people in hockey circles talk all the time about goalies "making themselves big." Well at 6-foot-4, Killeen shouldn't have that problem, but sometimes does.
He's a nice prospect, but given Fleury's contract and age, Pittsburgh isn't exactly the best organization to be a goalie.
*Thanks to Siena Slusser (@BlueLine6) for her photos of Eric Tangradi and Simon Despres.