Nobody saw this coming.  Not the fans, not the media, and certainly not the players, coaches, and management of the Columbus Blue Jackets.  A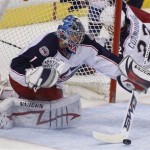 record of 2-11-1, five points in fourteen games.  A league-worst minus-22 goal differential, a league-worst 3.7 goals-against-average, 9.2% on the power play (29/30 teams), 73.5% on the penalty kill (28/30), 2.2 goals-per-game (26/30).   Injuries have kept this team from icing their complete roster for even one game this season, but this is not a team that is competing night in and night out and is just missing one or two pieces.  This team is an utter and complete failure.  Add in the pieces the Jackets are missing and the final score of the debacle in Philadelphia Saturday night might have been 7-4 instead of 9-2, but is that really much better?   The injury excuse is old and doesn't hold water, just ask Pittsburgh how they are doing without Sidney Crosby and Evgeni Malkin, arguably two of the best ten players in the world (9-3-3 through15 games).  The primary reason that this team is where it is, five points away from any other team in the league, is the roster that has been put together by General Manager Scott Howson.  While the offseason brought the much-heralded acquisitions of some players that the team desperately needed, there were still other areas of concern that went unaddressed.
The Blue Jackets are spending a combined 39.8 million dollars just on their group of forwards this season.  That is 10 million dollars less than Nashville is paying their entire team.  Barring any extensions, at the end of the season they will lose the following players to unrestricted free agency: Kristian Huselius, Samuel Pahlsson, Vinny Prospal, Alexandre Giroux, Derek MacKenzie, Radek Martinek, Aaron Johnson, and Curtis Sanford.  The following players will be restricted free agents: Jared Boll, Cody Bass, Derek Dorsett, and Mark Dekanich.  Also next season the buyout of former defenseman Duvie Wesctcott will finally come off the books (thanks Doug MacLean!).  Without taking any of the pending free-agents into consideration the Blue Jackets will have $49.3 million invested in the core group of this team.  The team that is 2-11-1.  Taking it another year out the team already has $41.6 million invested in ten players for the 2013-14 season.  Many of the players locked up in that group are the ones that are under-performing now.  R.J. Umberger, Antoine Vermette, and Fedor Tyutin have been especially bad this season, and are under contract for many years at a premium price.  That leaves little room for two goaltenders and role players to fill out the lines.  This is going to seriously hamper future movements by the team unless they are able to unload some of the core they decided to lock up.  Possible trades exist, but I can't see teams lining up to take on Tyutin at $4.5 million for seven more seasons, or Vermette at $3.75 million for three more seasons.  So with limited trade options and a significant amount of money tied up in under-performing veterans, where do changes occur?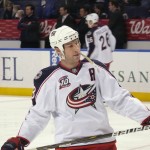 The Blue Jackets need to decide now as an organization whether they believe in this team as constructed, and with the coaching staff that is in place.  If they truly believe this stretch is not indicative of what they are capable of, and at this point I find that hard to believe, then they had better hope that they reel off an absurd amount of wins to prove them right.  Perhaps Mark Dekanich returns from his high ankle sprain and plays like a Vezina Trophy candidate the rest of the season, but are they willing to gamble on that happening?  The other options that are available to them are likely to put some fans in mourning, but there doesn't seem to be much hope for anything else.  Perhaps it is time to see what the return on Rick Nash and R.J. Umberger would be.  Build the team around the younger players like Ryan Johansen and John Moore, and gather draft picks to start over.  It would be a tough sell to an embattled, yet loyal fanbase, but it has been eleven years with nary a playoff victory in sight, could starting over really be that bad of a move?
I would like to give credit where credit is due.  An article like this would involve lots of tedious work to put together without a fantastic source like capgeek.com.  My thanks to the great people that run the website, it is an invaluable source.
Alex is a credentialed reporter covering the Columbus Blue Jackets. He is currently attending Western Governors University. He lives in Columbus with his wife and five children.