With the 2023 NHL Draft fast approaching, the Vegas Golden Knights' Stanley Cup celebrations will have to go on hold as they prepare to select the next generation of talent to join their organization. The Golden Knights hold five picks in this year's draft: one first-round pick, two third-round picks, one sixth-round pick and one seventh-round pick.

While the draft typically becomes a lot less exciting for the team that takes home the Stanley Cup, this draft class is filled with intriguing talent deep into each round, making it even more exciting to see who the Golden Knights will take with their first-round pick at 32nd overall.
The Safe Pick: Riley Heidt, C, 18, Prince George Cougars (WHL)
Out of all of the players on this list, Riley Heidt has the best resemblance to the style of play that won the Golden Knights the Stanley Cup this year. Despite his smaller physical frame, he's a tenacious forechecker who thrives when competing for loose pucks in scrums and engages in contact.
Heidt had an incredible season as an assistant captain with the Prince George Cougars of the Western Hockey League (WHL), tying consensus number-one pick Connor Bedard for the WHL lead in assists with 72 and also tying former Dallas Stars pick Logan Stankoven for fourth in league scoring with 97 points. He was also the MVP for Team Red at this season's Canadian Hockey League (CHL)/NHL Top Prospects Game, where he recorded a goal and an assist.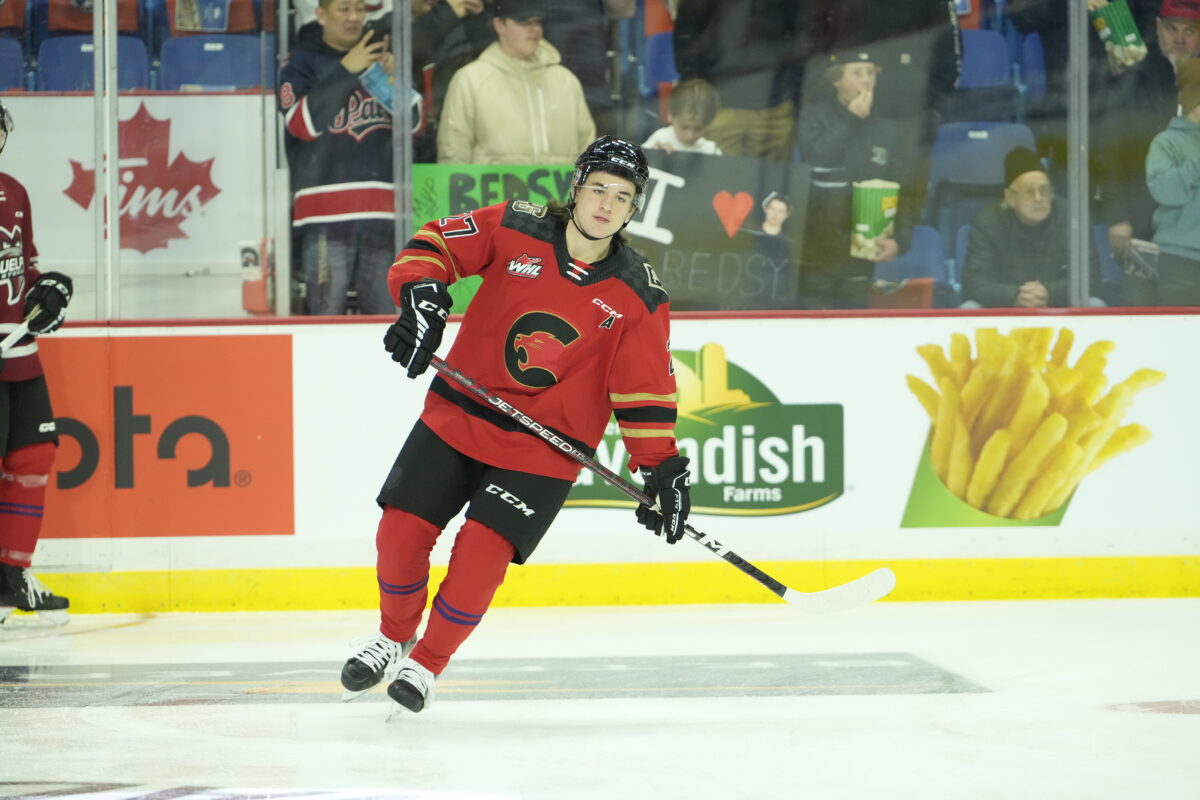 At 5-foot-11 and 181 pounds without any overwhelming speed or strength, Heidt's biggest disadvantage when transitioning to the NHL will likely be his physical attributes. He has all the skill and instincts at both ends of the ice to be considered a first-round talent, but will need to bulk up in order to level the playing field the later picks in the first round are going to be extremely difficult to predict.
If he should fall to the Golden Knights at 32, they'll be adding an incredibly versatile forward who has the potential to make an impact in all on-ice situations. His elite-level playmaking and lethal shot give him the tools to become a successful middle-six center in the NHL for years to come.
The Wild Card: Daniil But, LW, 18, Kelowna Rockets (WHL)
Daniil But has become a fairly polarizing player among scouts for this draft class, being ranked as high as 15th by McKeen's Hockey to 48th by Dobber Prospects. The Russian forward had 15 goals and 26 points through 26 games with Lokomotiv Yaroslavl in the MHL, but had 15 appearances with their Kontinental Hockey League (KHL) club and managed to score two goals and carve out a significant role for himself, playing just under eight minutes of ice time a night.
The obvious standout trait for But is his size, standing at 6-foot-5 and weighing in at 203lbs, but he has surprisingly good skills with the puck and possesses some good offensive instincts as well. While he's not necessarily a mechanically skilled skater, he reaches a pretty high gear of speed when he gets space, and has a monstrous shot that could be his best asset if developed properly.
Related: 2023 NHL Draft: Horn's Two Round Mock Draft
---
Latest News & Highlights
---
Like most players of his size, his tools are still very raw, and he'll be a project for whatever team decides to take him. If he can utilize his size to become a tougher player to play against and become a much stronger overall skater, he'll have a successful NHL career.
There is a range of possibilities for him regarding his position at the draft, but the Golden Knights shouldn't pass up on him if he is still available. With his size and puck skills alone, it feels like he is bound to be at least a bottom-six winger at the NHL level, but could potentially be molded into the next Alex Tuch.
The Sneaky Pick: Oscar Fisker Mølgaard, C, 18, HV71 (SHL)
Oscar Fisker Mølgaard is one of the most interesting cases in this draft class. The Danish forward has quickly risen to prominence as a borderline first-round selection in this year's draft despite being relatively unknown among scouts just a few months ago.
Fisker Mølgaard had 23 points in 21 games with HV71's junior league affiliate before joining their professional club in the Swedish Hockey League (SHL), where he had just seven points in 41 games. While these numbers aren't overwhelming, it makes it easier to understand why he was able to keep his spot in the SHL throughout his draft-eligible season when you consider his mature on-ice habits, and it's why he's skyrocketed up draft rankings across the hockey world.
The most notable aspect of Fisker Mølgaard's game is his high work rate. Whether it's finishing off a shift with a hard backcheck or giving every last bit of effort to win a puck battle in the corner, he's always looking for a way to make an impact on his shift. He's especially good at maintaining possession of the puck while fighting off defenders and can drive to the net efficiently when he wants to.
After tracking more of Oscar Fisker Mølgaard today, I'm still of the opinion that he should be talked about more.

The SHL tape simply continues to be good. Intriguing tools (skating posture + quickness, handling), playmaking flashes, and high work rate & defensive engagement. pic.twitter.com/RAJaB0qZCY

— Lassi Alanen (@lassialanen) February 20, 2023
The one major issue in his game is his lack of consistency. It's not easy to perform at a high level in the SHL as an 18-year-old, especially at just 160 lbs, but his safe habits can sometimes work against him. His IQ gives him the ability to create space for his teammates and be effective despite his physical disadvantages, but he will have to take more risks if he wants to unlock a more dynamic offensive game.
He's still visibly one of the most pro-ready players that aren't a consensus first-round selection, which is exactly what the Golden Knights need. With his skating mechanics, hands, and quick decision-making, he could be an attractive option for some teams late in the first round. However, with so much momentum heading into the draft, it wouldn't be surprising to see Fisker Mølgaard even get taken in the 20-30 range, while he realistically should sit in the 30-40 range.
Final Thoughts
One main theme with these picks is that they aren't too far away from being NHL-ready. Coming off of a Stanley Cup-winning season with some cap constraints for the years ahead, the Golden Knights will need help from their younger players on affordable contracts to keep this competitive window alive.
While every draft pick comes with a level of risk, each of these players have the style of play and habits that I believe will fit seamlessly into the Golden Knights' organization, allowing them to develop in a championship-caliber environment in hopes of making an impact at the NHL level someday.
---
---