The '12 Days of Christmas' is a classic holiday song first published in its current form in 1908. In a nod to the classic carol, join The Hockey Writers as we count down the 12 Days of Hockeymas. Each day, we will provide you with a piece of hockey history as we eagerly await the start of the 2020-21 NHL season.
Historic Pick
There are two scenarios prevalent in the imaginations of hockey-playing children that they hope they live out some day. The first scenario is hearing your name called at the NHL Entry Draft and the second scenario is hoisting the Stanley Cup. For Cody Glass, that first scenario came true and on June 23, 2017, when he was selected sixth overall by the expansion Vegas Golden Knights.
Other Golden Knights' Hockeymas Articles:
Being the Golden Knights' first-ever draft pick, Glass' name will live on through franchise history. Glass was not originally touted to be taken in the first round of the 2017 Entry Draft, but thanks to some amazing play from him in his second Western Hockey League season for the Portland Winterhawks in 2016-17, he saw his draft stock rise drastically. Scouts were surprised with his offensive outbreak for Portland that season, which led to them bumping him into the Top 10 rankings for North American skaters heading into the draft.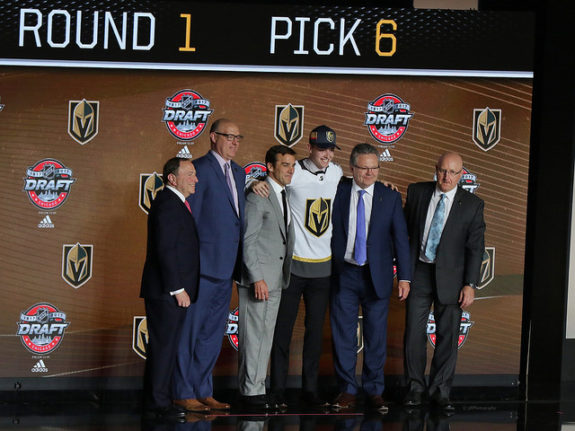 He's worked extremely hard to get to this point and, at just 21 years old, is the most exciting prospect the Golden Knights house in their prospect pool. Having appeared in 39 NHL games so far, he has gotten a taste of the pro-game. Now, as eager fans wait to see what he has in store, we take a look at what we can expect from the Golden Knights' No. 9 this upcoming season.
Fresh Start
With the uncertain times the COVID-19 pandemic has brought us, it has also afforded us some benefits. One of those benefits for the Golden Knights is a longer offseason. The team played their last game on Sept. 14, a 3-2 loss to the Dallas Stars. With the NHL targeting a Jan. 13 start date, Vegas has had a full four months of rest and recovery heading into this new, apparent, 56-game season. Glass did not suit up in the playoffs, meaning his offseason has been even longer, something Vegas fans should be excited about.
This time off is very beneficial, especially for a young player like Glass. With the world being essentially shut down, this allows him to focus solely on his craft. He appeared in 39 games for the Golden Knights last season, posting 12 points in the process. Fans were disappointed with his production, seeing as he was such a highly touted pick, but were quick to understand, seeing as he was so young and just starting to get his footing.
With areas to improve, the time off this offseason allows him to work on his weak areas and come back even stronger. It is for these reasons I have him being Vegas' offensive catalyst this year. So, what exactly should we expect from him this upcoming season?
Season Projections
Glass is expected to slot into the Golden Knights' second-line centre position to start the season, but can also play on the wing if the situation calls for it. This versatility will help his game grow and allow him to get much more ice time. It is for these reasons Glass will finally find his footing this season and be the breakout star the Golden Knights knew they drafted way back in 2017.
If he were to centre the second line, he would be playing between Reilly Smith and Jonathan Marchessault. This line is just what Glass needs because, as my fellow Golden Knights contributor Brett Pickler pointed out in one of his articles, those two wingers were essential in helping William Karlsson blow up and be the star centre we know today. Now, we cannot expect Glass to put up the same numbers Karlsson did in his first season as a Golden Knight, but we should expect him to make the same impact.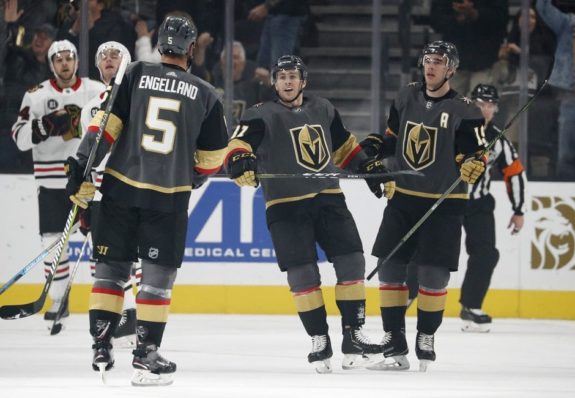 In the shortened 56-game season, if Glass were to, theoretically, play all 56 of those games, I see him putting up 30 points (12 goals and 18 assists). He played 39 games last season and put up 12 points — not impressive but still solid considering he was a rookie.
Glass is considered a two-way centre, who is just as strong on the defensive side of the puck as he is on the offensive side. As a young man in the NHL, it is key to develop good habits on the defensive side first in order for your offensive game to shine. That is why his total will hover around the 30-point mark. Once he gets acclimated to the defensive side of the game, then we can expect him to jump in more offensively and dazzle us with his skills.
Only Time Will Tell
Glass is the new kid on the block and has much to prove in order to become Vegas' regular second-line centre. With added time to work on his game and add size to his frame, he will be an essential player for the Golden Knights, delivering some much-needed point production.
With the Golden Knights faithful backing him up, and a supporting cast of all-stars around him, there is no question he is poised for a breakout season. Now, all that is left to do is execute.
---
---