The Grand Rapids Griffins, who have a season-opening road record of 14-6-2-0, dropped their first two regular season games. In their first game, a 3-1 loss to the Texas Stars, the Griffins struggled to control the puck and find a rhythm. Their inability to score resulted in a second loss, 4-0, to the San Antonio Rampage.
The Griffins are limping slightly without top-scorers Eric Tangradi (traded to Binghamton Devils) and Ben Street (Anaheim Ducks). Crowning those losses is the absence of a host of their top skaters who are currently with the Detroit Red Wings, such as Evgeny Svechnikov, Joe Hicketts, and Filip Hronek. However, the Griffins have a deep pool of talent that stepped up and made what goals they did get, possible.
The Griffins will take the ice Friday night at home looking for their first win. Under head coach Ben Simon, in his first season, the veterans will lead a large group of rookies that are part of the roster. Much of the team's success going forward will depend on returning veterans like Matt Ford, Dylan McIlrath, Matt Puempel and goaltender Harri Sateri, among others.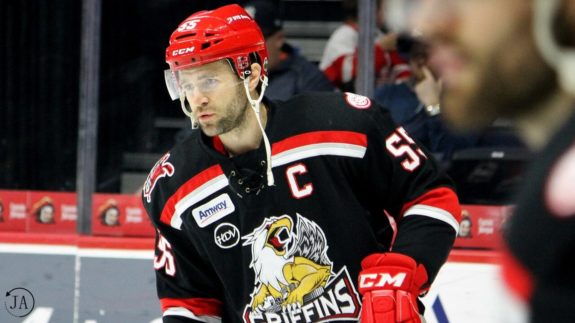 Ford and Puempel to Lead Forwards
Returning Captain, Matt Ford, has always led by example, especially in Grand Rapids. Entering his third full season with the Griffins, Ford leads the team in regular-season goals with 36. He was a member of the Calder Cup-winning team in 2016-17 and is tied for seventh in franchise history for most power-play goals (12) in a regular season.
Ford is the first to a scrum, a major factor in any rush, and a skilled neutral zone puck handler. With a relaxed demeanor off the ice and a scrappy, get-to-it game on the ice, Ford is an excellent leader. Given the batch of Griffins' young guns this season, his ability to score and to create opportunities will enable the younger skaters to step up and piggyback on his play.
Another forward who is set for a strong season is veteran Matt Puempel. As a six-year pro, Puempel has developed into a dynamic skater in every situation. Earning just shy of a point per game, 57 points in 62 games, he knows how to find the net. He's composed and has a precise shot from anywhere.
He's had incredible success in Grand Rapids and its likely to continue. He joined the team in late October of 2017 and of his 57 points, 54 were with the Griffins. Feeling comfortable on any sheet of ice, Puempel will be a key player for the youth movement.
Dylan McIlrath's Defensive Leadership
A few of the Griffins' top defensemen, Hronek, Hicketts, rising success Libor Sulak and Dennis Cholowski are all with the Red Wings. The loss of so many skilled players has left a hole, but thankfully, Dylan McIlrath is filling that void. McIlrath, drafted by the New York Rangers in 2010, was recently selected as an alternate captain alongside veteran teammates Brian Lashoff (11th season), Matt Ford, and new addition Wade Megan.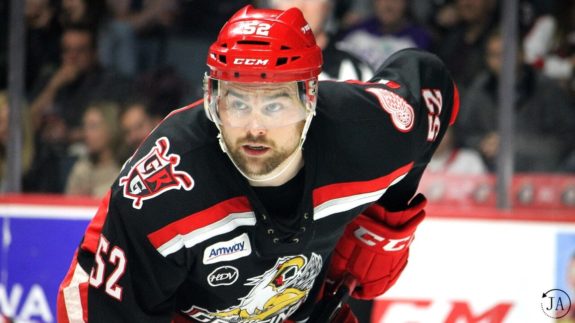 He was acquired during the 2016-17 season. After spending the first part of the season hopping between five different teams, he became a staple in the Griffins' lineup and was one of only two players to play all 76 games that season. He is consistently healthy and is a powerful figure on the ice.
Considered the "enforcer" for Grand Rapids, he is gifted beyond his convincing fists. Along with teammate and fellow defenseman, Brian Lashoff, they are mentors for the young defensemen coming to the organization. He's focused, can score, drive the net, and win board battles. He's not a big point-producer like Hicketts and Hronek but McIlrath has experience and patience with the puck. It also helps that he's quite large, so anyone coming at him will run into him and fall down.
Harri Sateri Bringing Hope to Griffins Goaltending
The Griffins struck gold with their two new goaltenders. Previously log-jammed by Jared Coreau and Tom McCollum, the organization freed up space for some new recruits in the offseason. Goaltending had been inconsistent, heart-stopping (not in an exciting way), and terrifying at times. Though both goaltenders served their purpose, the organization needed a facelift. Enter Harri Sateri.
Sateri has cross-league experience. He's played a handful of games with the Florida Panthers and had a .927 save percentage with the AHL's Springfield Thunderbirds through 29 games in 2017-18. I spoke with goaltending development coach, Brian Mahoney-Wilson, who said that Sateri is highly athletic and could be NHL ready at any time. This is promising praise for the Griffins and Detroit fans.
His vigor and quick reflexes will take him far and bode well for the team. He's also confident. In recent seasons, a lack of confidence between the pipes has irritated fans. Sateri will be a star this season and with new goalie Patrik Rybar backing him up, it's going to be an exciting season.
New Season, New Team
The Griffins, like many AHL teams, overhauled their lineup from top to bottom. They may not have started as strongly as they're used to, but home ice will serve them well. With the veteran skaters ready to show their fans what they've got and now that the rookies have shaken off their nerves, Grand Rapids will be a Cup contender this season.
With Matt Ford leading the charge and with confident netminders, Grand Rapids fans can rest easy. Friday's game will be exciting and consist of many new faces, but it is the veterans who will be the refreshing spark to boost the team's regular season campaign.
I am a Detroit Red Wings prospect journalist for Access Hockey MI covering the Grand Rapids Griffins and Toledo Walleye prospect development. Draft analyst for USHL hockey with the Muskegon Lumberjacks.